I mentioned that as part of the upgraded Daily Profit Machine newsletter, I'd be doling out some cutting edge insights on fresh IPOs.
Well, today I want to share a blockbuster IPO that just shook the markets, raising a whopping $914 million.
It turned out to be the largest healthcare IPO of 2020.
The stock surged 23% on its opening day yesterday, just hours after I alerted my green light signal on the stock.
The IPO is GoHealth (GOCO), and it's an online health insurance marketplace partnered with over 300 healthcare providers.
Every year healthcare open enrollment comes back around, and millions of Americans are faced with a daunting task…
Choosing between hundreds of potential providers to locate the ideal match.
Finding the plan that perfectly aligns with your price range and health needs can be difficult and confusing.
That's especially the case when you consider the challenges of selecting ancillary subsidies and benefits.  
But all this headache has created a massive opportunity in the market for a more user-friendly, digitally enabled platform to disrupt the current process.
That's where GoHealth (GOCO) comes in.
Today, I want to share some bullish indicators I'm seeing in GOCO and why I'm actively searching for more upside potential.
The mission of GoHealth is to improve access to healthcare by connecting people with the right plans.
And there's a lot to be said for that, given that the wrong plan can cost you your money— or worse, your health.
GoHealth simplifies the process of obtaining healthcare by ensuring a highly personalized advisory experience that combines machine learning technology with real human support.
GoHealth said that one of it's top drivers of revenue growth was its ability to be a top choice for unbiased insurance advice for navigating one of the most important choices people can make.
For seniors especially, the process of obtaining medicare can otherwise be quite difficult.  
Navigating the marketplace poses many challenges, but GoHealth has a user friendly platform focused on high-quality customer service.
So far, over 5 million Americans have enrolled through GoHealth.
And that's just the beginning considering the demand among seniors for Healthcare. Everyday, 10,000 Americans turn 65 years old.
According to thier U.S. Securities Exchange Commission statement, GoHealth estimated that the market for Medicare-based advantage and supplemental plans is valued at $28 billion in 2020.
That's why GoHealth has positioned itself to capitalize on an aging population.
And it's unsurprising that GoHealth has produced a track record of outstanding growth in net revenues in the most recent five years of business, based largely in the medicare space.
Strong financials are one of a handful of determinants I look for in high-potential IPOs.
GoHealth has gained a large percentage of revenue traction in recent years by shifting focus towards selling Medicare plans to seniors.
For the first quarter of 2010, net revenues grew to $141 million, a 104% growth compared to $69.1 million last year.
Equally as impressive, revenue lept in 2019 by 138.5% to $539.5 million from the $226 in 2018.
GOCO's Opening Day Was Huge, But Here's How I'm Sizing Up More Potential…
As I mentioned earlier, GOCO saw company shares surge 23% on its first day of trading, just hours after I gave it my green light signal.
The $914 million it raised made it the largest healthcare IPO so far in 2020.
It sold 43.5 million shares priced at $21 each in the IPO, above the previously indicated range of $18 to $20.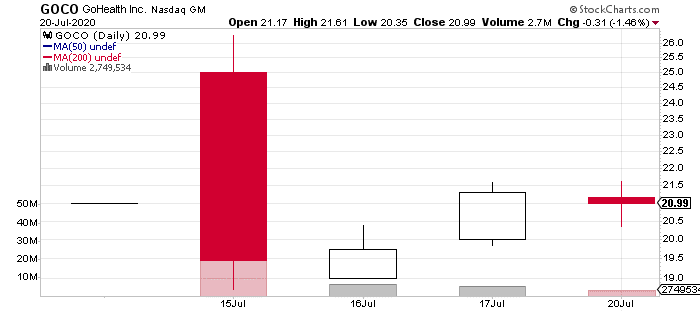 Given the way in which the current IPO market is on fire right now, I said in my alert it was possible that GOCO would have a strong debut.
I'm anticipating more upside in GOCO because I think it's riding a trend of technology-enabled healthcare companies that are testing the markets.
A couple other recents were Accolade ($220M raised on July 2) and One Medical ($245 million in January).
GOCO is looking especially strong because it has demonstrated strong financials, with net revenues growing 100% plus from last year to this year.
They're planning to use the proceeds to grow their business by hiring 1,000 more licenced insurance agents.
Investing in company regrowth is one of the optimistic signs I look for in IPOs.
For now, I'm going to stay on the lookout for more signs of technical strength in GOCO.
If I do decide to enter a new GOCO position, my premium IPO Payday subscribers will be the first to find out here.