One of the easiest places to find yourself when just starting trading is OVERWHELMED.
Buy breakout, sell new lows, triple tops, three black crows… it's enough to confuse even the pros on Wall St.
So how do you break free of the noise and learn a strategy that gives you a real edge?
By learning from the pros!  
And the way you do that is by learning the trading strategy, Daily Deposit… a strategy that is  reliable and scalable unlike many other pump and dump strategies out there.
It's so good it's scored over a 90% win rate this month*
Now let's take a look at how Daily Deposit can put you in the driver seat of your future!
To be an effective trader in chaotic markets you must be laser focused on one task instead of trying to be focused on everything all at once.  
And you definitely don't want to be holding overnight positions if you don't know what you are doing.
…To me that's just madness!
Nobody knows what is about to happen next and having exposure throughout the overnight trading session is just nuts!
Except for my trading strategy specially designed to find overnight trades!  For more information on overnight trading, keep a close watch out for my Overnight Installments Alerts!
Now…
The first steps to finding trades to make these types of profits all start around momentum indicators
The 3 key momentum indicators are:
Price action and volume

Moving averages confirm trend

TTM Squeeze
Let's take a look at how to correctly use these three pre-market momentum indicators to determine the direction of the markets before each trading day.
Price Action
Price action is defined as the study of price directly.  This study is seldom referencing moving averages or other chart plots, and focuses on candlestick patterns and volume for trading decisions.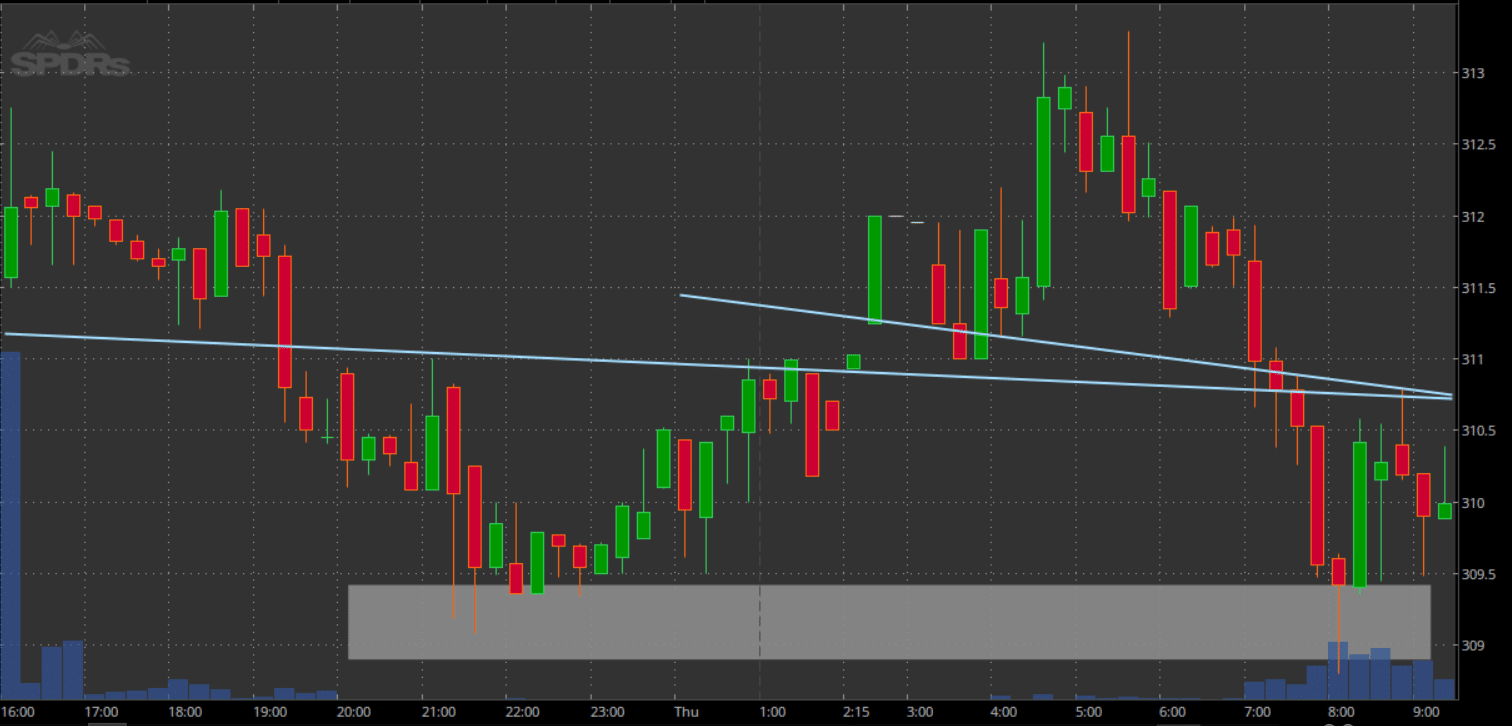 Source: Thinkorswim
As you can notice in the chart above, there are no complicated indicators or moving averages being used.
There are 4 key pieces of information that we can get from analyzing price action alone.
The long term overnight trend is negative

The short term overnight trend is negative

Overnight support near 309

Overnight resistance near 313
Indicators and Technical Analysis
The next way to analyze what a stock is doing is by using moving averages.
These indicators can show you details in a stock that you might not have seen otherwise.
Here is an example of the SPY with it's moving averages used for analysis.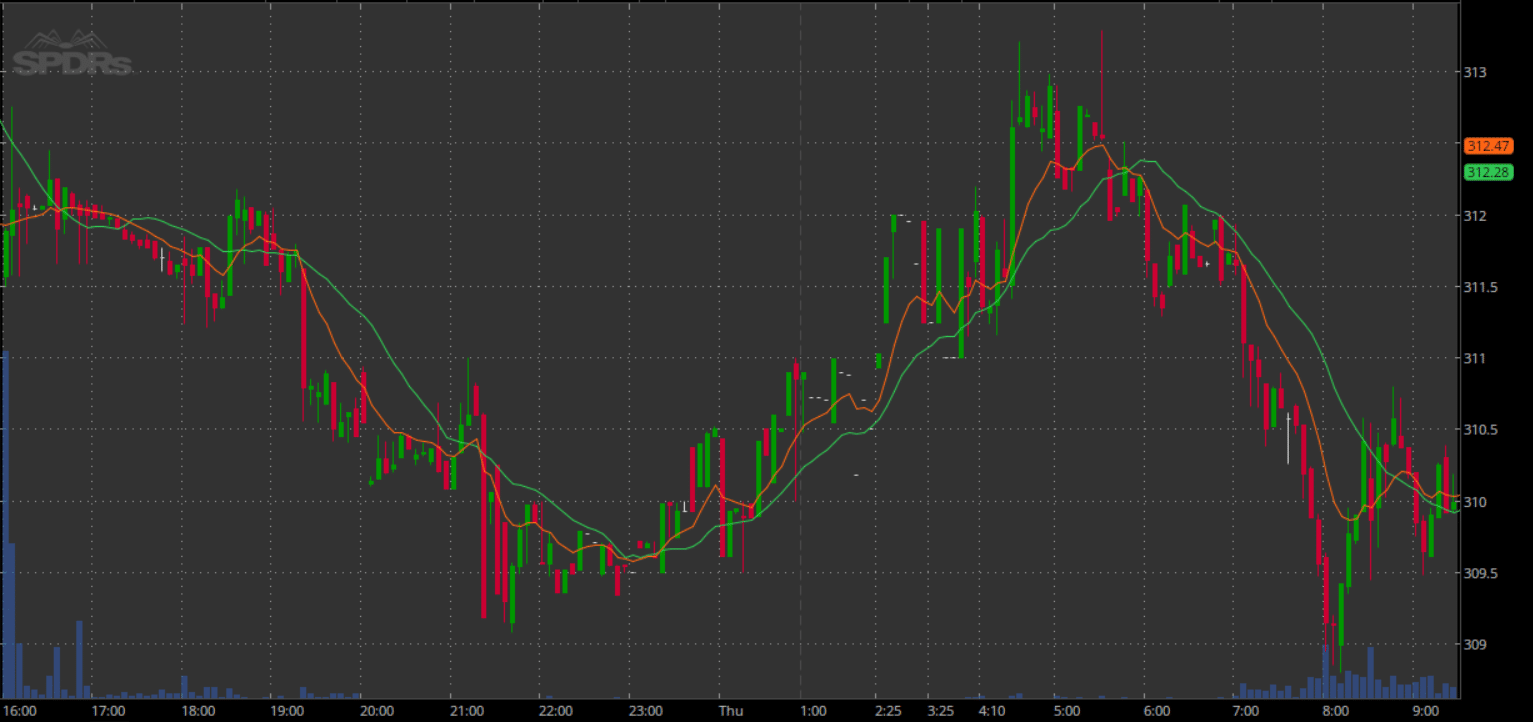 Source: Thinkorswim
Now this might not mean much to the untrained eye, but to a seasoned trader, this chart is showing me great opportunities to make money.
What do I see?
When the 10 MA > 20 MA, the stock is bullish
When the 10 MA < 20 MA, the stock is bearish
When there is a crossover, 10 > 20, look for long trades
When there is a crossover, 10 > 20, start to look for short trades
Here is a chart of the SPY to show these signals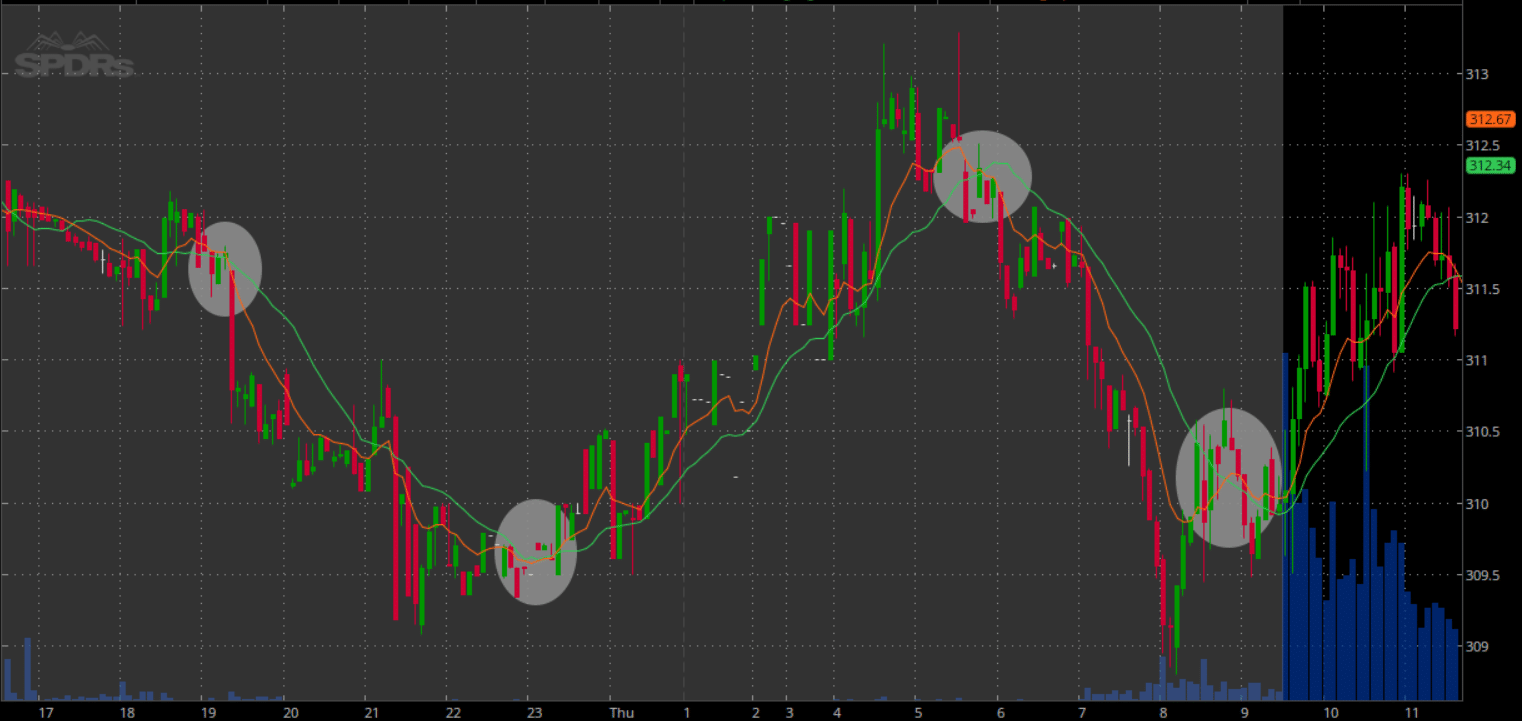 Source: Thinkorswim
Now let's take a look at the final indicator, the TTM Squeeze.
TTM Squeeze
Another indicator that's used to identify momentum building up and then a breakout of the SPY is the TTM Squeeze.  
The TTM Squeeze was designed to identify the areas of low volatility in the markets and when they are going to "explode" for huge profits.
Here's what I mean…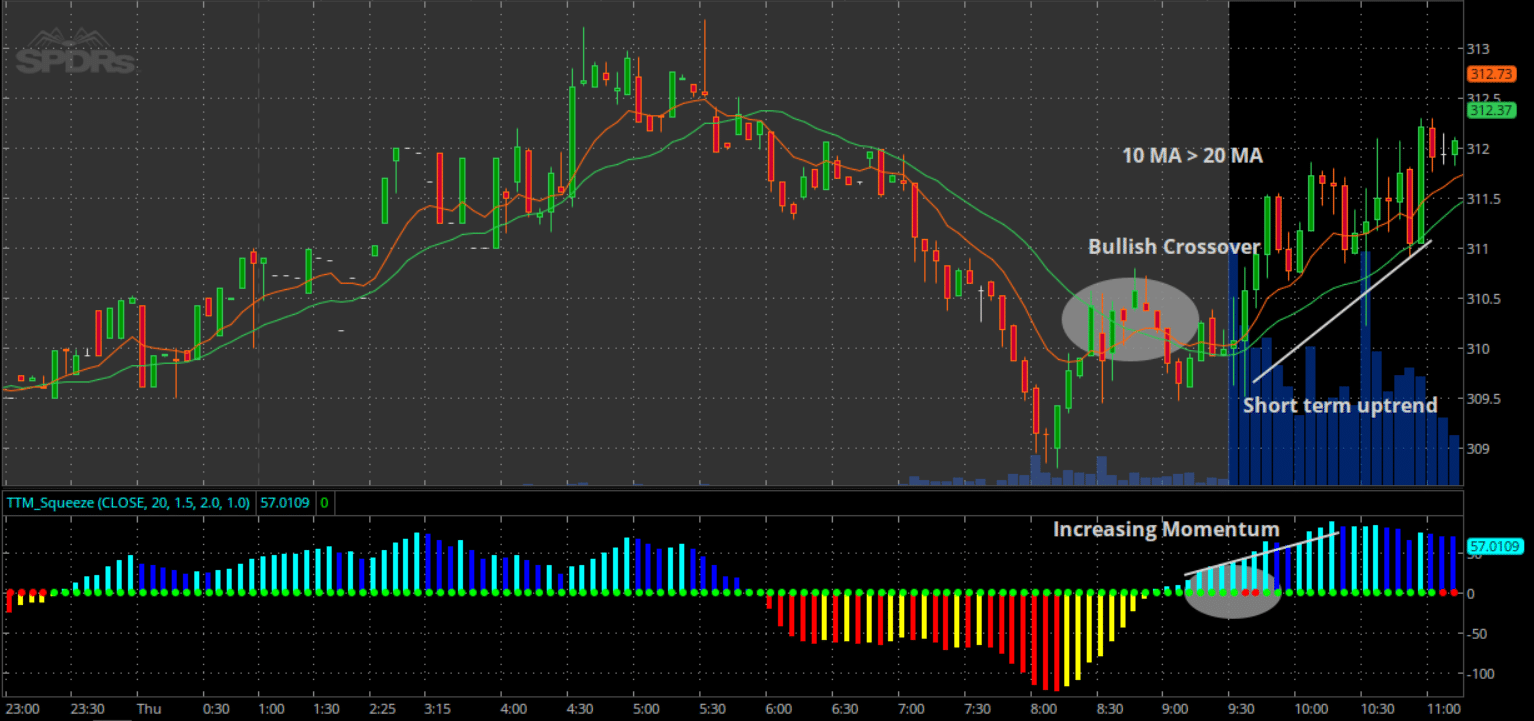 Source: Thinkorswim
Even though the squeeze was short-lived, it still provided a valuable signal to trade at the open.
Putting It All Together
Now even though that was not the trade we took, let's take a look at setup for the trade that was alerted to.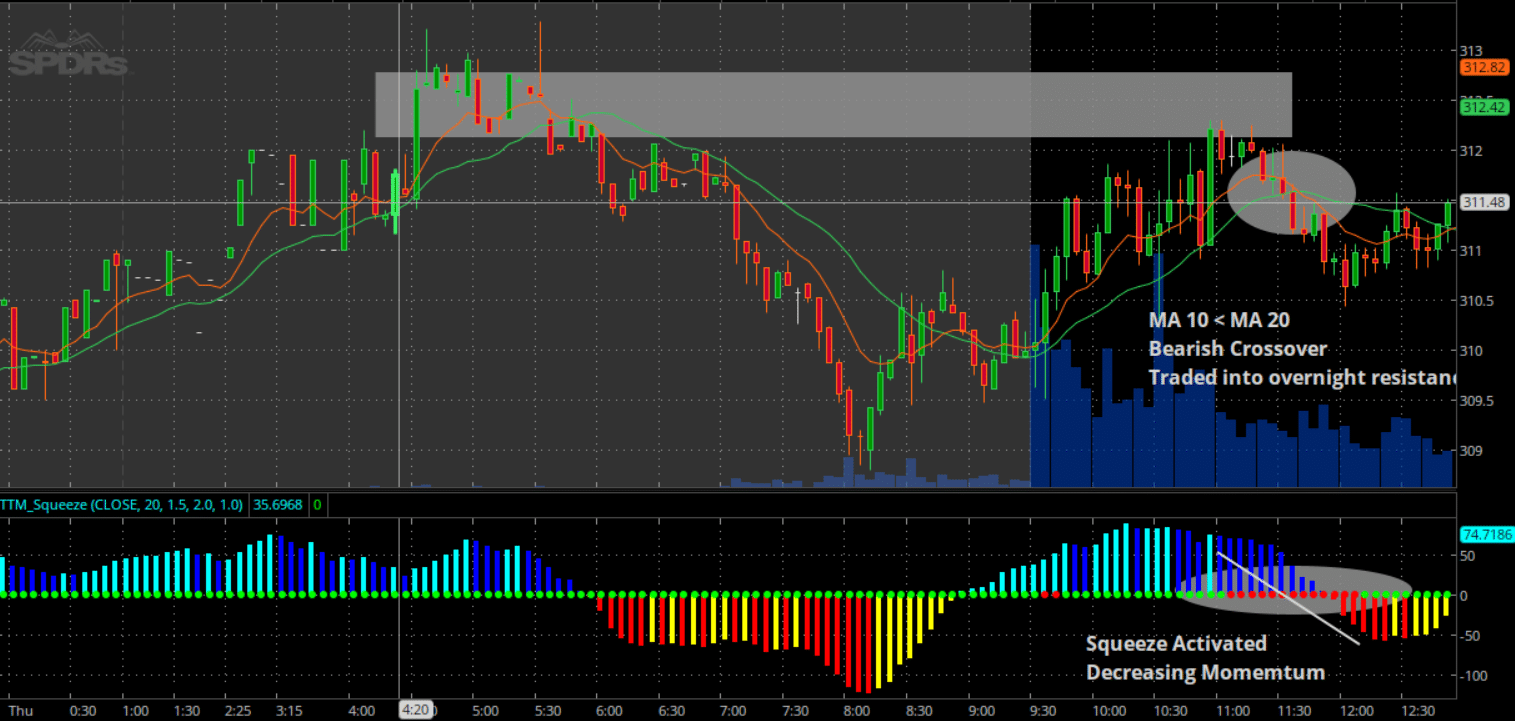 Source: Thinkorswim
In the image above, you can see the criteria that broke down this trade.
Some key factors were:
10 MA < 20 MA

Bearish Crossover

Sold off from overnight resistance levels

Squeeze active

Decreasing momentum
Wrapping Up
Remember, a single indicator alone cannot predict the markets!
Once you combine multiple indicators and trade signals…you can generate strong trade setups.
And when it comes to the TTM Squeeze and price action, you can get yourself on the right side of the trade more often than not.
Here is a recap of the momentum strategy
Premarket support or resistance levels to know where to set stops and look for trades.

TTM squeeze to know when stocks are "coiled up" and ready to move when volatility pics up.

Price to be above / below Moving Averages  that act as additional signals for buying/selling
Want to learn more? Check this out.
DISCLAIMER: To more fully understand any Ragingbull.com, LLC ("RagingBull") subscription, website, application or other service ("Services"), please review our full disclaimer located at https://ragingbull.com/disclaimer.