If you are an active trader, there is a good chance that you are overcomplicating your strategy.
However, it doesn't have to be that way. 
In fact, today I'm going to teach you about a method of analyzing stock charts…
Which will help you declutter and make you focus on what really matters…
PRICE ACTION
It's called an Inside Bar, and it is a simple but extremely powerful candlestick pattern.
Why is it so powerful?
An inside bar is a candle that is completely covered by the prior candle.
This pattern means that the markets are in a period of consolidation and low volatility.  
Here's an example of an Inside Day.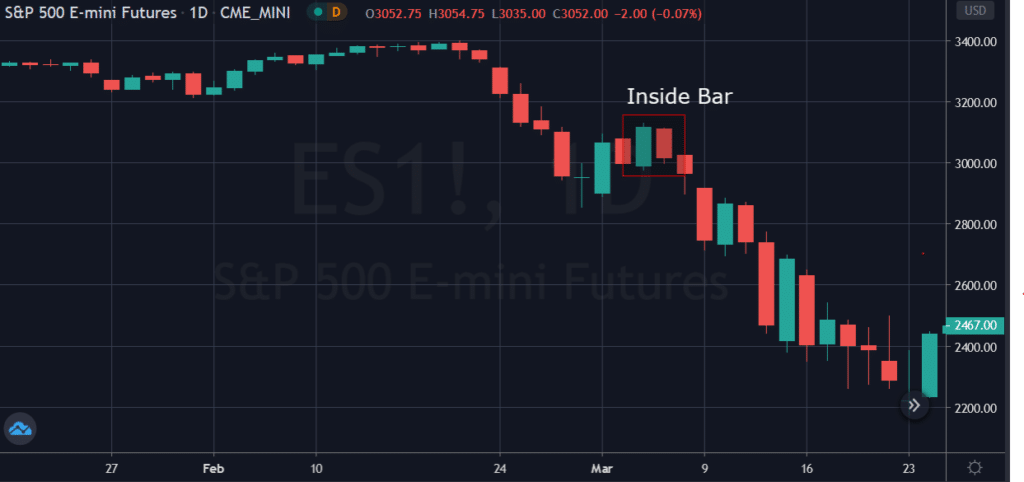 Source: Tradingview
Now if you were to go short at the break of the lower bar, you can see the price action that followed.
You didn't need a moving average to tell you it was going short after all.
So the Inside Bar comes in multiple formats.
Small Range Inside Bar

Large Range Inside Bar

Multiple Inside Bars
Small Range Inside Bar
What is a Short Range Inside Bar?
The Short Range Inside Bar is a type of Inside Bar where the current bar is much smaller, or more "narrow" than the prior bar.
What is the importance of this bar?
It tells traders that there is a lot of indecision and lower volatility in the markets.
As an example: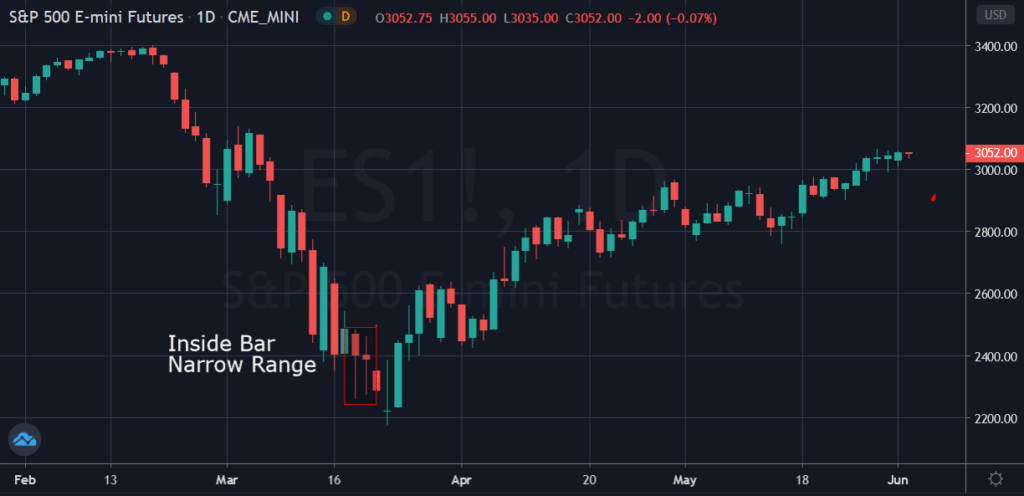 Source: Tradingview
Large Range Inside Bar
Another type of Inside Bar is the Large Range Inside Bar.
This bar is identified by a bar (wicks induced)  that falls within the prior bar's full price range.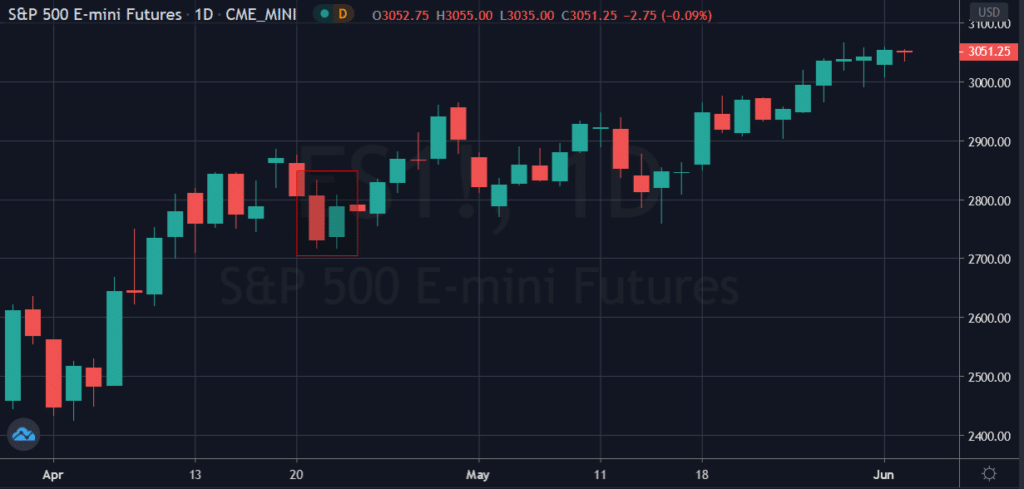 Source: Tradingview
Now, what happens when many bars all farm together?
Let's take a look at exactly this condition and how to identify it.
Multiple Inside Bars
As you know…volatility is always changing in the markets so it's important to have a way to trade a consolidation when it comes to you.  
This creates a pattern that resembles a triangle or wedge and signals to traders that an explosion of volatility is about to come.  
This is why it's very important to be able to identify and predict when these shifts in volatility are going to occur.
Here's an example of this stock pattern.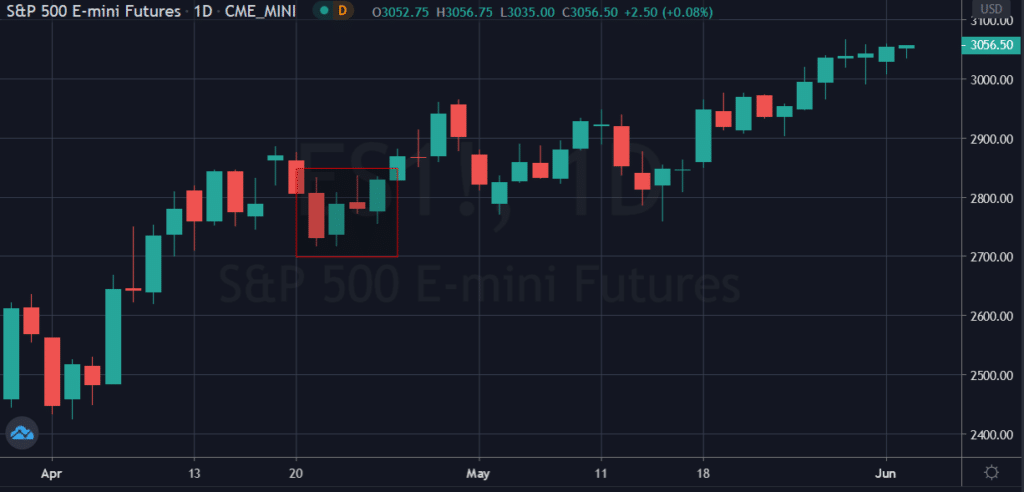 Source: Tradingview
In this example you can see there are 4 bars where price was continuing to contract 
Inside Bar Trading Strategy
There are many ways to trade the Inside Bar with strategies for any market condition.
Here are the two trades that you should look out for.
Reversals 

Breakouts
Let's take a look at each and the strategy that can be used to capitalize on an Inside Bar pattern.
Reversals
Many traders love to trade Support and Resistance lines in the markets since they give some of the best risk-to-reward ratios available.
For example,
The price of the stock is approaching a Resistance level, which was set by the day priors high.  
At this point, the stock sold lower and closed red on the day.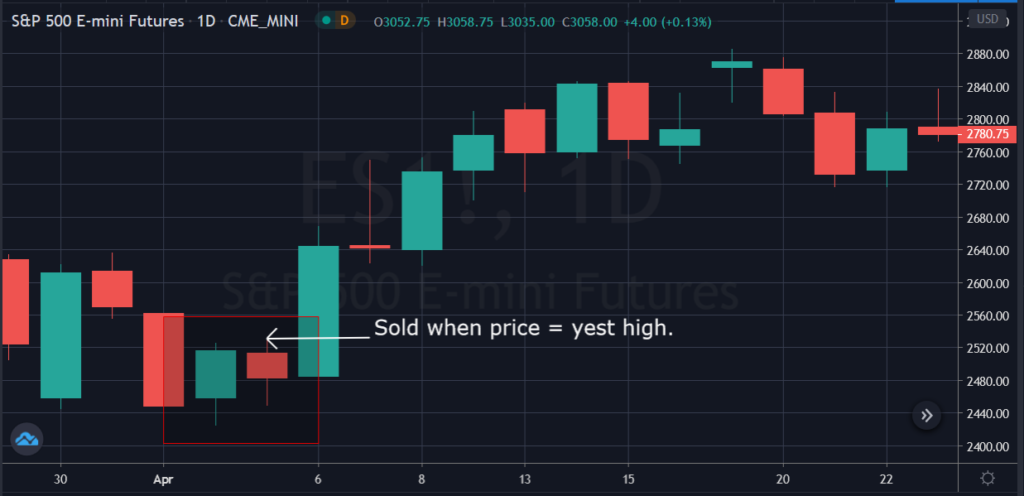 Source: Tradingview
Now let's take a look at how the same pattern can cause breakout trades on the stock.  
Breakouts
Breakout trading can be a little tricker since there more than 1 moving part involved.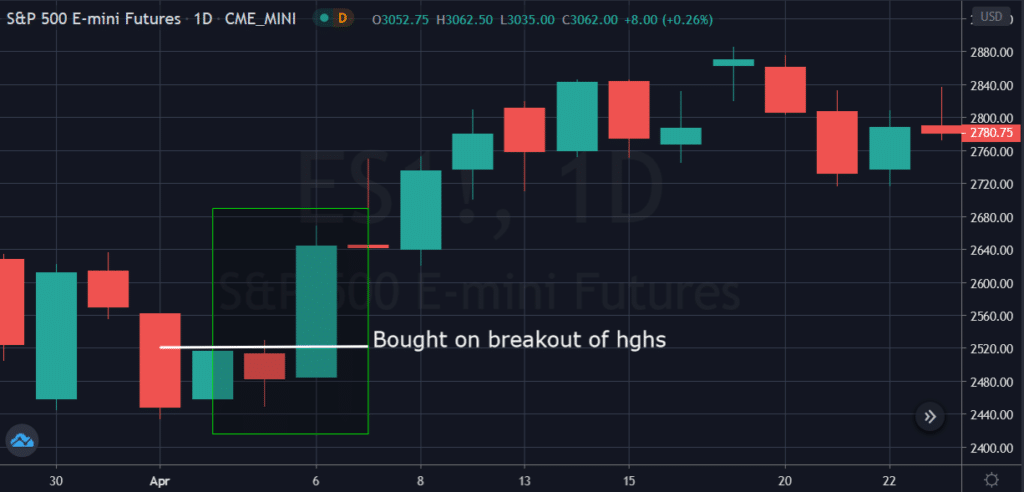 Source:Tradingview
With the breakout strategy, it's difficult to trade compared with the mean reversion. 
This is a multipart setup that you would want to follow when trading breakouts.
The Trade:
Identify an inside bar that was a reversal trade the day prior

Go long breakout above highs
And as you can see, that resulted in a huge single-day boost in the stock price from the breakout momentum.
Price Moves Quickly
The stock market moves from periods of low to high volatility, back and forth as it makes it way higher and lower.
The thing is if a trader focuses on inside bars they are interested in capturing the shift between low and high volatility.  
And since volatility is going to expand quickly with the price movement, it's highly likely that the trade will go in your favor quickly.
Wrapping Up
Remember traders…
An inside bar with small range signals low volatility and indecision in the marketplace

An inside bar with a large range signals high volatility and indecision in the marketplace

An inside bar breakout with a large range signals the possibility of high volatility and explosive stock price movements.
So no matter which pattern fits your trading style the best, it's always great to have another trading system in your toolbox.
What I like about this strategy is how it fits multiple trading styles flawlessly and allows a trader to get into the markets at some of the most optimal levels.