I won't sugar coat this…
In order to become a successful trader, you need to learn how to win, and also… how to lose.
This means learning from your mistakes, accepting that you made a bad trade, or even just understanding that you had an off day!
After all it happens – we are human, right?
And for those of you who follow me regularly will have noticed my hesitation in the pre markets and throughout the trading day.
This led to me having a couple days this week with no trade… and since I couldn't define my edge, I didn't force a trade!
Which is why I want to talk about how I find my edge in the markets.
And if I have to – I just don't force a trade, and neither should you… especially when things just don't go your way.
Which is why all professional and career traders all have one thing in common… and that is they all have the discipline to accept a losing trade.
Here at Daily Deposits, momentum indicators and pre market analysis are the main components of the trading strategy I deploy each day.
In my mind, this is one of the only ways to take advantage of the markets especially during environments like we are in now.
The first steps to finding trades to make these types of profits all start around momentum indicators on a 5, 10 and 15 minute chart.
The 3 key momentum indicators are:
Price action and volume

Moving averages confirm trend

TTM Squeeze
Let's take a look at how to correctly use these three pre-market momentum indicators to determine the direction of the markets before each trading day.
3 Key Indicators
Momentum is all about catching the right stock, at the right time, and in the correct direction.
But if you fail to identify any one of those three components, you are left stuck holding a losing trade.
Let's take a look at how each of these work to determine exactly what direction you should trade the markets in.  
How it works:
Understand the major trend based on the highest timeframe first

Use lower time frames for immediate trend analysis

Confirm momentum using moving averages, TTM and volume analysis
Here's an example of the SPY's on the 3 main timeframes to analyze momentum using the 5,10, and 15 minute charts.
But it all starts with the premarket sessions.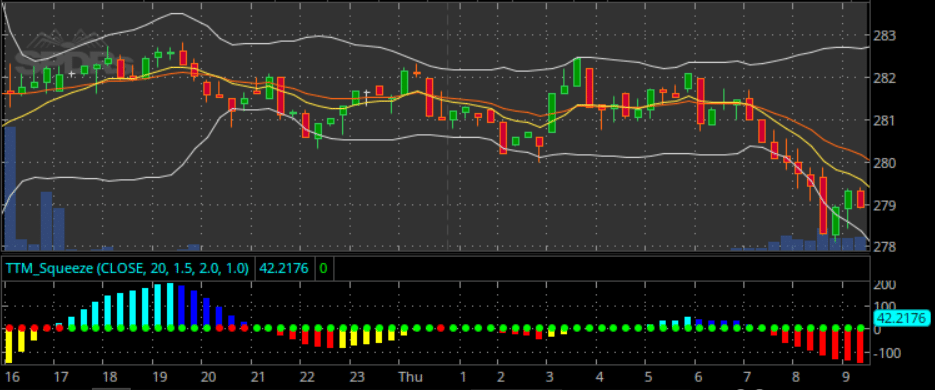 Source: Thinkorswim
Here are some key points you want to keep an eye out for before placing any trades.  It's best to use the pre-market session to get an overall view of the day ahead and which direction the markets may want to take at the open.
Key factors on the SPY Futures in the pre-market session:
Short term trend is point to a lower open

Long term trend is point to a lower open

The 10 MA < 20 MA to show continued weakness

TTM indicator pointing negative
But before you place any trades…. 
Even though you've identified technically what the markets are doing, you don't want to forget the other leading indicators that move the markets.  
The Advanced Analytics / Market Internals
Now that the pre market indicators all pointed to the downside and 5 minute and 30 minute breakout, the next step is to look at the market internals alerts.
The market internals that I cover are:
Ticks

Advance / Decline Index

VIX
Ticks
On the ticks the moving average is down at the -600 level showing an extreme reading.  And even though it's bounced a bit, it's been  hitting up against the 0 level.
Here's what the $TICK looked like for that day.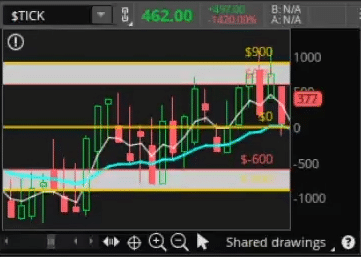 Source: Thinkorswim
As you can see, the ticks started the day off at -1000 reading with a moving average that is well below 0.
This is usually an extremely negative sign for the market internals as every stock is being sold aggressively across the board.  
Now let's take a look at what the next market internal indicator says about the day ahead…
Advance Decline Index
The Advance/Decline A/D Index is flat at the 466 mark.
Source: Thinkorswim
As you can see in the morning and before the market opened, the value of the ADSPD was the same value as yesterdays and heading lower.  
What exactly is the ADSPD line?
The advance/decline index is a market breadth indicator that shows the cumulative difference between the number of advancing and declining stocks within a given index, such as the SPY.
And what do these values show?
A rising A/D index suggests that the market is gaining momentum to the upside, and a falling value suggests that the market is losing momentum to the upside.
It's extremely important to note that when major indexes are declining, a falling advance/decline line confirms the downtrend.
The VIX
It's common to hear the VIX called the fear gauge of the stock market.  
Basically this indicator says, When the values of the VIX are high, investors are more fearful compared to when values of the VIX are lower.
But… are there price predictability powers that are built into this indicator?
In short, absolutely!
By keeping a real-time VIX on your screens when considering entering a trade gives you a look into the feelings the entire market is having toward the price action.
Here are 5 key ways to analyze the VIX for signals to trade the SPY.
       1. Rising VIX + rising S&P 500:
       Bearish divergence that predicts shrinking risk appetite and high risk for a downside            reversal.
        2. Rising VIX + falling S&P 500:
        Bearish convergence that raises the odds for a downside trend day.
       3. Falling VIX + falling S&P 500:                                                                                   
       Bullish divergence that predicts growing risk appetite and a high potential for an upside reversal.
       4. Falling VIX + rising S&P 500:
         Bullish convergence that raises odds for an upside trend day.
       5. Divergent action between S&P 500 and the other index futures:
        lowers predictive reliability.  This often yields choppy price action or whipsaws,  confusion and range bound conditions.
The Trading Grid
The intraday trading grid that I closely monitor for day trading momentum is pointing to lower markets as well.  Here's the grid that shows the bearish signals across the various market centers.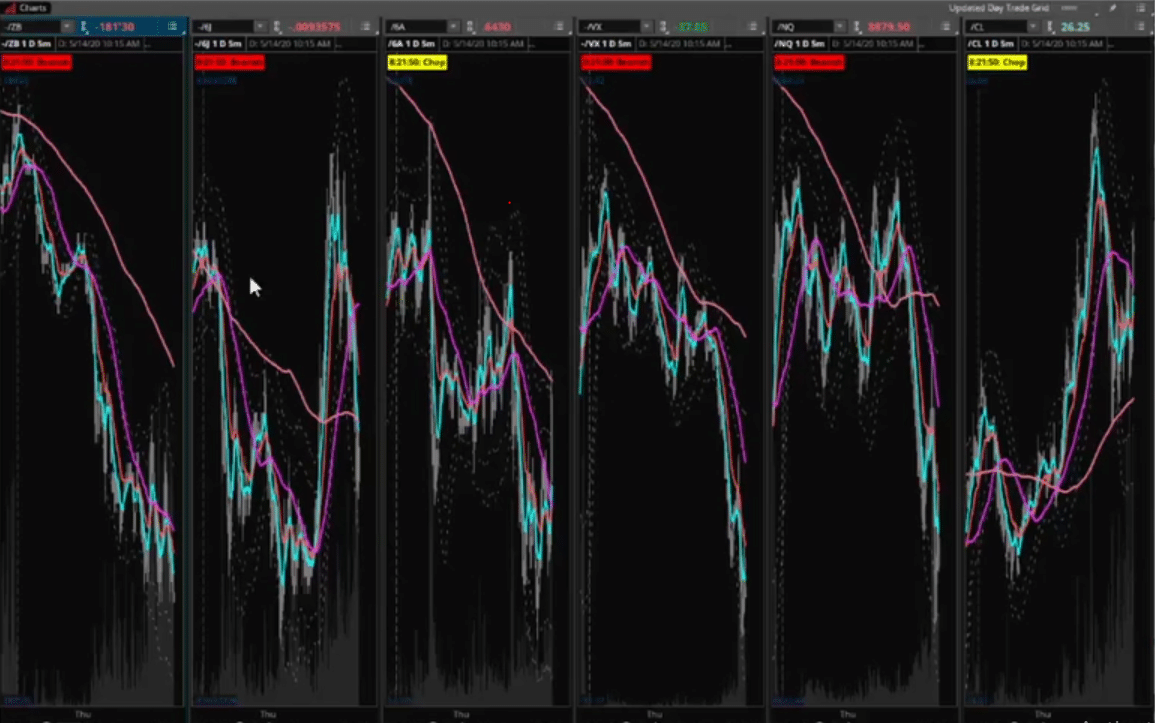 Source: Thinkorswim
My Global Momentum Indicators (from left to right):
-/ZB: Inverse 30-year Treasury Bond Yield Futures

-/6J: Inverse Japanese Yen Futures

/6A: Australian Dollar Futures

-/VX: Inverse Cboe Volatility Index (VIX) futures

/NQ: Nasdaq-100 Futures

/CL: Crude oil futures
Why do I use these markets?
Simply, this is an indication of what the world is "thinking" at any given time.
And by fully understanding this price action you can get a better understanding of how the U.S. markets are going to react.  
Fundamentals Help Determine The Direction
It might seem odd that a day trader would care about the macro market signals around him…
But in fact, fundamental information could be one of the best analytic tools any trader can leverage when it comes to understanding the core of the markets.
Remember this is about finding information that the algorithms can't see!  
Let's take a look at what I use to get ahead of the markets every day.
2 Key Fundamentals Factors To Watch:
Macro Indicators
Currencies – Equities have an inverse relationship to the Japanese Yen

Bonds – Equities have an inverse relationship to bonds
Market Sentiment
US futures markets

Overseas futures markets

Commodities – Oil, gold, copper, etc
Wrapping Up
So you may have noticed that I didn't outline a trade of the day and that's because all of the signals ended up becoming mixed or even invalid by time I was placing my order.
And that led me to remember one thing about my training as a professional athlete.  
DISCIPLINE WINS
This might sound funny or like it's common sense – but winning starts with hard work and discipline in order for yourself and the team to win..  
Which is why I won't sugar coat this for you at all.  
I have had a tough week with taking trades.
And for those of you who follow me regularly will have noticed my hesitation in the pre markets and throughout the trading day.
And it's discipline that separates the good from the bad trader.  
It just takes a game plan to keep you out of bad trades and on the sidelines, you can live to see another day.