If you're unsure of what to make of all the recent headlines in the market—it's okay. 
No one knows for sure what will happen next, but I'll tell you this… 
It's dangerous these markets without a battle-tested trading strategy.
Without a tried and true system…you will be buying the highs and selling the lows.  
But I don't want that to be you. 
This is exactly why I created Daily Deposits! 
Each day, my system hunts for the highest probability setups in the market. 
Just check out these gains on one of the hardest-hit days since the Great Depression.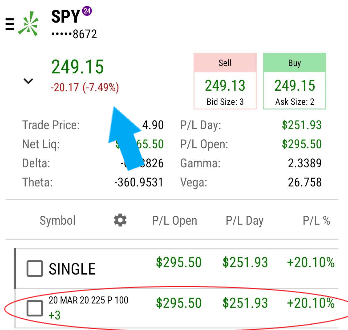 And while I snapped my streak of two straight weeks without a trading loss with my system, I'm still hitting winners at an alarming high rate. 
Up days, or down days, it doesn't matter… the system I've come up with at Daily Deposits has that covered.
Now  there are two main types of traders— the contrarians and the trend followers.
And they both make money… but from my experience, one is always harder than the other… and that's why I focus on trading momentum strategies
Let me show you my secrets to crushing the markets in 5 easy steps.
It could very well change the way you approach trading forever. 
I am starting to sound like a broken record…but momentum trading strategies are crushing the markets!
Daily Deposits is based around a set of indicators that are battle tested to give the best odds for making a winning trade in even the craziest markets.
In my mind there is nothing that beats a trading strategy like these to take advantage of the price action we are seeing now in the markets.
But before I talk about what indicators are selected…
It all starts with my pre market analysis of the world's markets.  
This is important because it allows me to understand what the US markets are waking up to.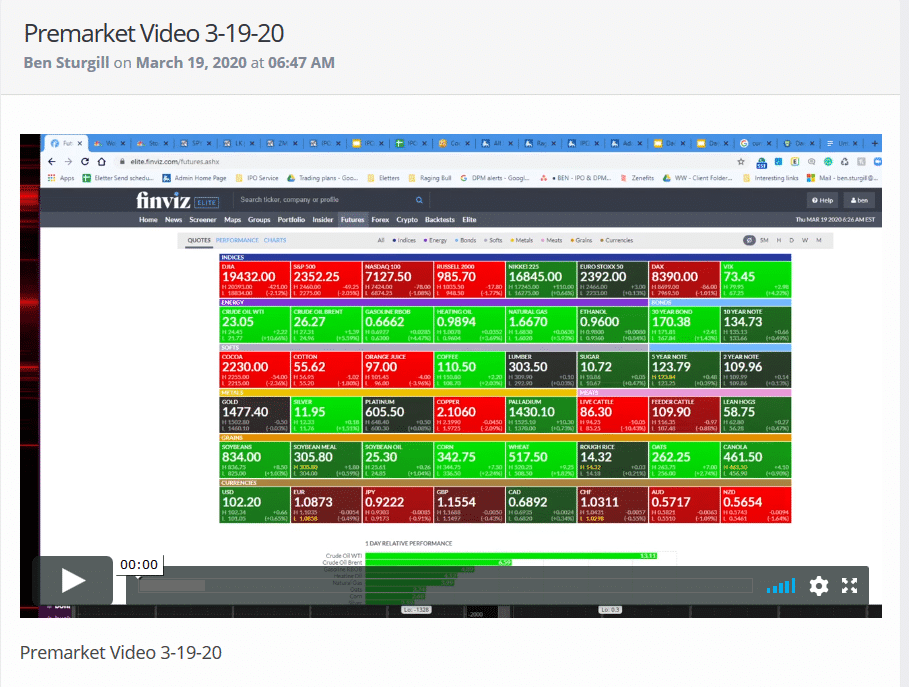 Every morning I make sure the Daily Deposits trading community knows exactly how I view the pre market session and what I expect is going to happen at the bell at 9:30 am.  
The point of a premarket video is to review all of the issues that we will face for the trading day.  
This includes:
The global overnight outlook

Sectors for the US Markets

Daily chart on SPY with Technical Analysis reviews
But those are 3 of my 6 key premarket topics I review in order to get a better understanding of what's about to come.
In order to get the best understanding I break down the premarket sessions into 6 key premarket topics to get a jump on the markets.
And only after I review all of the overnight news is it safe to analyze pre market indicators.
Next…
Premarket Indicators 
Now that I have figured out and made a decision about how I think the markets are going to play out, it's time to finally look at momentum indicators.
Since momentum is the cornerstone of the trading strategy at Daily Deposits I always make sure that I confirm the premarket macro analysis using these momentum indicators as my next step.
It all starts with a proprietary combination of momentum indicators.
I use a blend of 
Price action and volume analysis

Moving averages to give me the trend direction 

Support and resistance analysis

Stock volatility screener
What's the goal of combining the market pre market analysis with momentum indicators?
To piece together what is happening in the markets and set up a trade for the day ahead.
Let's take a look at an example chart where I break down what I see being set up.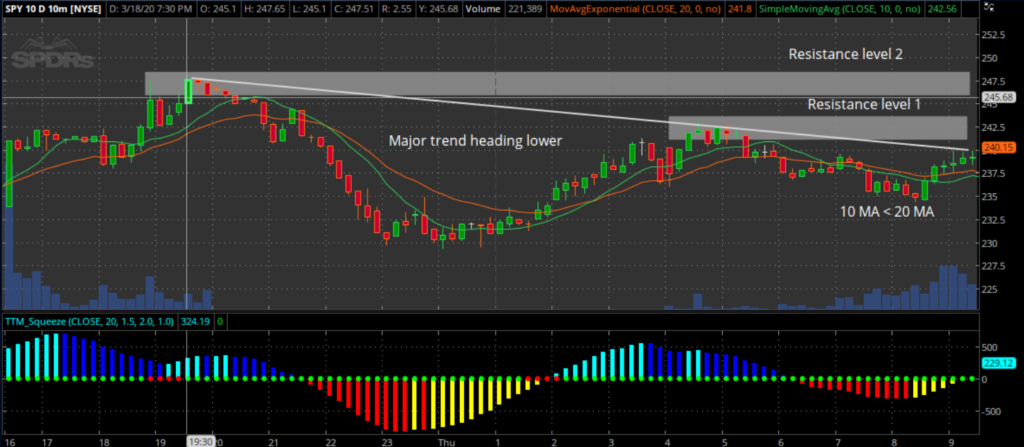 Source: Thinkorswim
Right away a few things stood out to me when I reviewed this chart.
These are:
Stocks in long term downtrend

Stocks in short term downtrend

Markets are pointing lower with 10 MA < 20 MA

Volume is picking up going into the open

Multiple levels of resistance present from premarket chart
So before I place a single trade I always make sure to turn to these indicators and look for hints about what this market is thinking.
And at this point it's also a good place to start looking for key levels from the overnight trading sessions.  This is where I typically begin searching for hardstops, targets, and other entry or exit levels based on technical patterns that are appearing.
My Daily Deposit members received Support and Resistance prices that I came up with based on the pre-market SPY chart.

The Trade
So now that I have a clear understanding of what the pre-market session is doing along with where I need to monitor my position for exit levels I will start searching for an option to trade.
One of the best approaches I like to use is to make sure I pick an option that has some "bang" to it.
Typically weekly options are one of the best ways to make sure you get that explosion in the options prices.
Here is where I would find the put contracts in the options chain.

Source: Thinkorswim
And this is the trade alert I sent out to members…

It's never a great idea to rush trades and rush getting your orders set up.  
And here's my big secret… since Trump was going to be speaking today… 
I've noticed an interesting trend that we can take advantage of… and that is how the markets react to when the president is on the TV!
Here are the options prices from this trade that I was able to get.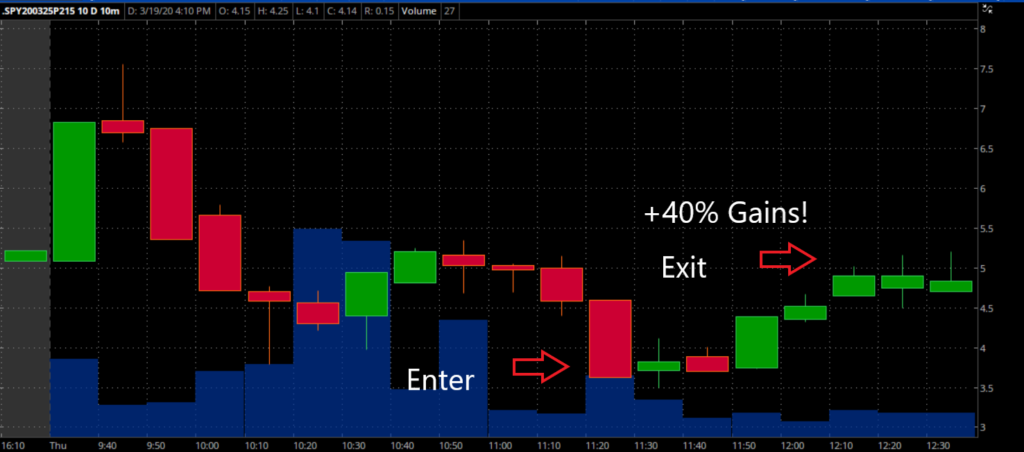 Source: Thinkorswim
That's it! That simple idea landed another 40% gain on my options trades for the day!
Wrapping up
This is really one of the most reliable trading systems that can change your life as soon as your first trade.  
It blows my mind that a system can be this consistent and reliable with timing these markets based on pre-market analysis and momentum indicators.  
And why even bother having complicated options strategies when the only thing you need to do is buy calls and puts when the right setup shows itself in the morning.
So if you're looking for a simple and consistent way to crush the markets….