These markets are wild with news coming out about the CoronaVirus at a mind numbing rate every day.
And after the dizzying week we just had, the markets experienced a rocky overnight trading session.  
Traders watched, stunned, as the overnight markets were down 10%.  Markets were then immediately halted right at the open due to circuit breaker rules.
Then just as we think we are getting a foothold on this bug, San Francisco declared a total lockdown on the city.   
This is the first location in the United States to go into a total containment zone and it's expected many others will be soon to follow.
Well, at least one thing is for certain…  nobody knows where we are going to head next.
And to keep focused, I take each day at a time.  Looking to get myself in a position where I can take advantage of this fear in the markets and make some money.
Right in the middle of the excitement is where my favorite momentum trading strategy makes itself at home.   This system seeks out and takes advantage of market volatility using proprietary price action analysis!
If you were hiding under a rock and missed my previous email, check out these huge gains of over 20% when the market had its worst trading day since 1987!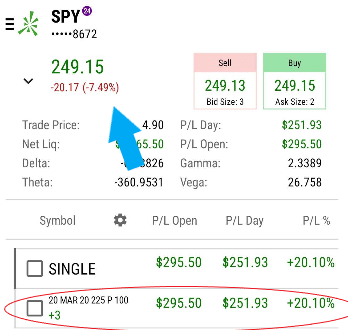 But before you dawn your inner Rick Grimes and prepare for the land of the walking dead, you will not want to miss this chance to learn how I've gone undefeated during times of chaos.
Many believe fundamental analysis is the only market driver, and these last two weeks make one thing very clear… Fear is the current driving force behind every market move.
And since I focus heavily on momentum it's essential to closely monitor the premarket session closely. 
So why do I focus on momentum in the premarket session?
There are many times clues that indicate which direction the markets are going to move once they open that you can only find from premarket data!
And this led me to develop my premarket momentum strategy to quickly and easily identify all of the premarket information that I need to make the correct trade.
So how does it work?
My go-to blend of pre market momentum indicators are:
Price and volume analysis

Moving averages

Support and Resistance

Stock volatility screener

Timeframe analysis
Pre Market Analysis
When looking at pre market trading sessions, it's important to break down those 5 major categories before placing any trades.
I first try to piece together what is happening in the markets.  And I do this by using 3 primary timeframes, the 5,10 and 15 minute charts.
Here is a sample of what I look for based on the 15m chart.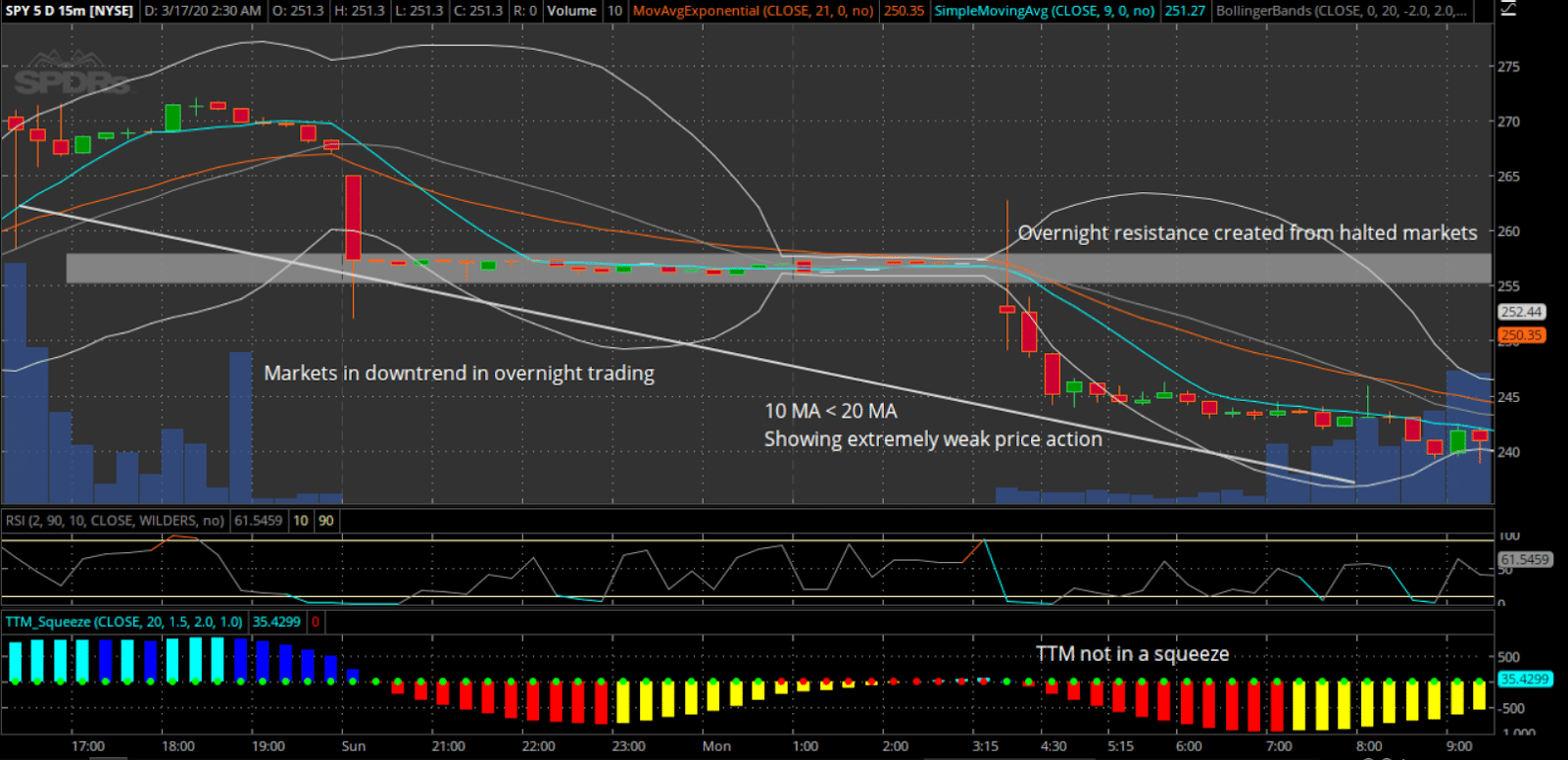 Source: Thinkorswim
Here are the 5 key things that stood out to me in the overnight trading session.
The long term trend is lower

The short term trend is lower

Markets pointing lower with 10 MA < 20 MA

Heavy trading volume heading into the open

No TTM Squeeze seen
So before placing any trades in the markets I always turn to these indicators to give me a heads up about what the market is thinking.
Once I determine the trends and other supporting factors of the pre market trading direction, it's time to locate support and resistance levels.
Here is what I saw looking at the 15m chart.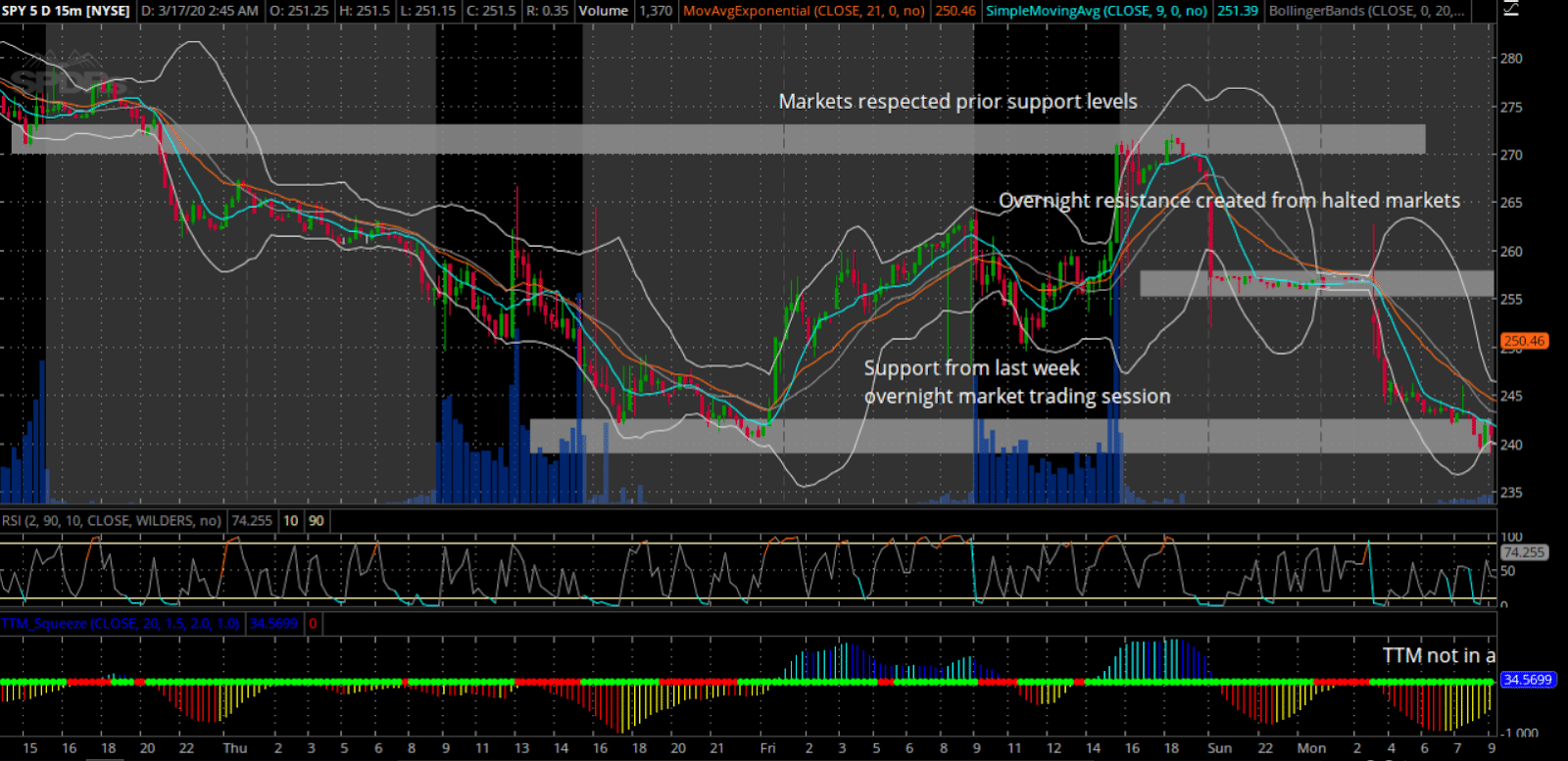 Source: Thinkorswim
Let's break this down further…
Here are the 3 main points from this chart:
Looking at prior overnight trading sessions it appears that the markets respected prior resistance levels from two sessions ago.

The markets are trading at overnight lows at the prior trading session lows.

There was a halt in the overnight trading session that formed a natural resistance level.
So what's the conclusion after analyzing the pre market chart?
Well…since previous support and resistance levels were respected, it's safe to assume that all levels will be held, at least temporarily.
It's also ok to assume that any future levels will also be held until otherwise shown to gain momentum and negate that trading level.
Let's take a look at what happened with the markets right at the open.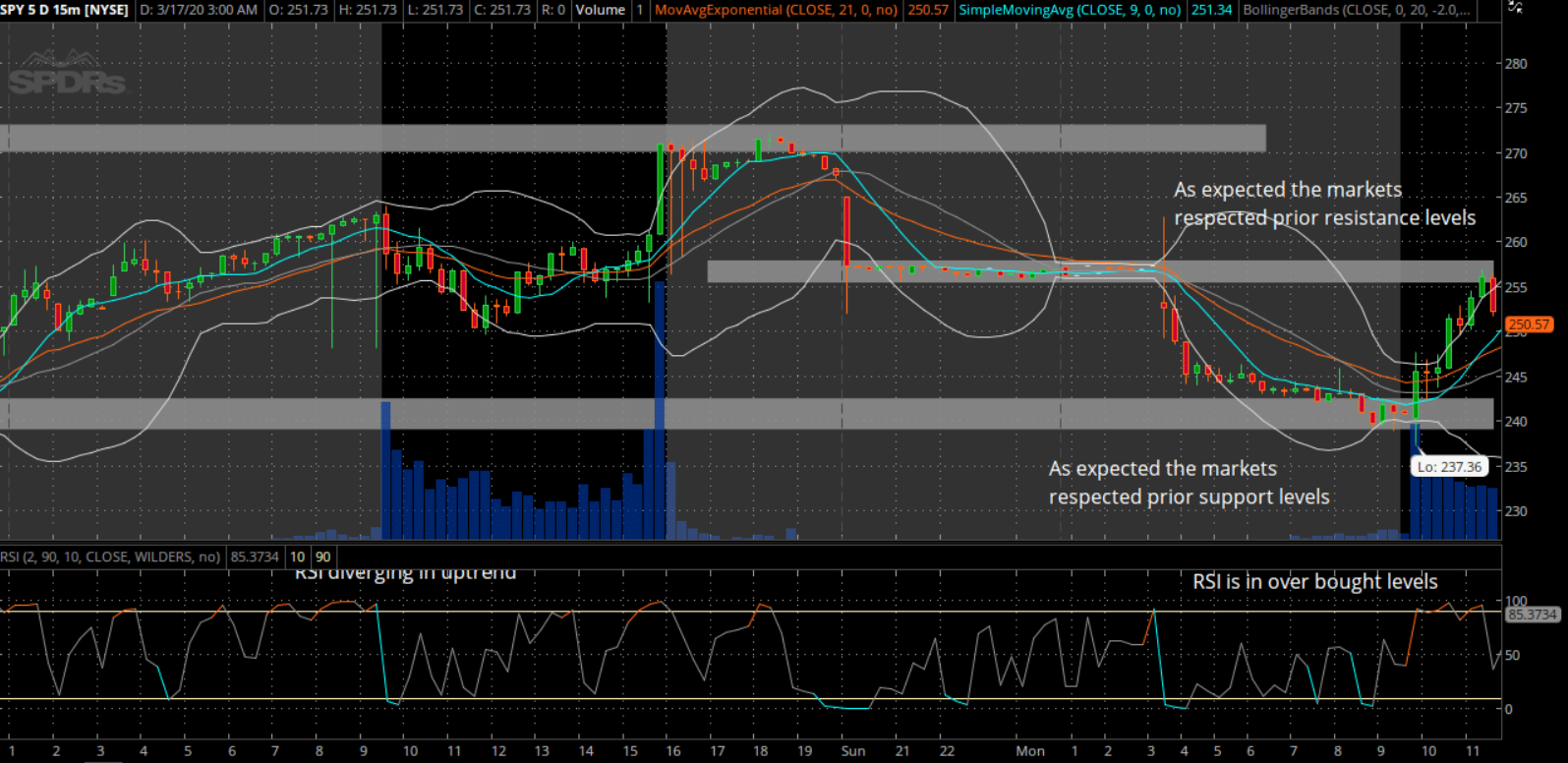 Source: Thinkorswim
And as expected, the markets bounced right at the prior support level, and traded right up to the prior resistance level.  
Then once the resistance level was touched, it posted its first major red bar and corresponded to an overbought RSI reading.  
This indicated the markets were executing to head lower and targeting back to the days lows made earlier in the morning.
The Trade
So now I have a clear understanding of what is going on in the premarket and the morning trading session.
By going through the 5 steps of analyzing premarket momentum I have uncovered the internals the markets are trading off of.
Now that the markets respected the prior support and have traded up to the resistance area the trade is to get short the market.
One of the best approaches I like to use is to make sure I pick an option that has some "bang" to it.
Typically weekly options are one of the best ways to make sure you get that explosion in the options prices.
Here is where I would find the Put contracts in the options chain.
Source: Thinkorswim
And here's what the Daily Deposit members were alerted to once this setup was triggered.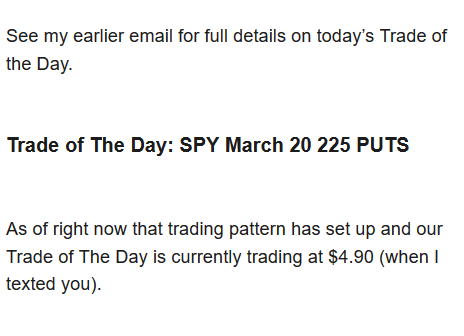 This one made us keep our heads on a swivel and really analyze the market closely for the correct trade.
But we got it right!
If you got into this trade you could have been looking at a 20% winning trade in just a matter of a few hours on one of the hardest hit trading days since 1987!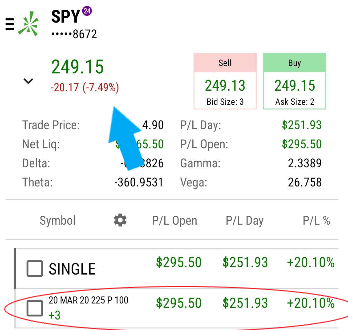 Here's a view of the option prices throughout the trading day to show you that you could have made up to 140% on this trade if timed perfectly!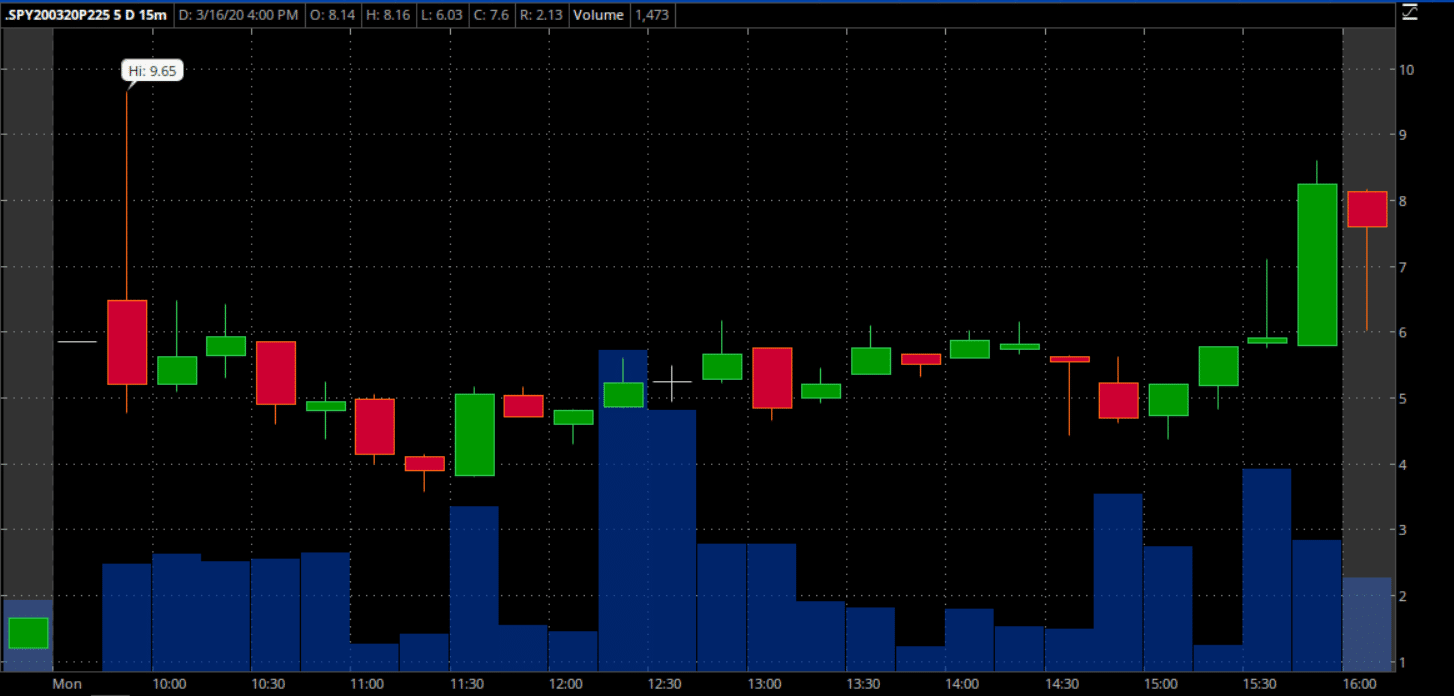 Source: Thinkorswim
And it's that simple!
This trade returned a monster home run trade and would have taken down 140% ROI for the trading day if you held it until the close!
Wrapping up
This is really one of the most reliable trading systems that can change your life as soon as your first trade.  
It blows my mind that a system can be this consistent and reliable with timing these markets based on pre market analysis and momentum indicators.  
And if the trade doesn't work out for you right away it's important to keep yourself agile and scan the markets for clues.
Some of the best support and resistance levels are actually given during the premarket sessions where you can align them to get your trade setup correctly.
So if you're looking for a simple and consistent way to crush the markets….