It's a blockbuster week for IPOs… and probably the most exciting, ever since Snowflake (SNOW) kicked off along with several other software companies back in September. 
Two of the top five largest IPOs of the year are kicking off.
DoorDash (DASH) debuts today

Airbnb (ABNB) goes tomorrow 
Combined, these two companies are expected to raise $6.1 billion, at the top end of their price ranges. 
That will set a record for highest IPO volume in a single month, surpassing the $8.3 mark established in 2001 and 2003. 
Already, both companies have upped their price ranges, and I anticipate that both IPOs will get way oversubscribed as investors scramble to get a piece of the action. 
However, I want to share one of the dangers of getting long on DoorDash and Airbnb today and tomorrow. 
That said, I'll also share some opening price predictions on DASH and ABNB as they can fly hot out of the gate.
Now, I know that a lot of traders out there are hungry for a piece of the action on DASH and ABNB— and no doubt, we'll see a huge spike in trading volume with these two IPOs. 
But when it comes to IPOs, I don't want to slam into shares right out of the gate. Market orders, in my opinion, are the enemy when it comes to trading IPOs on the first trade date. 
Traders who want to get in should place limit orders specifying the maximum they're willing to pay, that way they don't get filled at an undesirably high price when there's a spike. 
That said, there's really no way to anticipate how much demand there will be from institutional investors— and they can get better prices because they're faster, and that can leave many retailers pinned to the mast. 
Will I personally be trading DASH and ABNB? 
Probably not until I see how things shake out. You see, I usually prefer waiting at least a month out, for a history of price action and opportunities to get prices I want without overpaying. 
Check out what happened to some retailers who tried to pile into the excitement the day of a few of this year's most emancipated IPOs…
SNOW…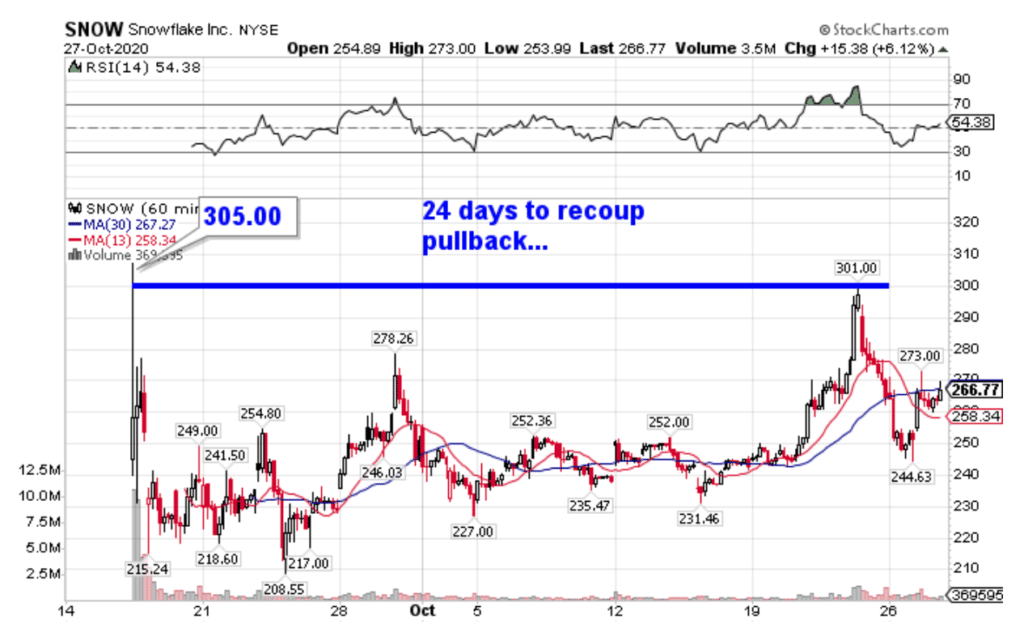 PLTR…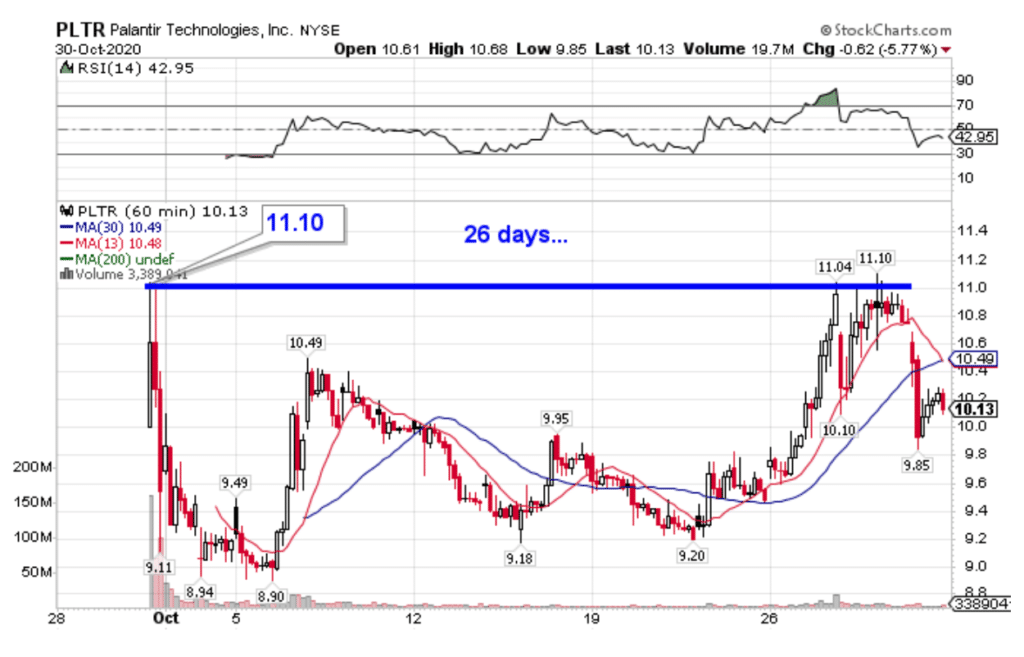 NCNO…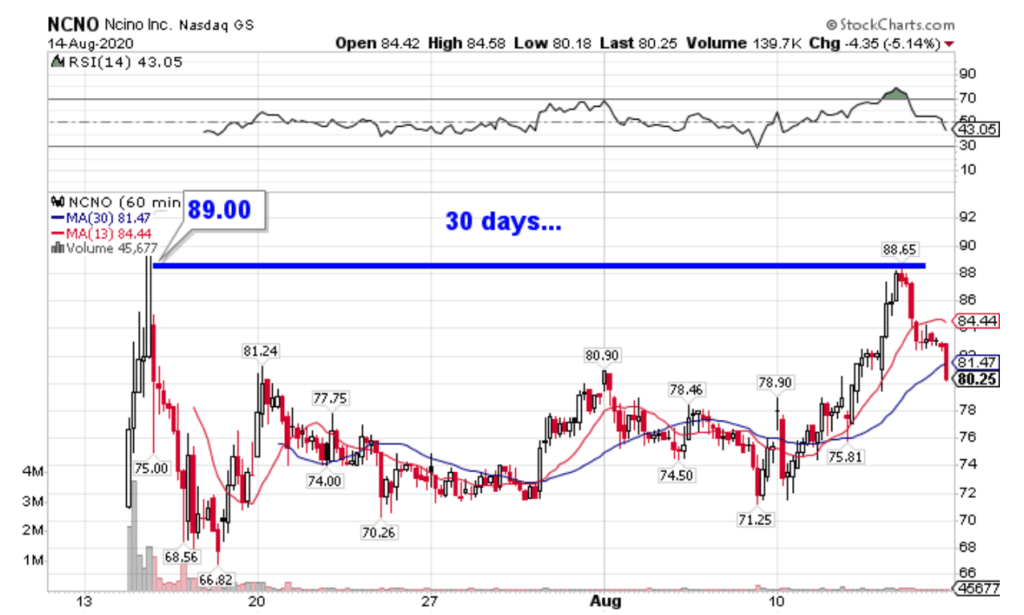 NCNO held up for a couple days following its debut, but not long before also falling straight off a cliff.
That said, let's look at some of the reasons I may want to get long DASH and ABNB and how traders might find an entry…
DoorDash… a Race to Jump in First…
As a food delivery company, DoorDash definitely has an advantage going public in this pandemic environment, as people are still relying heavily on their services. 
In its IPO filing, the company indicated that it posted its first quarterly profit in the most recent period. 
That's on top of revenues of $2 billion in the first nine months of the year, ending in September, up from $587 million that same period the year before. 
While huge revenue growth may change somewhat when the economy reopens, I think we're still seeing a cultural shift towards home delivery and ordering food to-go. 
They also have a 50% market share in food delivery, with an edge on Uber Eats and Postmates. 
I believe that DoorDash is going to debut strong, but we could also see a significant pullback next week that could provide even better buying opportunities. 
DoorDash hopes to achieve a valuation of as much as $36 billion at the high point of their anticipated offering price range. 
The company already upped their pricing range to $90-95, and they actually priced it at $102 last night.
So this is going to be an interesting one, given the amount of demand for shares from institutional investors.
Airbnb… a Trade to Stay in, for a Short while…
Airbnb is a huge company with a big market share, as it provides a unique alternative to staying in hotels. 
No doubt, the company was hurt significan't by the early month of the pandemic and had to cut 25% of its staff to stay afloat. 
The company is now starting to surge back, since people are finally starting to take short vacations. 
A trend we're seeing now is that people aren't yet flying long distances— but instead renting properties that are a little more local, even pursuing remote work at those locations. 
There's also a whole lot of risks associated with staying in hotels right now— elevators, lobbies, etc.— whereas staying in houses mitigates those risks. 
For these reasons, I think Airbnb could have a very strong debut. At top end of its pricing range, the company could raise $3 billion and achieve a total valuation of $42 billion. 
Airbnb has upped their pricing range and is looking at a number between $56-60 per share. 
I think that range may be significantly lower than its worth, given that pandemic has dampened expectations. 
The company could easily surpass a price of $70 on opening day, and even at that price traders might not get an entry. 
We'll have to see how DoorDash debuts though before settling on an exact limit price for Airbnb.