Do you think playing the stock market is like gambling?
Are you a trader that just buys stocks that you hear about in forums, blogs, social media, and chat rooms?
Believe it or not…so many traders are. 
You'll never win following the herd.
It's just a dangerous game of musical chairs. 
Eventually you'll find yourself in a position that moves against you hard and fast. 
If Most Traders End Up Losing Money
How Do You Avoid Being One Of Them?
Simple…you need a plan. 
Only take trades where you believe you have an edge. 
If you're ready to take your trading up a notch and discover a way to develop a true edge against your opponents in the market…
It's time I show you more about Daily Deposits and how I leverage its power. 
Daily Profit Machine is a unique 3-pronged strategy that allows me to take advantage of almost any trading opportunity in the markets.
The 3 main techniques are broken down into intraday momentum, day and swing trading Initial Public Offering (known as IPO's), and unusual trading volume found in dark pools. 
And a common tool used among all three of these are my favorite technical analysis tools that I use to help time and predict the directions of the markets each day with Daily Deposits.
In this special article, I will share with you how I use technical analysis to determine the momentum of the markets and why I share this with the IPO and Dark Pool strategies.
Now let's take a look at a Trade of the Day recap and see why technical indicators are so important in my trading.
Daily Deposits
Daily Deposits is a momentum trading strategy that is based on a unique blend of technical analysis and indicators.  
Technical analysis is a tool used by traders to time and predict the direction of the markets.  
And if used correctly, a trader could pull down massive returns in a few minutes of trading!
So… in order to successfully achieve these high returns, I have combined a set of indicators that can pinpoint explosive moves in the SPY!
So why did I decide to choose PUTS before the market even made its move lower?
Let me explain…
Daily Deposits – Fundamental Analysis
From the pre market session, futures are moving up and the VIX is starting to taper off.

Strength continues throughout other markets, and this morning oil and bonds are slightly higher.  Additionally, bonds started to catch a bid higher and the currency markets are appearing to be weak with a risk off mentality.

Gold and silver continues to show continued strength and currently the world markets are green as well.  Much of the positive movements in the equities markets are tied into  the earrings season, with a boost in stock prices seen from Microsoft and Tesla.   
Now… let's take a look at the technicals in the SPY pre market trading activity.  
Daily Deposits – Technical Analysis
Daily Deposits is based around a set of momentum indicators that were selected to identify market direction prior to the market open.  
And recently, these have been put to the test in one of the hardest markets to trade in history!
The pre market analysis starts with:
The global overnight outlook

Sector review to identify strength in the US Markets

Premarket momentum and technical analysis review on the SPY
When analyzing the premarket session there are two primary things you want to reference when determining the trend of the markets.
The two pre market trend signals are:
The overall trend is positive or negative

The moving averages support the direction of the trend
Applying this to the SPY's
Futures are up to slightly mixed this morning, and the QQQ's are slightly higher leading the market in the pre market trading session.
Currently, the 10 moving average is under the 20 moving average, and this is seen on all three major timeframes.  
This is starting to show short term momentum that is pointing to weaker prices.  Currencies are also sharing the same viewpoint, with traders wanting a risk off market.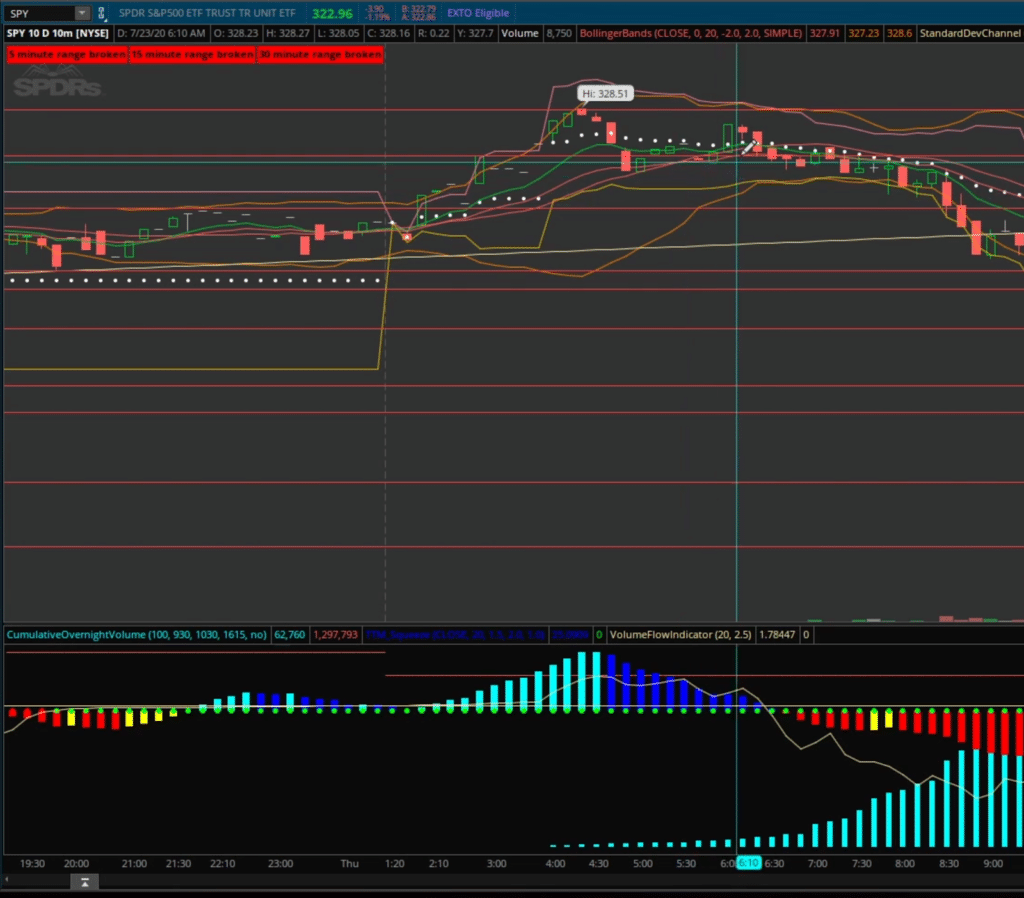 Source: Thinkorswim
As you see, the pre markets are showing continued weakness throughout the morning, with decreasing to negative momentum in the TTM Squeeze indicator.  
Wrapping Up
While Daily Deposits is known for trading momentum on the SPY's,  there are many ways to repurpose the indicators and technical analysis to use for any other trading styles.
And in my few articles, I want to show you exactly how I combine technical analysis with Initial Public Offerings to land some great profits in my trades and how I profit off trading done in the dark pools.
Now if you're ready to learn more about the Daily Profit Machine…