Even though we had a rough day in the markets on Wednesday and futures are gapping down, I don't see the major trend coming to an end anytime soon.
So, what I want to do is do a deep dive into the two main components that define a trade for me.
The WHY and the HOW
You see… When a large block trade hits the dark pools, I need to ask myself, why is there heavy volume on these "private" trading venues?
And, once the trade hits my scanner, I need to figure out how I can take advantage of the order flow information and plan a trade around it?
Now, I want to share with you how I spotted this one hot social media company in the Dark Pools and how I used chart patterns and indicators to help identify entries and exits.
Ok, let me start off with saying that I'm trading stocks and options that move fast.  
In this example, I already got in and out of the trade, so I'm not suggesting that it's still in the same set up pattern, stocks move fast and this is for educational purposes only. 
Keep in mind, I trade options to get a better risk-reward, when compared to stocks, and that means, they can be more risky than stocks.  If you're not comfortable with trading options, please spend the time reading my educational material on what options are and how to trade them.
Even then, I believe it's always wise to talk to your broker or financial advisor before you take on any new strategies.
Now that I got that out of the way, let's take a closer look at how I use options to leverage my exposure to Dark Pool trades and how I traded SNAP.
First, let's start with looking at the trades I spotted.
Between 11/11/2020 and 11/19/2020, these are the trades I spotted that hit the Dark Pool exchanges 
SNAP 11/11 $71.20 million @ $38.92
SNAP 11/12 $49.20 million @ $40.51
SNAP 11/16 $26.50 million @ $39.08
SNAP 11/17 $44.90 million @ $39.27
SNAP 11/19 $15.50 million @ $42.29
You see, these large block trades are typically placed by someone with large financial backing… I mean who has millions of dollars to throw around in a trade? I know I don't and retail traders typically don't have that amount of money to throw around into stocks.
Instead, I believe these are major institutions that are buying up SNAP and they are snatching up huge amounts of the company left and right.
Now, what did the chart look like?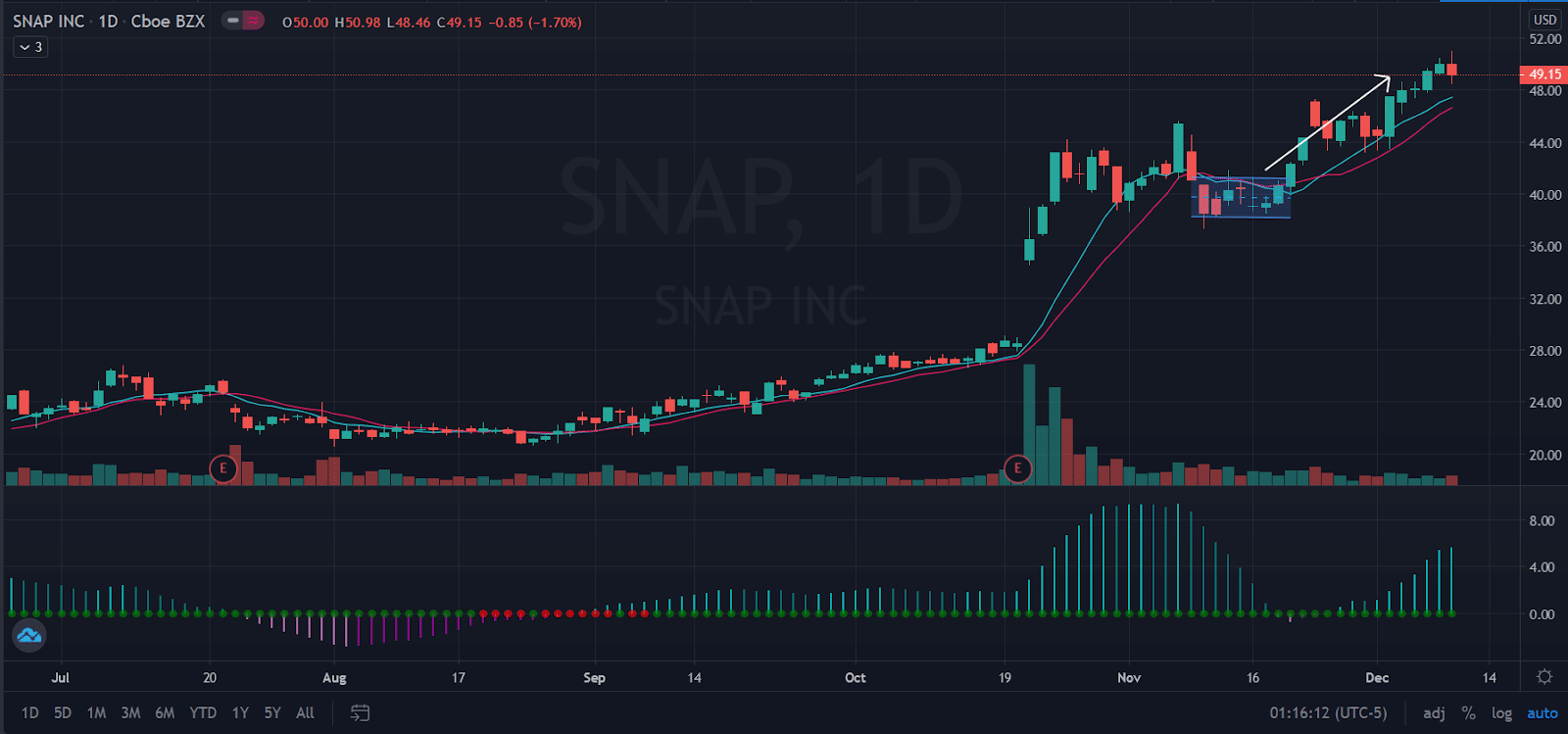 From the chart above, I noticed that SNAP was heading sideways in a tight range from 11/11 to 11/19 when it finally broke out of the top of the range.
So this period of consolidation was where the buyers were coming into the Dark Pools and picking up their shares quietly.
And after seeing these orders on 11/19, I finally decided to pull the trigger, I personally wanted to get involved.
So I sent out an email alerting my members of the options I bought.
Bought SNAP DEC 18 $45 Calls – $1.35
Keep in mind, just because I get that price, doesn't mean everyone else can. The markets move fast and prices change. The same goes for exits.
It's very difficult to get the same entries and exits as someone else, which is why I always let subscribers know my trade plans are for myself only… and are meant as learning tools.
Now, if you refer to the chart, you'll notice how SNAP quickly broke out to new highs, and then pulled back into its momentum averages, but staying above it's 13 period support average?
To me, it's a sign that the stock can run higher.   When the 9 EMA is over the 13 EMA, that is a very bullish pattern and that's why I kept my position on this option.
In my opinion, I knew that SNAP was going to continue higher, and I paid close attention to the price action as it kept rising.  
And after a strong 5 days running higher, I decided to finally sell my position.
Of course, I am not saying this is the holy-grail of stock trading… but for me, I think I can find an edge against other traders by following the momentum and order flow in the Dark Pools.  And understanding this price action lets me identify momentum trades.