Company earnings are one of my favorite catalysts.  
I don't like to hold a stock through earnings.
But playing the run up to earnings can be a great way to catch a pop in stocks.
That's exactly what I did recently with one of my favorite IPOs to trade, Peloton (PTON).
I picked up a position in PTON early last week, hoping to see some momentum into the earnings just posted this Wednesday.
And my, oh my, did the trade work out!
On Friday, I took a 100% gain on the first half of my position and a 150% gain on the next quarter, and on Monday I took a whopping 385% gain on the remainder.*
It was a monster IPO Payday— not only to end last week, but to begin this one.
I want to walk you through the trade, reveal why it worked, and explain what I was thinking.
But first, I want to share with you how NOT to trade earnings.
Like nearly everyone who's become successful as a trader, I learned a lesson or two the hard way when first starting off.
What was one of my rookie moves?
Buying options immediately before earnings, as opposed to a week or two out.
Now, I get a lot of questions from subscribers about trading around earnings, especially through my IPO Payday service.
New companies are always coming out with exciting news, including new products and services, which leads to sometimes drastic changes in company revenue.
And all this hype can create volatility that we can take advantage of.
But we have to be careful about how we approach things.
The most important thing to know is that option premiums tend to rise into earnings and fall shortly thereafter.
Why?
It's because implied volatility is high.
Implied vitality is one of three components that make up options pricing— the other two being time until expiration and the distance of the strike to the current price
 Implied vitality is the demand for the options.
When demand for options is high, implied volatility is high and the options are more expensive.
Now, traders don't know with certainty whether the company will report good earnings, which is why both calls AND puts get more expensive.
But the good news is that we can use this to our advantage, like I did in my PTON trade…
Increased Options Demand In PTON Gave Me an Edge
Knowing that options prices tend to rise into earnings and fall afterwards, we can use this information to our advantage.
In the case of PTON, I used it to give me an edge and go long in calls.
First, have a look at the chart setup…
Over the last 5 months, PTON has been a growth stock.
It's one of those stocks that has been helped by the coronavirus as a result of providing an alternative to gyms that have been shut down.
I decided to long on PTON because the fundamentals were strong.
And because the technical setup was there, given that PTON was continuing to set new highs.
I bought PTON August 7 $67 calls.
Sure enough, demand really picked up ahead of earnings…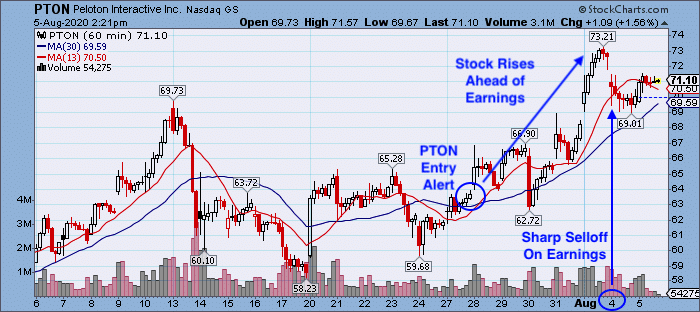 On Friday, July 31, I took a 100% gain on the first half of my position and a 150% gain on the next quarter…
And on Monday, August 3, I took a whopping 385% gain on the remainder.*
But look what would have happened if I held through earnings…
The stock sold off!
This play in PTON proved that it can pay to buy stocks ahead of earnings— as a catalyst— but not hold through earnings.
Subscribe for These IPO Alerts
If you missed out on this massive move in PTON, don't worry.
There are more IPOs with earnings coming up, and I have them on my radar.
To learn, in real-time, how I'm putting these IPO trades on, join my upcoming IPO trading workshop here 
*Past performance is not necessarily indicative of future trading results, and the results presented in this communication is not necessarily indicative of future results, and the results presented in this communication are not typical. Investing in securities is speculative and carries a high degree of risk; you may lose some or all of the money that is invested.