Volatility is back. 
With virus cases hitting an all-time high… 
and some key states considering lockdown again…
Traders are wondering how long the sell-off will last…
But you know what?
When you day trade, like I do in my Daily Deposits service…
You don't have to try and crack the market's puzzle…
You just have to be right for the day…
Each trading session, you're coming in with a clear mind.
Because you close each session in cash. 
It allows me to sleep like a baby…
Even during this historically volatile period. 
How does it work?
Allow me to explain to you why I bought puts yesterday in the SPY. 
It's a setup I expect to see a lot more often…
And one which can be profitable if executed correctly. 
Traders are like musicians
Sure they might play the same guitar, strung with 6 strings on a hollow body… 
But the music they create is far from the same.
Some may enjoy a softer melody while others prefer to rock out to the hair metal days of the 80's.
You see, just because they play the guitar doesn't mean they are all the same.
And that's how trading goes for the pros.
Just because we might all stare at similar charts or patterns… there is zero chance we are the same.
Like the guitarist, we all have our own styles… such as the fader, the momentum hunter, or the scalper, and the trend follower.
And that is what I am here to share with you…
the style that you can learn from to produce a core momentum strategy that you can trade for yourself and add your own flair to.
Now here are the key parts that come together to create a momentum trading strategy that has been crushing these wild markets.
The Momentum Trading System
This strategy is built around simple yet effective market indicators.  Each one has their own part in the system, and if ignored, can significantly change the outcome of a trade.  
So let's break down and cover each one in further detail.
The 5 key components to the Momentum Trading Strategy:
Overall market sentiment 

Price action

Moving averages and market trends

Volatility Indicators

Trading Volumes
is all about catching the right stock, at the right time, and in the correct direction.  
Unfortunately, failure to identify any one of these five components and you are left holding a losing trade.
In general, setting up for a trading day all begins at the same spot… and that is getting an understanding of the overall market sentiment throughout the world and overnight trading. 
Overall Market Sentiment
This is key in figuring out which direction the market is looking to go for that day since trading momentum is all about going with the trend and not against it.
Every morning I dig into where I believe the world is taking us at the opening bell and figure out what that means for the US markets.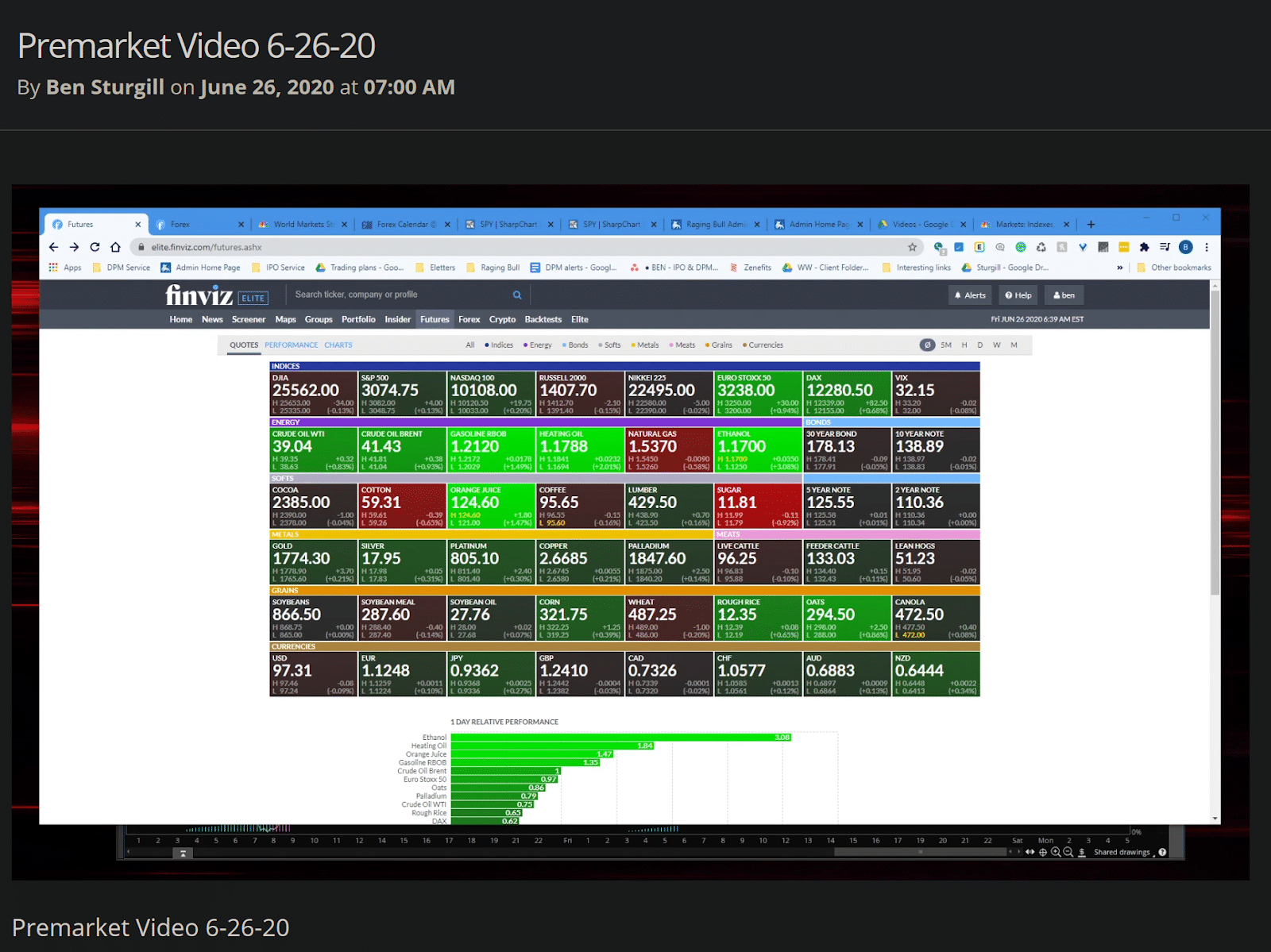 Source: Finviz
What I Saw In The Pre Market 
Mixed futures with the Dow being down.  The SPYs and QQQs are slightly up, but they are still considered to be in no-man's-land without any signal to which direction they want to go.
Something to note is that the VXX is not falling lower with the slightly higher markets.
That means every morning you will get a recap of my pre-market analysis to start your trading day and learn how I read and decipher the overnight trading sessions before the bell at 9:30am.
Every morning I review:
The global outlook overnight

Sectors for the US Markets

Daily chart on SPY with Technical Analysis reviews

Premarket analysis in the US futures markets

Jobs reports and other economic indicators

Intermarket technical analysis using the VIX TRIN and TICK indicators
I know this might seem like a lot to you at first glance but it is one of the most efficient and quickest ways that I can cover all major topics that are impacting the markets each morning.
Next…
The TICK Indicators
I want to share with you a quick indicator that gives me an overview of what the market is thinking at a mere glimpse.
Prior to placing any trade, another important market sentiment indicator I reference is the NYSE $TICK indicator that alerts me to oversold or overbought markets.  
Here's an example of the $TICK indicator: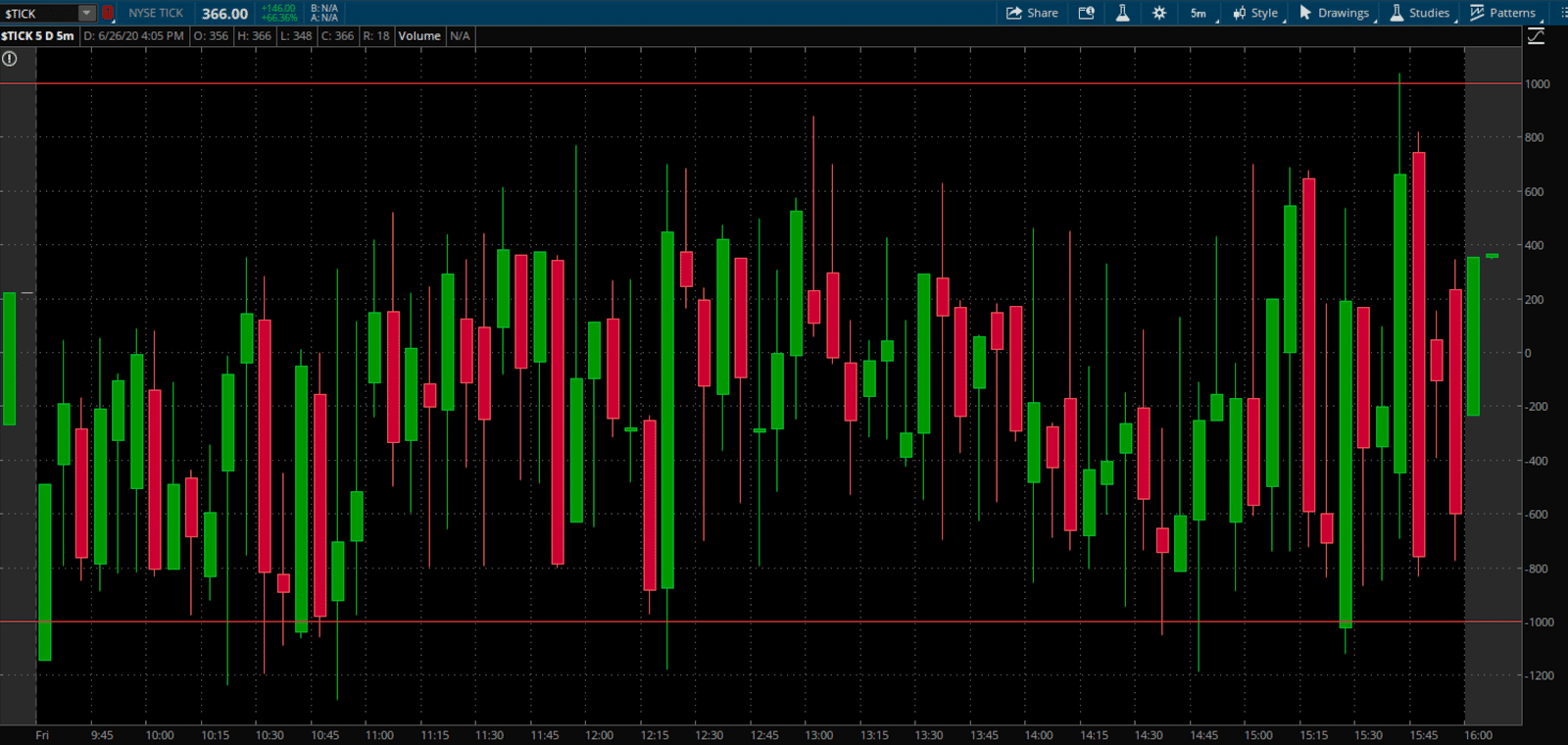 Source: Thinkorswim
The $TICK indicator shows three main market conditions: 1) Overbought, 2) Oversold, 3) Neutral.
Each zone is used to represent one of the three conditions at a particular point in time in the trading day.  
So, now that I have a good understanding of the pre-market sentiment going into the open, the next step is to take a look at what price action looks like for the SPY's.  
Technical Analysis 
Now that I have gathered enough information to make a decision about the trading day, it's best to confirm my direction using technical indicators.  
And since momentum is the cornerstone of the trading strategy at Daily Deposits I always make sure that I confirm the premarket macro analysis using these momentum indicators as my next step.
This next step is where I use a blend of the following technical analysis and indicators to confirm my macro view of the markets.
These indicators consist of:
Price action

Moving averages and market trends

Volatility Indicators

Trading Volumes
Here is an example of how I use those four indicators to analyze the pre-market trading session.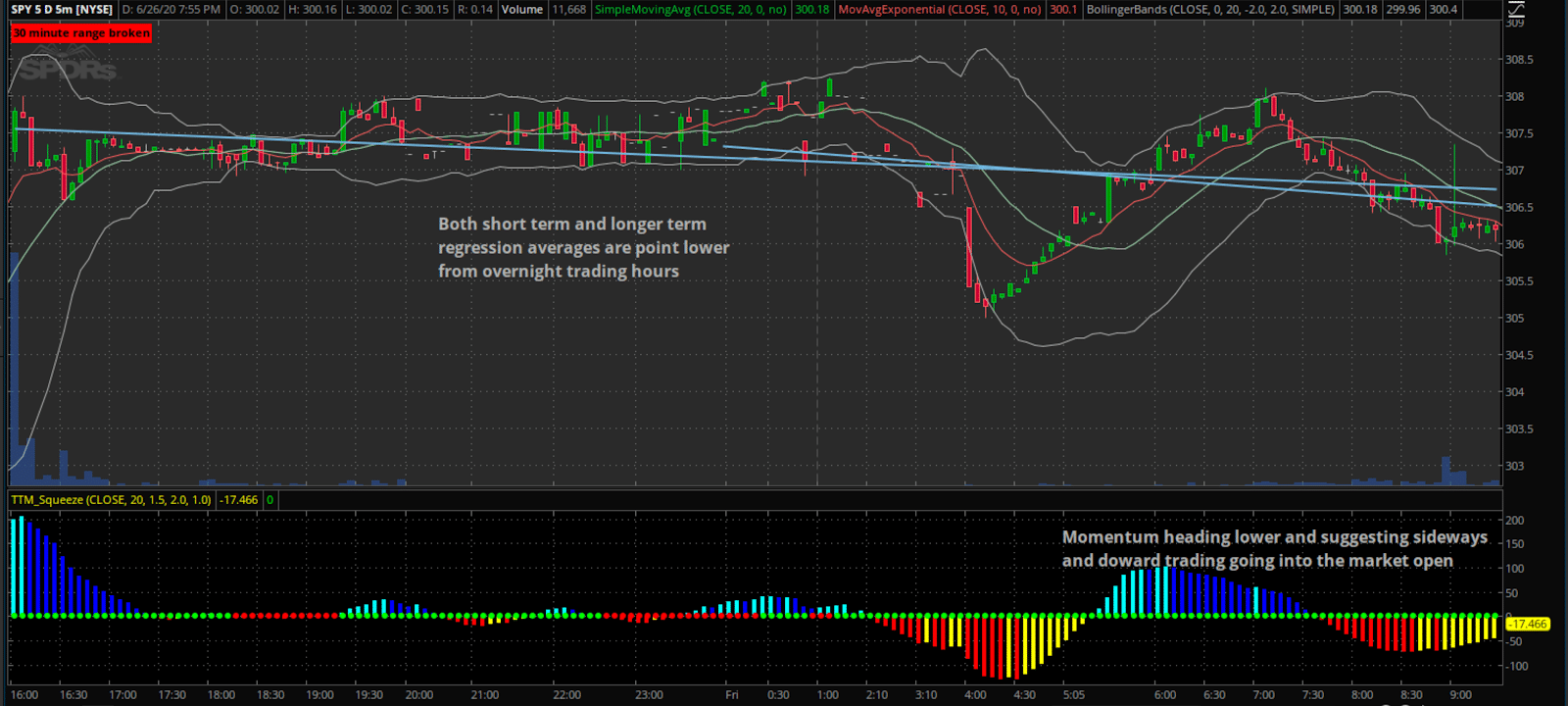 Source: Thinkorswim
And here is a more detailed view of other trend/range indicators I use every morning to determine the market direction.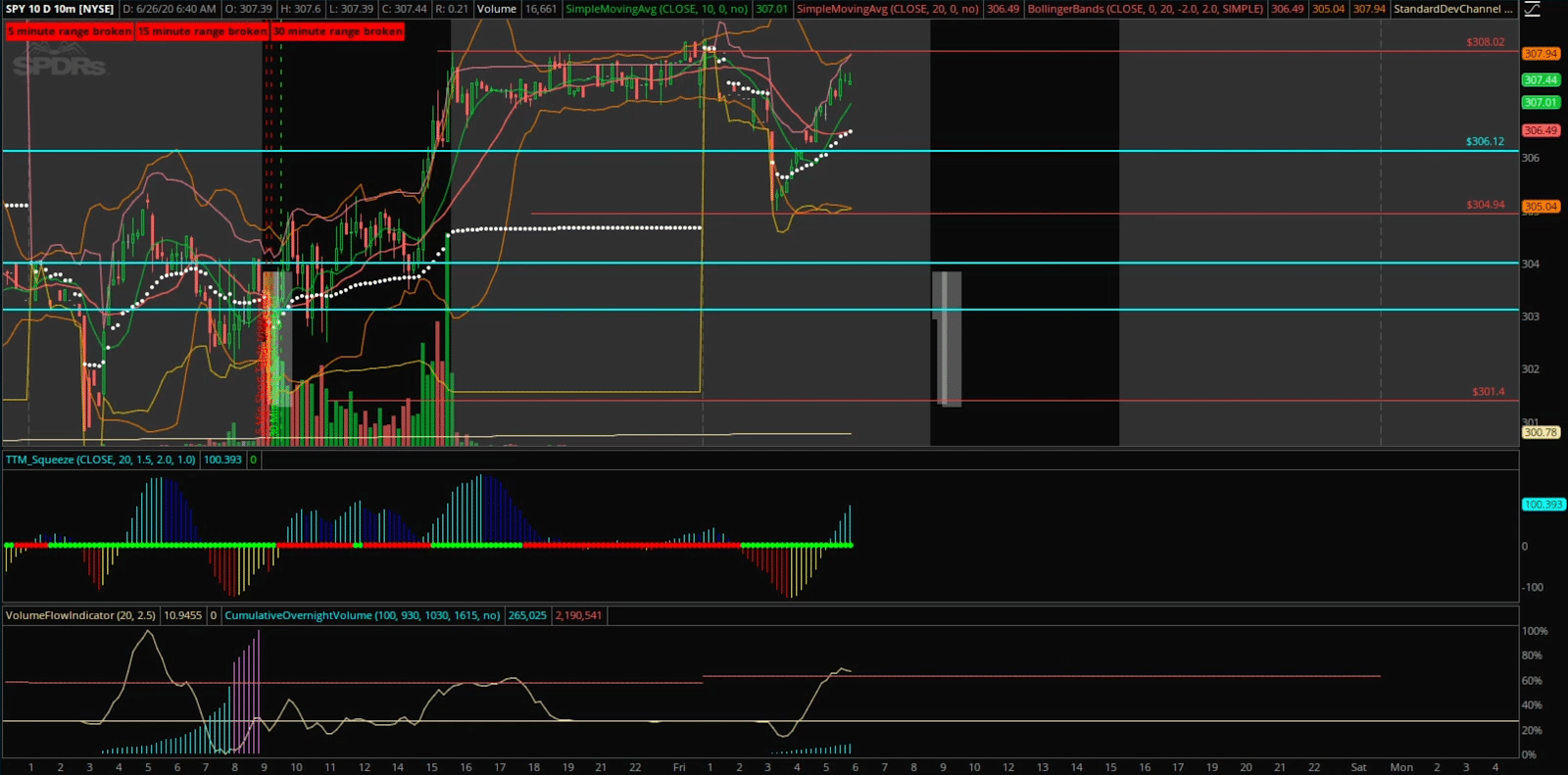 Source: Thinkorswim
What I saw:
The short term trend is flat to neutral, but is showing signs of weakness going into the open

10 MA < 20 MA suggesting a stronger downward trend is in control of the stock.

The momentum of the TTM Squeeze is starting to show signs of slowing trends, with momentum turning lower

Day opened with the $TICK reading < 1000 level
Now… before I place any trades those are the main indicators I will always review to see if I can verify my viewpoint from the macro analysis from earlier.  
This is also where I will start to look at overnight technical levels for support and resistance levels if I decide to place a trade.
My Daily Deposits members will always receive Support and Resistance prices that I came up with based on the pre-market SPY chart.  
Here is what I sent to all members based on my findings on the SPY chart:
Resistance: 306.20, 306.36, 306.49
Support: 305.88, 305.72, 305.60
The Trade
So now that I have a clear understanding of what the pre-market session is doing along with where I need to monitor my position for exit levels I will start searching for an option to trade.
One of the best approaches I like to use is to make sure I pick an option that has some "bang" to it.
Typically weekly options are one of the best ways to make sure you get that explosion in the options prices.
All of my Daily Deposits members received this email alert with the trade we were about to take!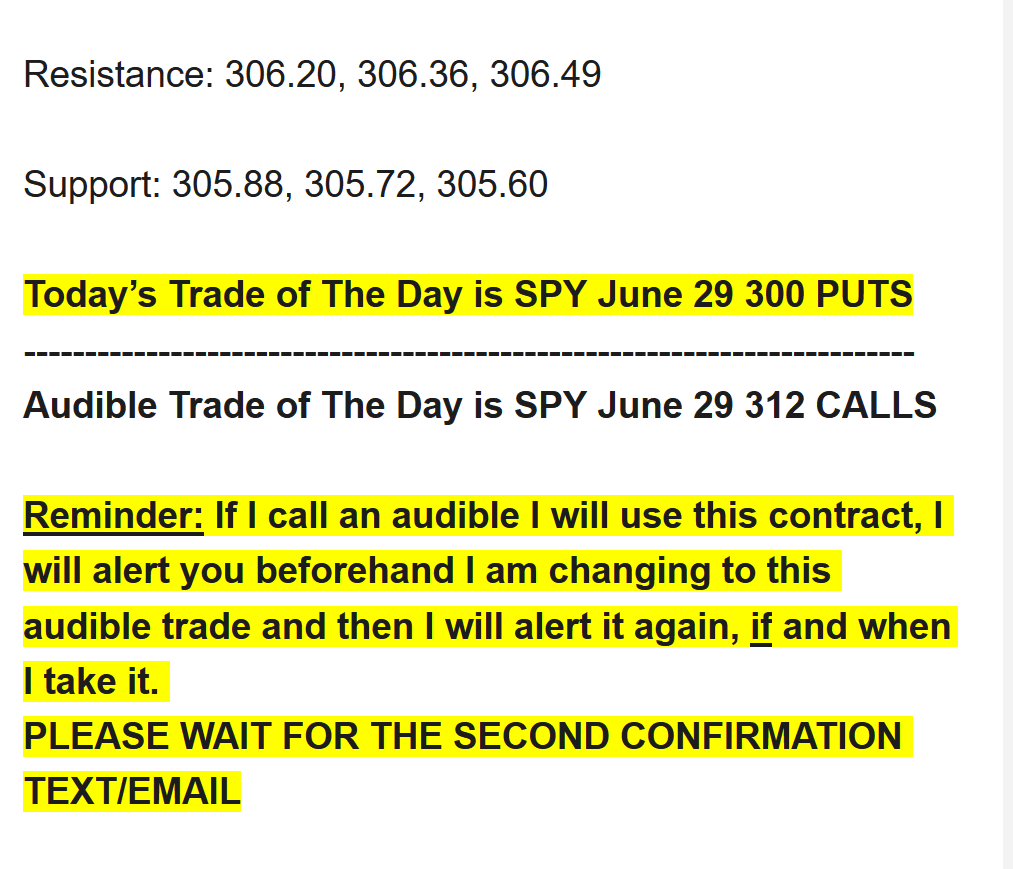 The Trade
Right after sending that alert – I placed my trade for the SPY Puts the markets started showing signs of weakness that carried throughout the entire day.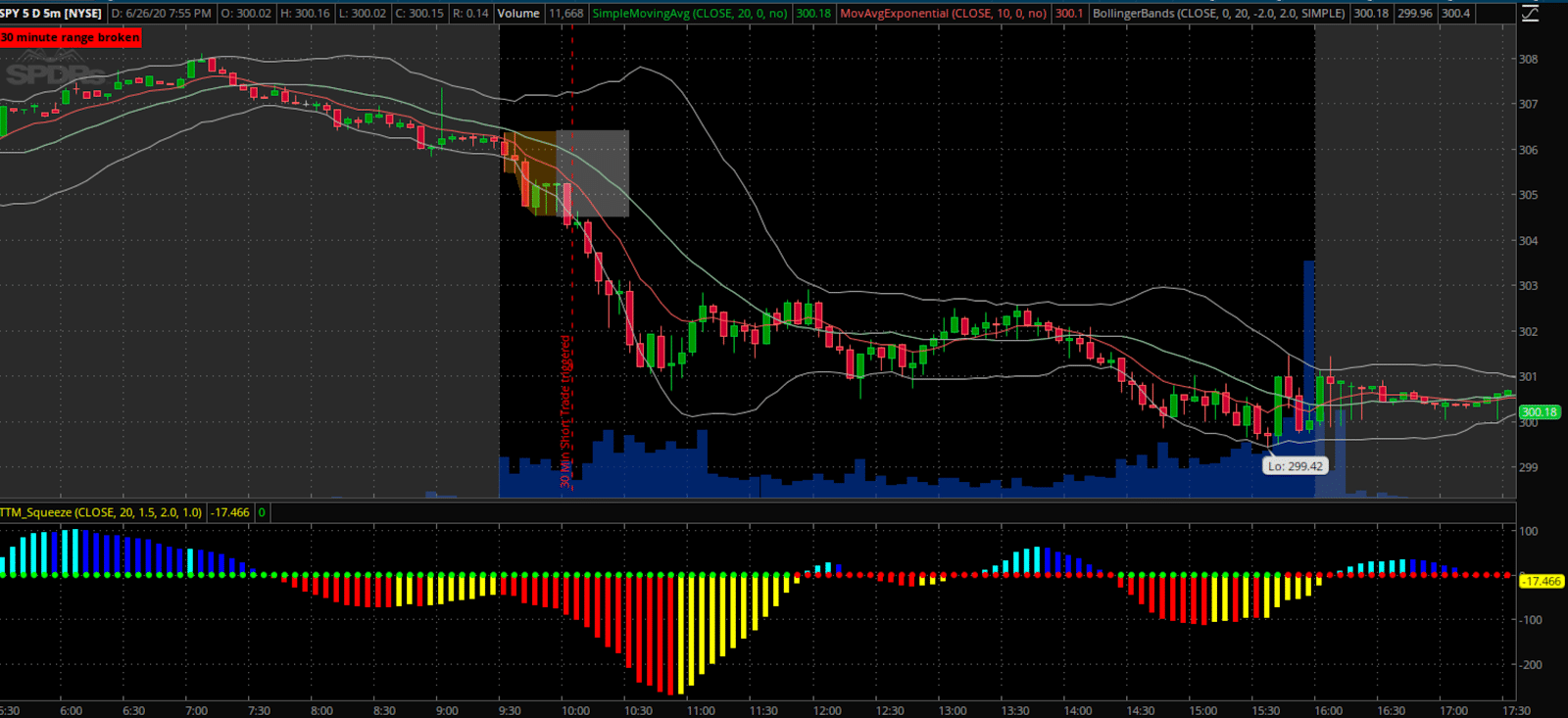 Source: Thinkorswim
The market just tanked and sent my put options rocketing in value!
Wrapping up
This is really one of the most reliable momentum trading systems that can change the way you think of trading from here on.
It blows my mind that a system can be this consistent with timing these markets based on pre market analysis and momentum indicators.  
And why even bother having complicated options strategies when the only thing you need to do is buy calls and puts when the right setup shows itself in the morning.
So if you're looking for one of the most simple ways to crush the markets during periods of high volatility like we are in now….