The first five trading days of the last month of the year are finally past us… and so far, so good for me. 
By now, you should know I'm all about reviewing trades to try to see where I can improve. So far, I've used what I've learned and applied it to my trading this month thus far.*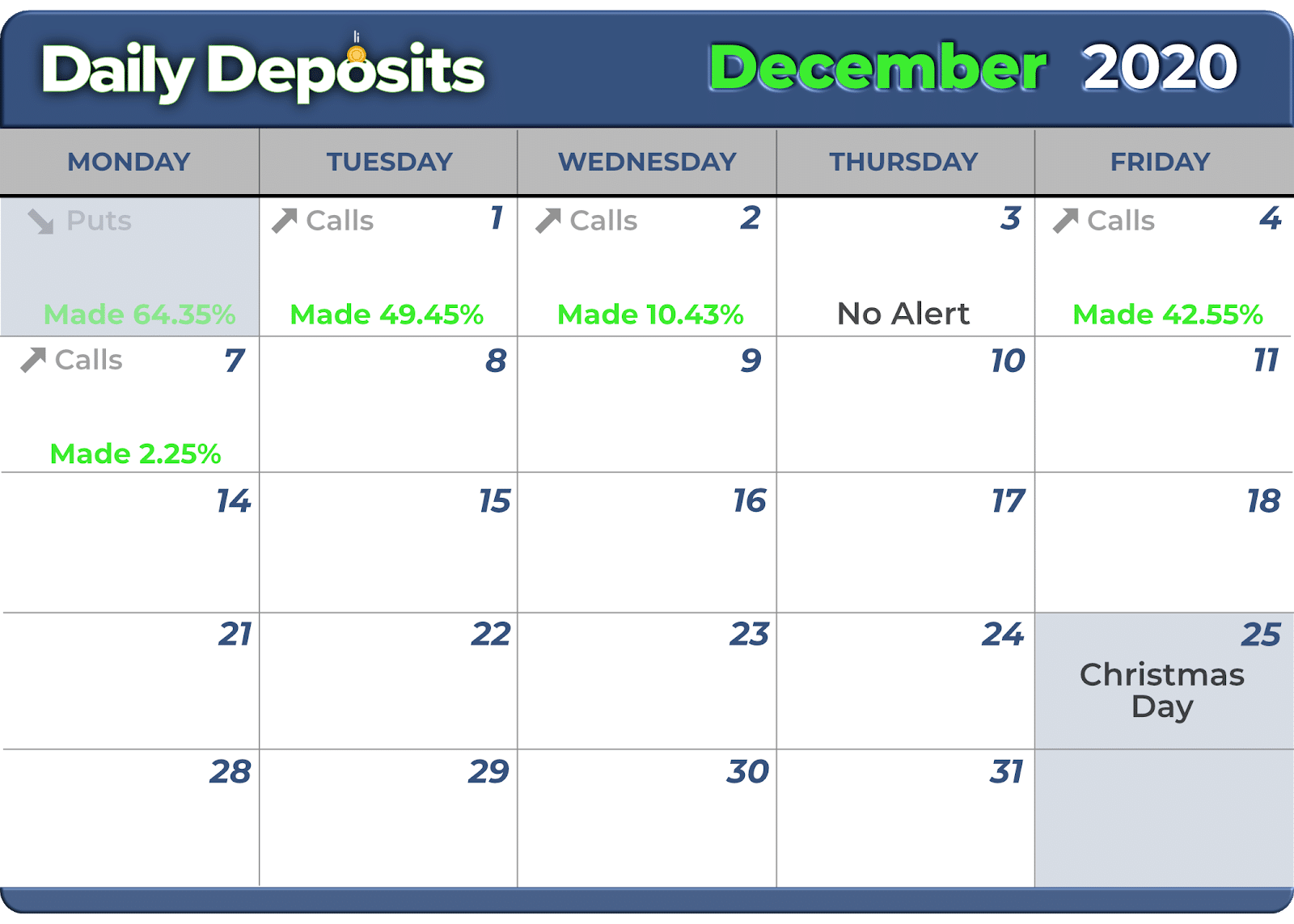 Last month I dominated the markets with a win rate that will make even the strongest traders weak in the knees, in my humble opinion.
I locked up the month with 17 out of 18 trades that were winners! *
Just check it out for yourself…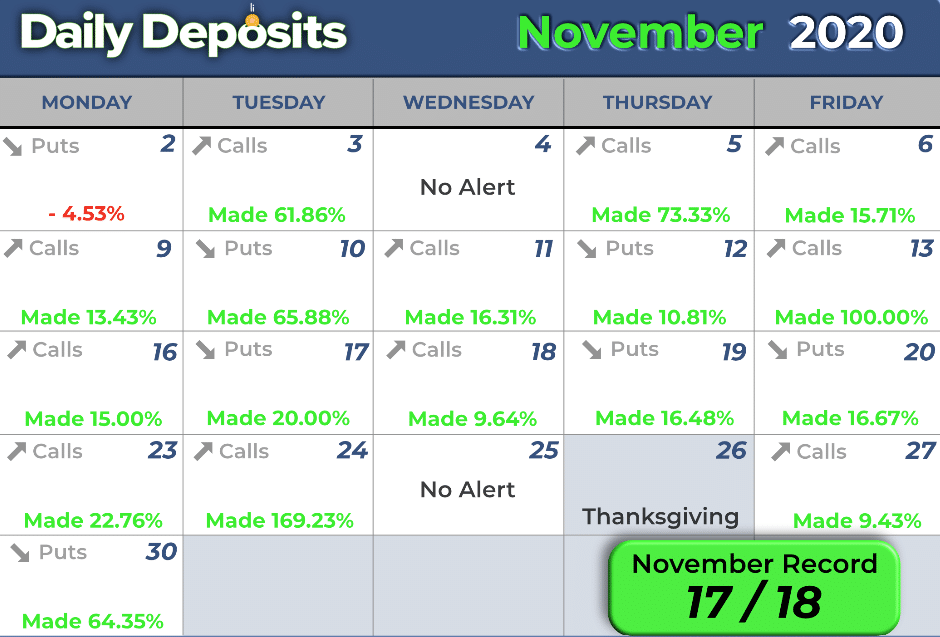 Of course, I'm not saying this performance indicates what I can do in the future, but I do believe I'm well-positioned to get on another hot streak
How?
I believe I have the ability to determine the market direction before the markets even open.
And I do this by sticking to what I know best… my Daily Deposit ETF trading strategy.
This strategy allowed me to put myself in a position to win, by analyzing price action premarket and following the momentum of the traders
And for me personally, I don't think this is anything really that complex when it comes to following the momentum of the markets
Then once I figure out where the momentum is heading… I leverage my buying power by trading options…Don't worry, I won't be getting into anything complex here…
I want to show you how I use chart patterns to find the momentum on the markets and then trade options to increase my gains.
Traders, have you ever heard the saying…"singles and doubles wins ball games, not home runs and strike-outs"?
It might not be the exact saying, but it's common among baseball players and traders… singles and doubles are really a better way to win compared with homers and strike-outs
Let me explain…
Early in the morning, I sent out this to my Daily Deposit members
Futures are all mixed this morning. The SPY is currently sitting at 363.06 in the premarket. This puts the SPY about .$ below where it closed Friday. In regard to momentum Indicators this morning in the premarket charts at the moment we see that the 10 moving average line is above the 20 moving average line on the 5, 10 and on the 15 minute chart.  So our momentum signals are all up. Additionally we are seeing average volume this morning.
 Here is a snap shot of the conviction index at this point: It's at .-5 on the day..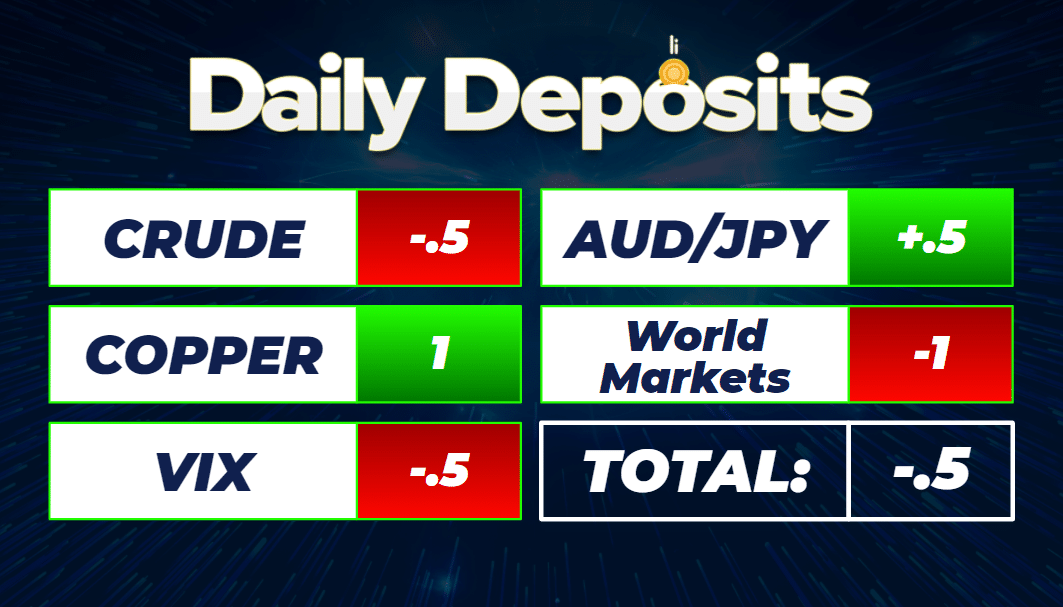 Here is a look at the pre market chart in the SPY's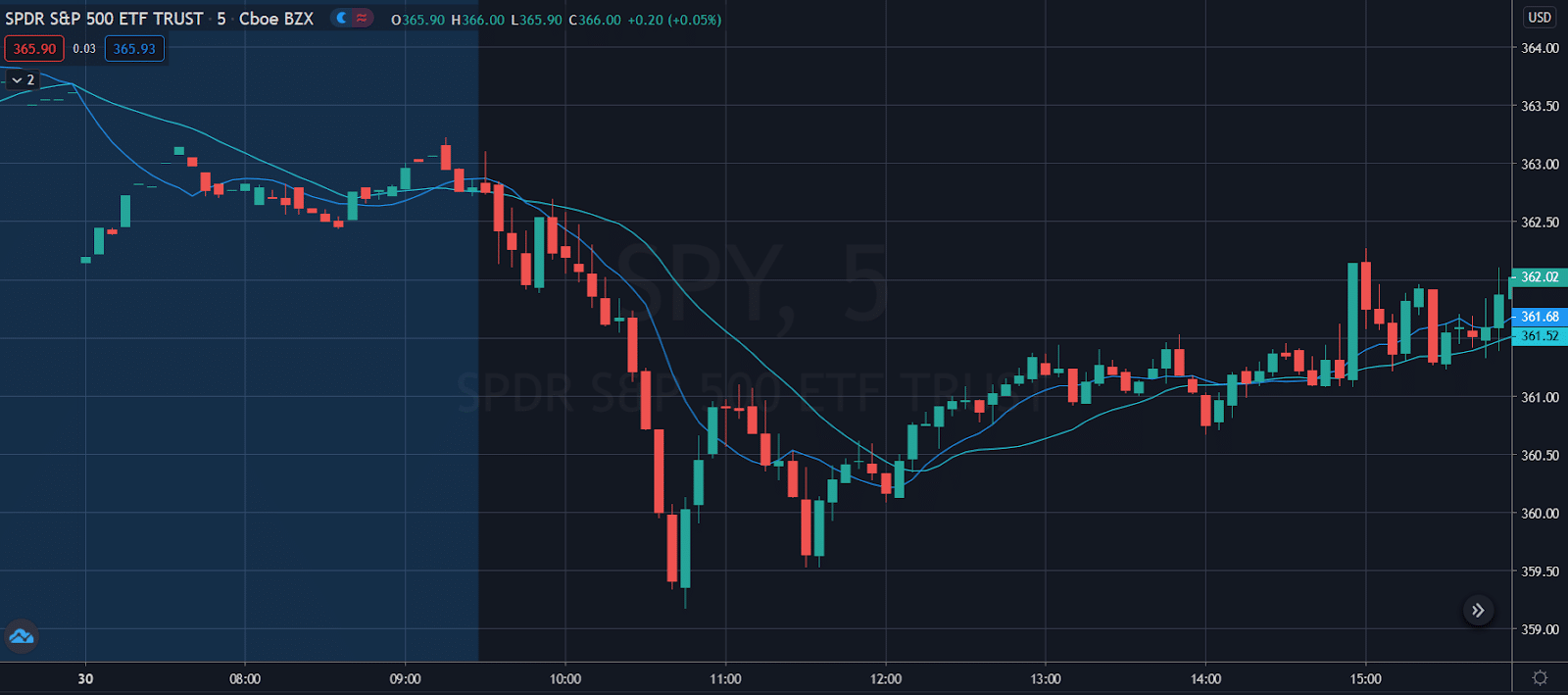 Here is my plan today, let the market show me what it wants to do. The domestic markets are down but not a huge amount from close yesterday. But the macro indicators are weak. So, I'm going to start with puts as I watch how the price action opens up today. So here is my plan today….
You see, I knew going into the trading day that I was supposed to be looking for PUTS on the SPY's to go with the momentum…
But unfortunately, many traders try to time the reversal and get it wrong!  This is commonly known as, 'catching the falling knife'
… Ouch! You don't want that to happen to you!
Let me explain how I found this momentum…
The S&P futures are below Friday's close, Nasdaq is above with the Dow below.
Here is my plan…
So I plan to start with puts as I believe we could see further downside this morning. Also, our conviction index is slightly negative.  So my plan is to watch closely at the open to see which way it wants to break (on the 5, 15 or 30 minute range) and I will let the price action lead the way. I'll look to get in for a continuation lower with volume and I want to see a hold below the middle line on the 15 minute bollinger band and a movement back to the 10 or 20 moving averages and a rejection to confirm a longer move.
You see, I never trade without a plan… and neither should you!
Here is the plan I sent out to all of the Daily Deposit members…
Going to be trading PUTS on the SPY, here are my key levels:
Resistance:  363,18, 363.67, 364
Support: 362.94, 362.57, 362.44
The Trade of the Day is:
Today's Trade of The Day is SPY DEC 4 356 PUTS
Audible Trade of The Day is SPY DEC 4 368 Calls 
Once the trading day opened, I watched for momentum to head lower, by watching for my range breakouts… 
Now, in my opinion, this was an easy trade to make since I was able to tap into what the market was thinking for the day before it even happened!
Here's what I did…
And if you missed it… I am sure to run down through every trade decision I made for my members so they can learn how I trade the SPY's…
I do this to make sure everyone learns how I'm able to be this successful with trading  the SPY's so they can do it for themselves.
Good afternoon, everyone.
Here is your Trade of the Day recap.
In this Trade of the Day video, I review:
1. Why I was looking at puts this morning:
While SPY was showing strength, it wasn't above Friday's close
Macro indicators were suggesting weakness (global markets and futures were lower, crude was lower)
NQ and ES were showing weakness
2. Why I got into the trade:
Internals were supporting a move lower (TICKS, advance/decline ratio)
SPY broke below 362.06 — a level that had been support on the 1-minute chart several times in the first 20 minutes of trading
3. Why I got out of the trade:
I started scaling out at my profit targets and major psychological levels on the way down
Once it got to 359.80, I was down to one contract that I was holding onto as a potential runner
When it comes to trading I know it can be a demanding job and force you to step outside of your comfort zone.
And that's why I focus on covering as much material as possible for you to learn from as I can.  
You see, we are now heading into the final month of the year, and the holidays are right around the corner
Of course, I don't know where the market is going to be heading – but I will let the markets tell me that.
Right now, I've found that pattern recognition to be the most beneficial to my trading.
If you want to learn how I use my three favorite technical momentum patterns to attack the markets, then you'll want to make sure you sign up here
You'll discover how chart patterns can make you a better trader and why you should focus on the price action of the markets.
Don't miss out on how I'm preparing for a record-setting December