We're starting to see some sector rotation in play this week, as things are shifting out of tech. 
Tech has been holding the market up, but on Thursday we saw the Nasdaq sell-off worse than we've seen in the past 3 months. 
Apple, Nvidia, and Zoom all dumped as investors looked to put their assets into safer sectors like utilities, materials, and real estate. 
We saw it starting to shift as early as Wednesday… when those sectors were the top three performers and information tech was the second worst performing sector…
Utilities +3.1%
Materials +2.3%
Real estate +2.2%
Think builders stocks…
When investors get jittery, they tend to put their money in the kinds of stuff that "hurt" if you drop it on your foot. 
But all of this didn't stop me from riding the tail end of the information tech surge in my Dark Pools trading service. 
I cashed in on 3 pretty sweet triple-digit wins on three separate legs of my recent position in Twitter (TWTR), right before the stock dropped on Thursday. 
I want to walk you through that trade today.
Twitter (TWTR) has never been able to break past the all-time highs it set after it's IPO week. 
There's no question that the stock has been an underperformer in the border tech sector for years, especially with comparison to Facebook (FB). 
But over the past 6 months, that's been a different story.
The stock has been approaching multi-year resistance in the mid-40s and breaking that resistance level could signal a major breakout. 
But I've also been keeping an eye out for opportunities to capitalize on smaller, shorter-term breakouts. 
I noticed a pattern of resistance forming in the 1-year time frame and thought I could pick up some nice gains on options if it broke through that level. 
Have a look…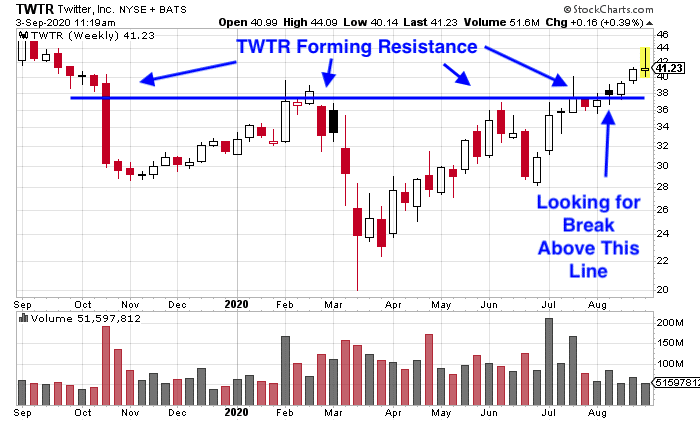 I saw a good opportunity for a potential breakout here based on the technical setup.
The technicals I was seeing on my chart were also confirmed by a dark pool print that came through on my scanner.
It indicated that at least one big Wall Street player had a very bullish opinion of Twitter. 
I followed suit and bought TWTR Sep 18 $37 calls. 
I was also seeing some "squeezes" forming in my short term chart set a couple price targets with hope that the stock would fire long.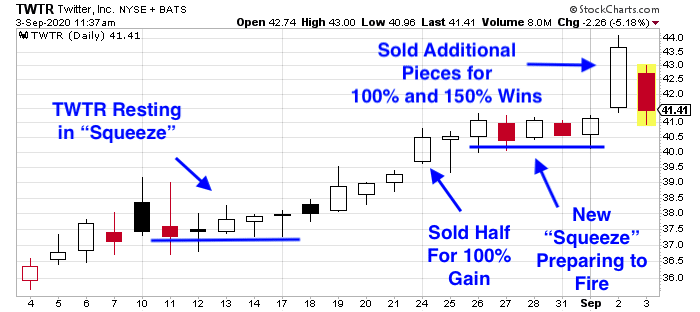 TWTR successfully broke through the 1-year resistance level I was seeing and fired long on a couple squeezes I had spotted on my short term chart.
I sold half of my TWTR Sept 18 $37 calls at $4.50 for a sweet 100% win on August 26.
Then one full week later, this past Wednesday, I sold two additional pieces at $5.50 for a 100% winner and at $6.85 for 150%.
Does the "Smart Money" Know Something About TWTR
Rumor has it that Twitter may add a subscription-based service to its social media platform.
The company's CFO, Ned Segal, mentioned it at the beginning of August and the stock immediately caught a pop.
That was just weeks after CEO Jack Dorsey mentioned on a conference call that we could expect to see "some [subscription] tests this year."
There's some debate about whether or not a subscription based service would be valuable to Twitter, given that most of their content is not high-quality or original.
Compare that to Wall Street Journal, which charges for access to their news.
Regardless, an official announcement surrounding subscriptions to the Twitter platform could have big implications for the stock.
I'll be keeping my eye out for more TWTR activity in the dark pools.
I never know for sure if any of the dark pool prints I piggyback on are from someone "in the know."
But it's always possible that these prints could alert me to some profitable opportunities, in the event that some big players on Wall Street know something ahead of the curve.
To check out how I'm sizing up potential dark pools opportunities daily, check out my recent dark pools 101 "chalk talk here.