Investors and traders are in full-blown panic mode about the coronavirus. And while the Fed said that they will use their tools to combat any potential economic slowdown… 
There is little they can do to solve a biological crisis and help support the global supply chain.
Unlike the financial crisis a decade ago— tax cuts, stimulus packages, and bank bailouts won't solve a pandemic of this nature. 
Buy and hold investors are getting the worst of it— as the Dow and S&P 500 collapsed by double-digits. 
But believe it or not, I had one of my best trading weeks of my career. 
I had total gains this week of 358%… from trading SPY options!
On Tuesday night, I'm going live to discuss why my Daily Deposits strategy is so darn effective, even in this turbulent market. [Click here to register]
On Friday I locked in a 30% gain, Thursday I banked 72%, and Wednesday I had a monster 256% gain…
Are you ready to know how this is done?
The System That Crushed The Markets
The squeeze indicator is a great way to determine the "calm before the storm" of a market.
It's comprised of two indicators that when set up in the perfect pattern yields a "squeeze" to occur and signals a quiet period in the stock price.
What's this look like on a chart?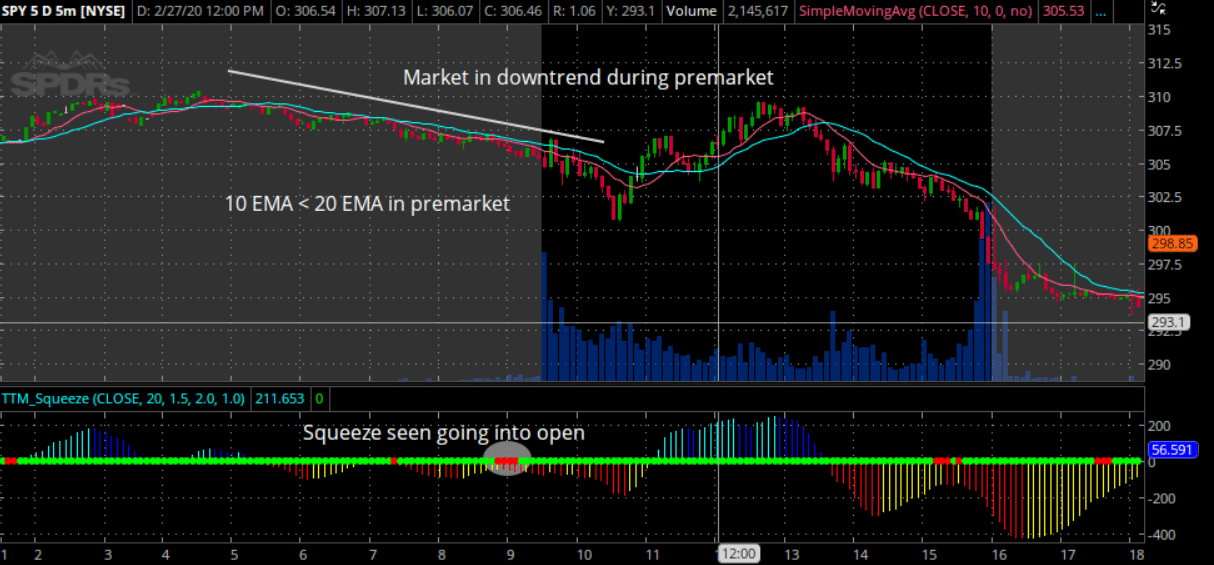 This is a classic setup:
The stock in a trend overnight

The 10 MA < 20 MA supports the trend 

Squeeze occurred going into open

Higher time frames 15m / 30m support trend
Let's break this down piece by piece to see what this looks like in the stock.
First, the SPY's and the overall market was in a major downtrend throughout the entire premarket session.
Second, the 10 EMA was under the 20 EMA signaling weak price action going into the open and continued momentum.
Third, there was a squeeze indicator that was starting to form right before 9:30 that signaled there may be a period of lower price action that will let a trader enter the markets safely.
Fourth, the stock exited the squeeze and all higher time frames supported the downward trend.  
The trade:  Long SPY March 4 300 puts
This is the trade that came across to Daily Deposit subscribers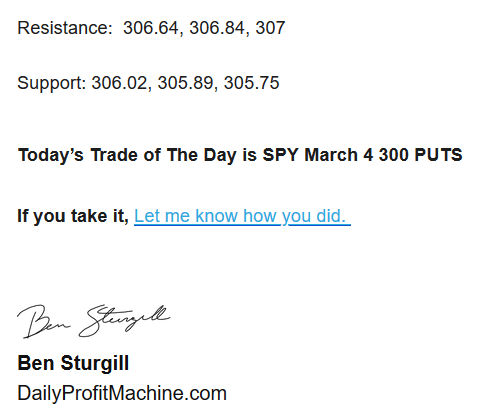 And talk about a huge win that we saw from this trade.
We scored a monster win with this simple momentum indicator that kicked into high gear!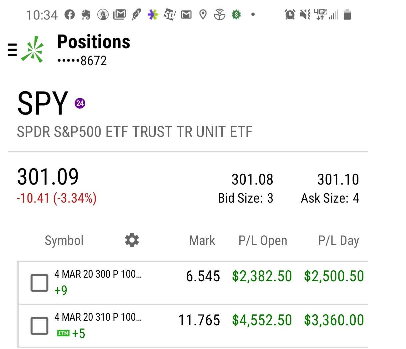 This makes me wonder why anyone would even want to hold stocks overnight.
Holding positions overnight in the market is too crazy – and this is why I like to start each day with a clear mind.  
Don't worry… you don't need the market crashing for this momentum system to work for you.
Here's a trade the week earlier that made massive profits in just a few short hours.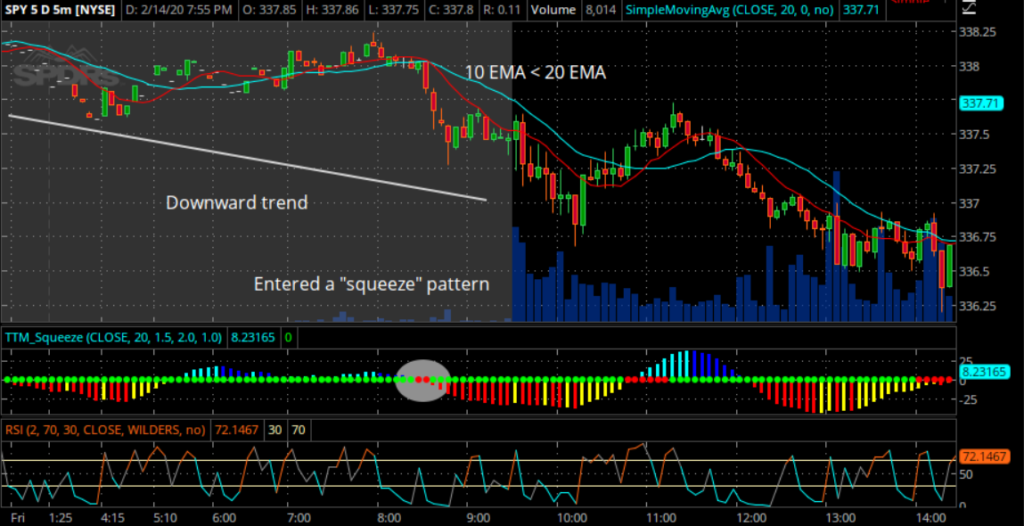 It's mind-blowing that this simple and profitable strategy guarantees such explosive gains!
Each and every day you are able to get yourself on the right side of the market without having to do hours and hours of research to find out what the major players are thinking.
So… how do I go about actually placing this trade?
It's quite simple and here are a few steps for you to keep in mind when trading this strategy.
Finding the right option:
At the money, options give you the best bang for your buck

Always pick near term options.  It's best to go about 7-14 days til expiration but sometimes closer.

Never go further out than a 1-month contract as intraday movement won't change the price of these options as much as near term options
Wrapping up
This is one of the most reliable systems for a trader to trade the markets based on premarket futures and momentum indicators.
This is so effective it reduces the need for complicated day trading strategies, sitting in front of a computer for 8 hours per day, and fighting for trades on illiquid stocks.  
So if you're looking for a simple and consistent way to boost your income and grow your trading account, this is the perfect system for you.
Join me live, on Tuesday, March 3rd at 8 PM ET, as I walk you through the strategy, and show you how simple and easy it is to execute.