I don't know if you've noticed…
There's been some really intense build up and adrenaline-pumping action in the market lately… on the level of a Floyd Mayweather vs Manny Pacquiao fight.
I'm talking about the battle between tech and consumer cyclical stocks. 
Now, a lot of traders try to pick sides when it comes to different sectors.
But do you want to know something that's helped me uncover some of the hottest plays?
I don't take sides. 
Because I know that there are money-making opportunities to be found on either side of the ring, you just have to know where to look.
Why would I box myself in and only choose one sector?
That's right, it doesn't make any sense to do that.
As vaccine news has come out and fears of economic downturn have subsided, cyclical stocks have been thrust back into the limelight.
These stocks include vehicle manufacturers, apparel retailers, restaurants, airliners, and hotels— they can all expect a bump in sales once the economy begins to recover.
Tech stocks, much to the contrary, have been the heavyweight champions of the pandemic. 
Not just any tech stocks— the "home delivery" ones that have allowed people to transact online. 
Chewy (CHWY), Stitch Fix (SFIX), Pinterest (PINS), and Yeti (YETI)— I'm looking at you. 
Of course, you're wondering if I actually traded any of those names. Yes, I did.
How did I uncover them?
By tracking volume and riding momentum this week, I was able to dig up a win in cyclical stock Starbux (SBUX) just as easily as tech "home delivery" stock Chewy (CHWY). 
Let me show you how…
On November 16th, I sent out an alert to my IPO Payday subscribers letting them know that I was getting into CHWY. 
The stock had been volatile the whole month prior, jumping up and down like a bouncy ball.
But the day I sent out the alert, something was different. 
In the days leading up to it, CHWY was entering a period of consolidation. 
The volatility was coming down and starting to form one of my favorite setups… maybe you can guess what it is…
Yes, it's the TTM squeeze! 
What's the mechanism, you ask?
Simply that the keltner channels had moved into the bollinger bands so the stock was building up energy (consolidating) before a big move.
Thanks to my screening criteria, I was able to identify EXACTLY how much energy was built up… my TOS platform told me on the daily, 4-hour, 2-hour, and 1-hour.
The longer the squeeze, the higher the pop!  
Take a look…
So what did I do?
I waited for the perfect opportunity to strike. 
CHWY had been encroaching on an old resistance level, which it had set and blasted past several times before over the previous month… a bullish sign!
As the stock was consolidating, I observed patiently as pressure built for a little while…
Then as soon the stock looked like it couldn't resist anymore, at the first green candle I made my move…
And wham, the stock exploded!
I sent out alerts straight to the app, notifying subscribers as I scaled out, including this final piece for 175%…*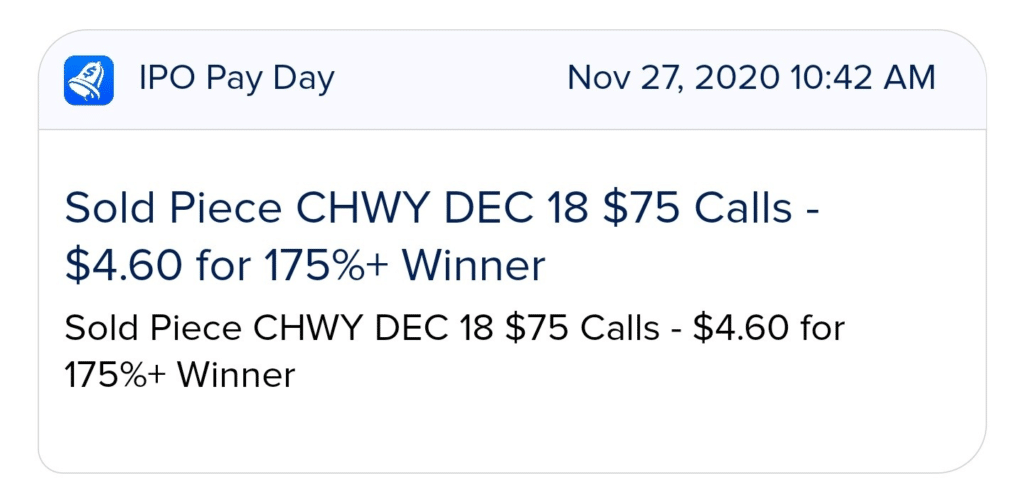 To receive these alerts, join IPO Payday here. 
Starbucks (SBUX)
Back on November 6th, I sent out an alert mid-day to my Dark Pool Profits subscribers.
A dark pool print on SBUX came through my scanner…. It shocked me so much, I had to be part of the trade.
It was almost $43 million in size!
That's right… a single order came in for $43 million to buy SBUX shares.

So I immediately alerted that I bought SBUX DEC 18 $100 calls for .64
You see, I couldn't wait on this trade… I knew it was going to be huge
So I decided to give it more wiggle room than I normally would, and consider stopping out if the stock dropped below $88.  
Why did I pick $88 / share as the stop out level? 
Well, I knew the moving averages should act as a momentum catalyst for the stock to run higher.  And if they don't, the stock will most likely drop further instead of rallying off of this bullish trade.
Here's the stock chart that I saw…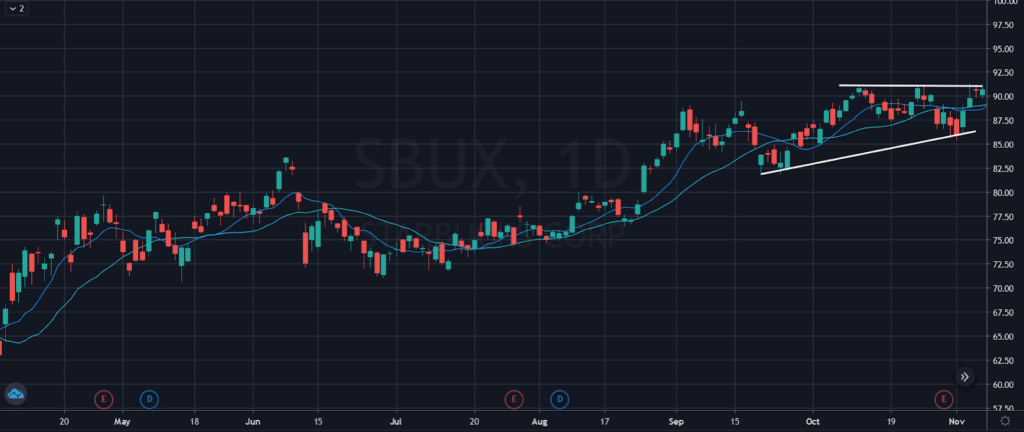 In my opinion, SBUX looked to be trading up against a triple top formation, combined with a rising triangle near all-time highs.  
It was just my view, but I felt these are breakout patterns and that is how I planned on trading it.
So, my level to watch was around the 91.00 to 91.50 level for a breakout higher.
You see, these wedges are a great trading play because it forces the stock to go in a direction… up or down…
To recap…
If the bulls win, SBUX could soar to new highs at or above $100
If the bears win, SBUX could be trading down at $85
Now this is where the magic happens….
Soon after that trade hit the markets, SBUX popped off and gapped up huge the next day.  Then it continued it's run for the next month where I stayed in the trade the entire time.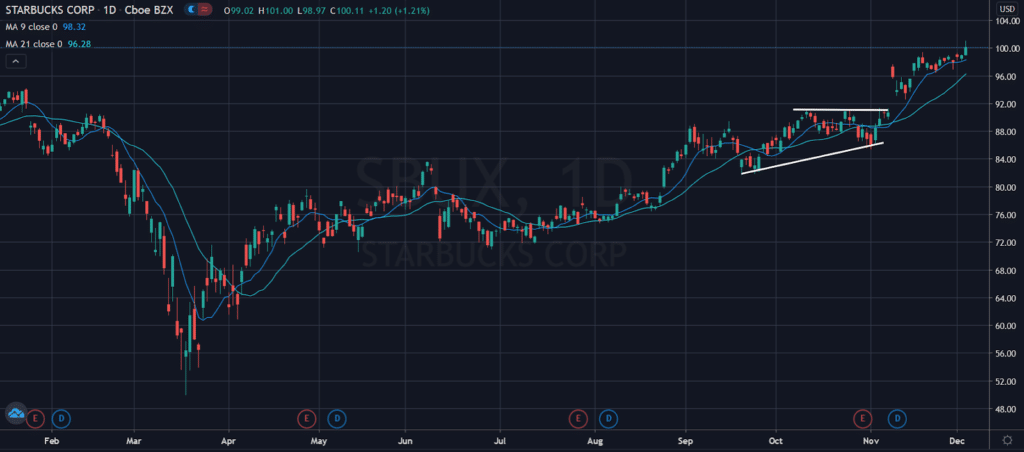 The stock took off, and ran for about a 10% gain from the breakout level.
But, you see, I played options here.  And I was able to leverage my money and return a whopping 300% on this position!*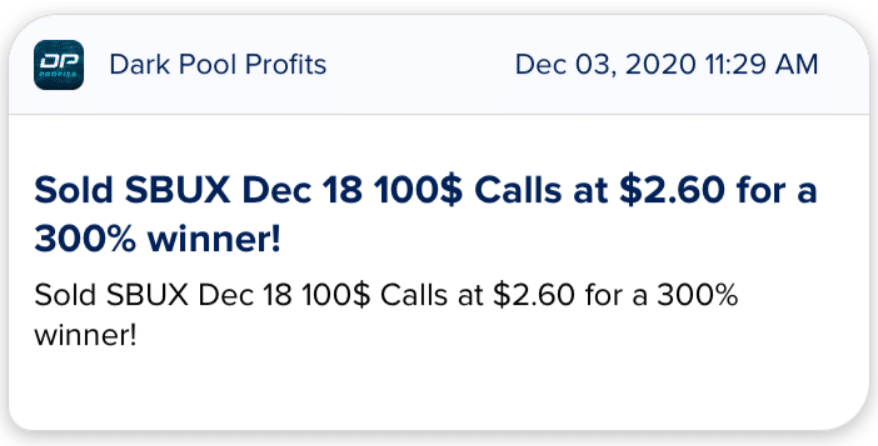 You see, I don't need to be the researcher who is digging through every stocks financial statements
Instead, I let the trades come to me, simply by monitoring the Dark Pools… and then I can ride the coattails of these large traders.
Of course,  I can't predict the future and I don't know what is around the corner… 
Since the Dark Pools have been this active during times of uncertainty, I can only imagine how lucrative they are going to be in times of unlimited money being poured into the economy.  
So make sure you're part of the Dark Pool Profits community and join now to stay up to date with my latest trades.
This is a limited time offer and make sure you sign up here now before time runs out and I'm forced to close registration
Want to receive BOTH my IPO Payday Alerts and Dark Pool Profits alerts?
Join Profit Factory here to access all my services for one low price.