Did you know that most day traders fail within their first six weeks of opening their trading account?
It's true – most of all new traders blow out of their trading account before they even see two months of trading.
Why does this happen?
It's because they usually get into the deep end before they know the basics of trading. 
Without true guidance, they are reserved for the internet, media, and books as their main source of information.
Hint…it takes years to build a tried-and-true strategy and actually understand how it works.  
Of course, you can fast-track that progress by latching onto someone who is profitable, and willing to show you the ropes.  
That's exactly the service I provide for my  Daily Deposits subscribers…
However, I'm not here to just talk about it…
Today I want to get in-depth with you and explain in detail what my pre-market momentum strategy is all about. 
And while I've had incredible success over the last two months ...
There are no guarantees in the market… that's why I continue to work hard and prepare for each and every trading day. 
If you want to learn what my process is like…
If you are new to trading, I am sure you have looked all around the internet for material to teach you how to trade.  
And I am also sure you have confused yourself with all of the conflicting uses of that information.  
Typically you would expect a bullish pattern to cause prices to go higher… but at times, this signal could actually become a bearish pattern and push the prices lower. 
So let me walk you through my 4 steps to becoming a better trader!
These 4 steps are:
Learn from a proven trader

Ignore the noise of other traders or strategies

Use pre-market momentum analysis

Buy and sell based on rules
1-Learn A Successful Trading Strategy From A Proven Trader
Trading without a plan is simply gambling… and that's not how to make a career in the financial markets.  
Which is why I created a strategy which would keep me focused, keep me disciplined toward one goal.  This strategy forces discipline and puts me in a position where I can take profits out of the markets almost every day!
How do I do this?
Well, it's simple!  By following a pre-market momentum strategy that I developed throughout my years of experience in the financial industry.
My proprietary trading strategy is based around a set of indicators that I found to give me an edge when it comes to determining what the markets are thinking.  
It's so powerful I can determine what trade to take for the day prior to the markets even opening. 
And the markets have been full of opportunities in the last few months.  It has really put this system to the test, and it's done nothing but shine in the last 12 weeks.
Now let me show you why you need a system like this to generate daily income for your business while cutting out all the bad habits you may have picked up so far.
2-Ignore The Noise
Did you know there are 2 billion websites on the internet?
So when a new trader wants to learn about the markets, chances are they get overwhelmed!
You have things like price action, MACD, RSI, Stochastics, Fractals, Pivots Points, Fibonacci… I'm really just scratching the surface here.
Sometimes less is more, and going crazy with every technical indicator or analysis tool is definitely not the right answer for coming up with a profitable trading strategy.
And it's important to remember that if a certain indicator works for a mean reversion strategy it has a high probability of not working for a momentum following strategy.  
Also if you hear rumors of mergers or acquisitions hitting the news channels, there is a degree of certainty that it won't impact your trading for the day.  
Such as if UBER announced its takeover of GRUB, why do you think it would be a big enough story to move a major market such as the SPY?  The reality is that this is only noise and should be ignored!  It's just distracting you from doing your job of trading the SPY trend for the day.
So, where do you start?
You must start by learning a proven trading system…and it starts with focusing on the pre-market momentum.
3-Pre-Market Momentum Analysis
My pre-market momentum trading strategy takes the guesswork out of your trading plan. 
Since I have already done the heavy lifting, you just need to learn how to analyze the markets in a way that is driven by data instead of emotion.
What I mean is that many traders get excited when they see a market gapping higher… but what they might fail to realize is that the markets might actually reverse course and head lower.
And by following my 5 steps pre-market analysis, you can:
Analyze the global markets, FX, economic data, commodities and more

Monitor trading volumes, earnings and fed announcements 

Track the trend and momentum of the futures markets for the US stocks

Understand the moving averages, support and resistance, and price action of the pre-market 

Follow the internal momentum indicators for price action heading into the opening bell and throughout the morning
I know that might seem like a lot of information to review every morning, but it's focused directly on what matters the most… identifying what the markets are thinking and wanting to do for the next day.
Remember… make sure you ignore the noise and chatter of other traders and other non-relevant information that you can dig up online.  
If it doesn't help with steps 1-5 then it's a waste of your time!
4-Buy And Sell Based On Rules
Now that you've got your research wrapped up, it's time to actually get down and dirty and place the trade of the day.
So… 9:30 am hits and you execute your trade immediately.  Right?
No way!  That's called "chasing the price" and you don't want to do this!
The way you should buy and sell your positions are to base them on strict rules (or guidelines)!  
These rules allow for an emotionless trade and keep you from "chasing the price" higher – which would only cause you to lose more money if the trade goes against you!
Execution Rules
Before placing any trades, it's best that you have your execution logic wrapped up for the trade to avoid any confusion or errors if the markets are extremely volatile. 

One rule of thumb is to only go long on your position on a pullback into support, or to go short on a rally into resistance.  
Why?
Well, this gives you the best risk-to-reward possible at that point.  Remember, when support of a stock is broken, the trend will be reversed and it will head lower.  The opposite is true of going short a stock at resistance levels. 
But what is considered a pullback and what is considered resistance?
Well, there are a few techniques you can use to find these levels, such as horizontal support and resistance, pivot points, trendlines, moving averages, and VWAP prices. 
Here is an example of support being held as the SPYs trade higher.  In this example, each pullback you could buy into the horizontal support level.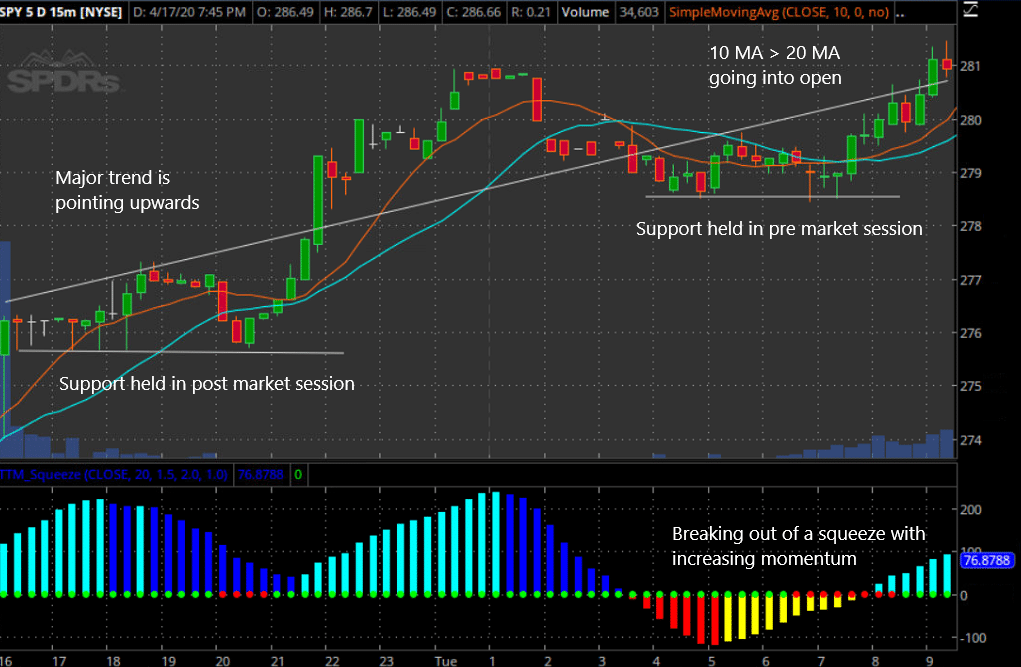 Source: Thinkorswim
But what if you never get a pullback that is that defined?
That is where I like to turn to tools like Fibonacci or VWAP prices to find the support levels for the stock to give me an entry point at.
For example, here is the SPY trading off VWAP multiple times throughout the day that would have let you enter and make huge profits on the trade.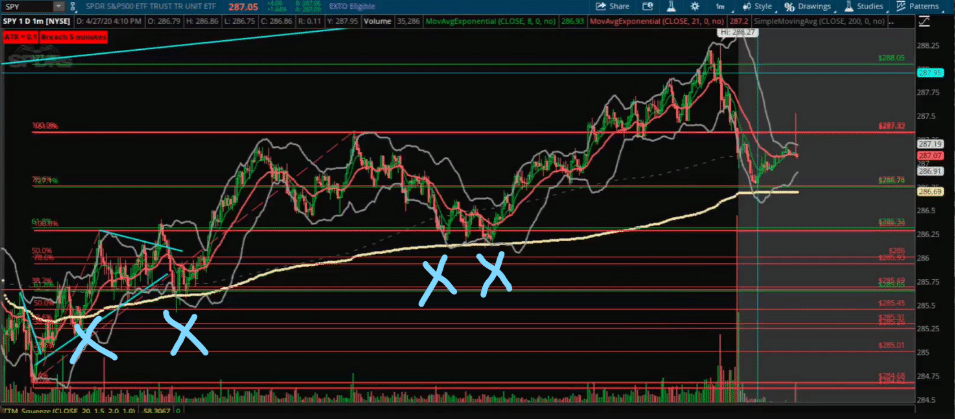 Source: Thinkorswim
There are 4 signals that are applied to the above trade:
The market started the day with strong pre-market indicators of upside momentum to follow when the trading day opened

The SPY was starting to make higher lows in the morning, signaling the trend is going to be to the upside for the day

Pullbacks were being supported at and by the VWAP.  This means that the price at which traders are willing to buy the SPY are in line and not "overvalued" compared to prices that are extended from VWAP

As the day pressed higher, FIB levels were starting to coincide with VWAP giving even further evidence that traders are feeling comfortable with these buy zones and the price the SPY is trading at, and therefore driving prices higher.
Wrapping Up
If you are new to trading, I am sure you have looked all around the internet for material to teach you how to trade.  
And I am also sure you have confused yourself with all of the conflicting uses of that information.  
Typically you would expect a bullish pattern to cause prices to go higher… but at times, this signal could actually become a bearish pattern and push the prices lower.
And after I showed you my 4 steps to becoming a profitable trader, you can learn these same rules and apply them to trading along with my momentum strategy at Daily Deposits!
But don't forget to sign up now and get access to even more of my trading rules and strategies to trade the SPY every day and land huge returns for trading business.  
Click here to sign up for Daily Deposits today!