Earnings is one of many catalysts that can allow traders to play a run-up on a stock. 
While trading around earnings can be a gamble, I like to use all the resources at my disposal to anticipate how things could play out. 
That includes my dark pool scanner, which tells me what Wall Street's top players think. 
Fitbit (FIT) is one company that has an earnings announcement coming up.
Dark pool activity around FIT was going nuts yesterday, and I saw activity in it as early as last week as well. 
For example, one big player came in and swept up a whopping 500K shares of Fitbit…

Does this big player have some non-public information about the FIT earnings on August 5?
There's no way of knowing for sure, but I'm keeping FIT on my radar and looking for potential opportunities to get in. 
That's why I want to show you the FIT chart and some bullish news I'm looking at. 
The FIT chart looks really interesting right now. 
It has recently bounced off the 200 day moving average at $6.10 and now sits below resistance at 7.10.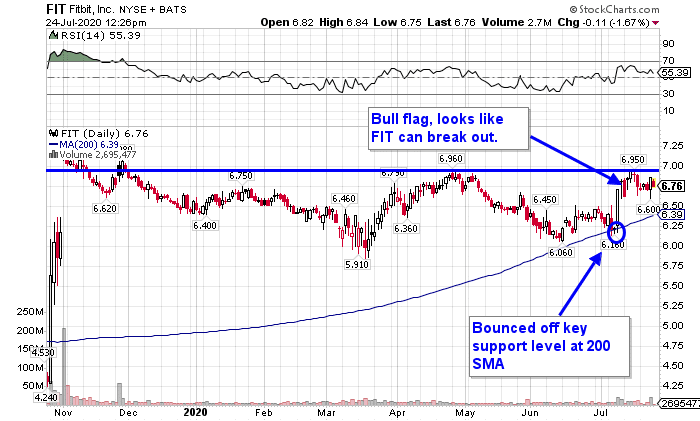 So it's no surprise that several orders came through for this yesterday on the scanner.
FIT hasn't really moved a lot yet, but it could easily break out from here and run. 
There's still time to get in on FIT ahead of August 5 earnings. 
But my interests in FIT are not purely technical…
COVID-19 Research Through Fitbit Could Push Its Stock Higher
I've been coming across some interesting pieces of news regarding FIT that I find bullish. 
Fitbit watches are currently being studied as a way to potentially identify people with COVID-19 symptoms before they appear. 
Stanford University School of Medicine is currently conducting a study with over 5,000 people enrolled. 
They're also gathering historical smartwatch data from the smartwatches of 31 people who already tested positive for the virus. 
Heart rate, respiratory rate, and other biometrics could signal early stages of a virus infection. 
So far, the research is showing that smartwatches like Fitbit are able to detect infection 3 days prior to symptoms. 
That's really significant in my opinion.
Not only that, Fitbit itself is conducting an even larger study of its own— with 100,000 people in the U.S. and Canada, including 900 who were diagnosed with COVID-19. 
I suspect some of the recent Dark Pools activity I've spotted in FIT could be tied to all this news. 
To find out if I do decide to jump into FIT before the end of the day today or right before earnings, you can join my Dark Pools trading service here.