Cryptocurrency is a particularly hot sector of the market right now.
Just in the past week, Bitcoin saw peak gains of 22% as it just crossed the $11K mark.
But naturally, this sector is filled with lots of sinister activity.
Crytocurreny gave rise to a dark market called the Silk Road, which was notorious for allowing people to transact drugs and other illegal things online.
The Silk Road has since been shut down and more positive potential of blockchain technology is becoming evident.
However, there's still a lot of shady characters involved in crypto behind closed doors.
That's why when it comes to profiting off this sector of the market, I resort to my Dark Pools scanner to size up potential opportunities.
Today, I want to reveal how— thanks to the scanner—  I snatched up an awesome win on two legs of Marathon (MARA), a patent company involved in bitcoin mining…
I'll also explain why I'm looking for more upside on the remainder of the position.  
Suspicious Dark Pool Activity in MARA Screams "Buy"
Last week, I saw a suspicious dark pool print come across my scanner.

The company Marathon Patent Group (MARA).
Now, MARA is not a stock that I would ordinarily trade or that would otherwise catch my eye.
But the fact that bigtime traders showed substantial interest was enough to pique my own.
After noticing that 10 million plush shares changed hands with dark pool volume up 211%, I decided to take a position.  
I couldn't be certain, but I wondered if someone knew something about impending news regarding MARA or the bitcoin price action as a whole.
Here are two things that I was seeing, right off the bat.
1. MARA had demonstrated activity over several days on the dark pool scanner and the price had increased, indicating buying.
2. The chart, technically speaking, looked very bullish. The stock looked like it could break out of it's range to the high side.
My trade plan on MARA was to scale out with an initial target at $1.40 and then again at 1.88.
The chart was showing good support at. 85, so that is where I would have stopped out— though a conservative stop out would have been closer to .93.
But sure enough, my options on the first three-fourths of my trade went perfectly as planned.
I sold half at $1.40 for 35% profits and 1/4 at $1.88 for 75% profits.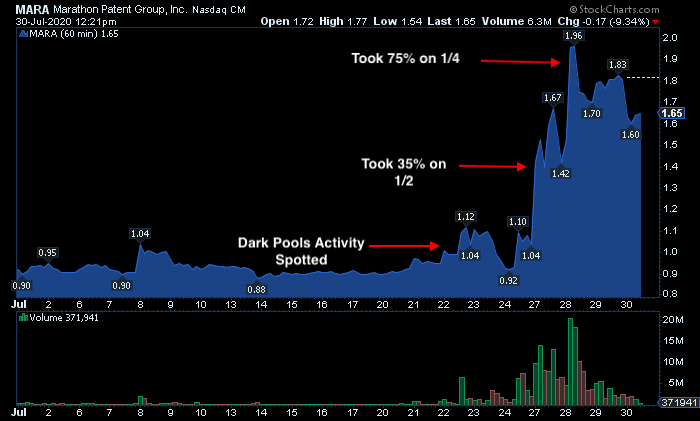 It only became clear afterwards why MARA took off and why these big time players may have been interested in the stock…
MARA Could Play Favorably Into Earnings in 5 Trading Days
MARA turned out to be a classic example of the question…
"Did somebody know something?"
When the news came out just days after I spotted the dark pools activity, it left me wondering…

Source: Seeking Alpha
Of course, there could have been other factors that were part of it.
The major spike in bitcoin and other related assets is common after each bitcoin "halvening," which is exactly what we've seen this past week.
Also, earnings are coming out for MARA on Aug 3rd, which is a week from Monday.
Volume in MARA was steadily increasing following the first dark pools activity I spotted.
This activity could be earnings-related as it's only 5 trading days away.
Even though MARA has dipped slightly since I closed out three-fourths of the position, I'm continuing to hold the remainder to see if there's more upside left ahead of earnings.
Find Out What Else I'm Seeing in the Dark Pools
This one trade on MARA is a great example of the potential power of following dark pools activity.
As I've said before, these kinds of situations happen all the time in the dark pools.
That's why I'm teaching traders everyday how I'm investigating this "hidden" area of the market.
And here's the best part…
I've actually been traveling the past week, which means that Dark Pools have allowed me to profit without having to spend hours of time glued to my screen.
I allow my scanner to tip me when some unusual activity is happening.
In fact, I just saw some unusual dark pools prints come through my scanner, and I'm including them in the next watchlist I'm sending out to members.