Getting in before the crowd is one of the hardest things to do
Since you never know when the news is going to actually hit… the only thing you can do is sit and wait for something to happen.
But it doesn't have to be!
And that's why I developed an Unusual Dark Pool Scanner that flags down large and out of the ordinary block trades.
And this week was one for the record books.
Let me show you what happened with the dark pools and how KNDI signaled it was time to get in.
Dark Pool Profits is focused on identifying unique and obscured trading activity that is done in one of the most secretive markets.  
This is so secretive that nobody can trade in it without some serious capital and being registered as a hedge fund.
Now we don't need to worry about secrecy and anaymonty with Dark Pool Profits… Since I monitor these markets and find the trades that stand out as suspicious.  
And once a trade hits the tape it's considered public information…
Meaning you don't have to worry about insider trading violations!
So let's take a closer look at how unusual dark pool trading activity gave away the move in KNDI.  
Unusual Dark Pool Trading Activity
Let me explain how this works…
It's important to remember that Dark Pools come in two different flavors:
A market for insiders or people "in the know" to place trades discreetly without impacting the public markets

A market for hedge funds and large institutions to execute trades on stocks they want to buy aggressively
Now, these are two reasons why monitoring the Dark Pools is so lucrative.  
It boils down to just two main things…
Greedy investors and supply and demand!
Now… let's take a look at what happened to KNDI last week that spiked the stock almost 200%!
KNDI – Did Somebody Know Something?
So… I think someone might have known something.
Just take a look at this monster block trade in the dark pools at 10:13 am!
Here's what I saw come across my scanner, the Dark Pool Monitoring System

Why does this matter?
Well this scanner is a custom development that scans and highlights single trades that are usual and unusual compared to historical trading records.
Honestly… who in their right mind would place $1m bet into a random stock out of nowhere…
And then go and try to hide this trade in the dark pools?
To me it sounds suspiciously like insiders knew something was going to happen.
Now my spidey-senses are kicked up a few notches.
And as I continue to look at the dark pool markets…Another really unusual thing happened
KNDI popped up in my second scanner, the Unusual Dark Pool Volume Scanner!
This scanner is a custom developed software around monitoring the Dark Pool markets to identify unusual trading volume.

Now that this other scanner picked up the same stock based on unusual dark pool volume something weird MUST be going on!
Here's how it looks on the chart.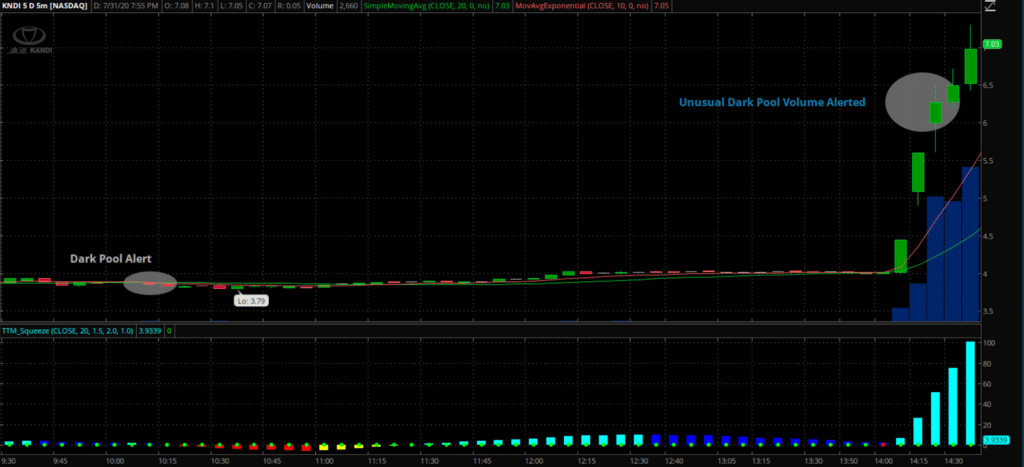 Source: Thinkorswim
And then it's off to the moon once both of those alerts came in!
KNDI went + 400% ROI from the very first Dark Pool Alert that alerted me at 10am!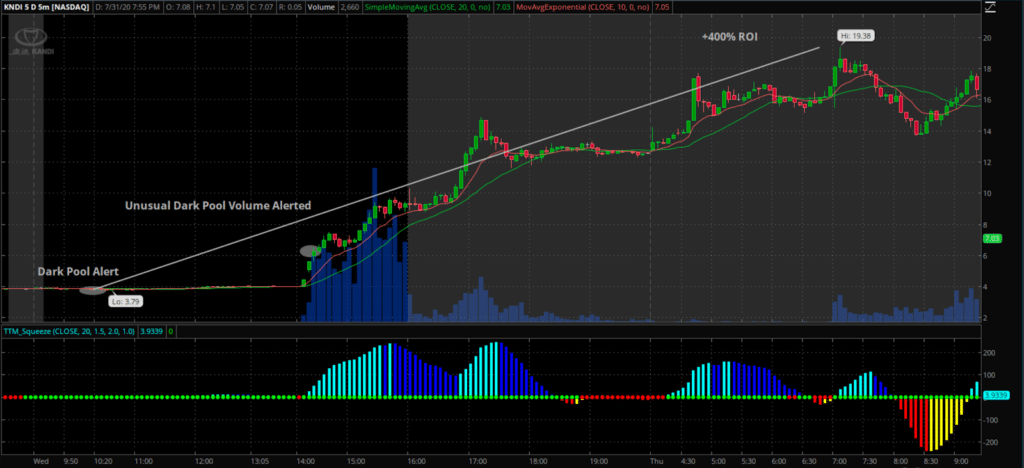 Source: Thinkorswim
Talk about a pay day!
That trader who invested $1m on that Dark Pool Alert made serious cash…
And that's not even talking about anyone who traded the options on that insider information!
Wrapping Up
Now I know I wasn't able to get into this trade, but as i'm traveling this one slipped through the cracks.  
But the process is made just a little easier with the help of the custom software and the ability to monitor what the insiders are doing in these dark pools.
Which is why I do the heavy lifting to get these alerts out to you as the action happens so you can join the insiders and pull down these monster returns too!
Ready to be a part of this wild action?