With so much uncertainty in the job market amid COVID-19 concerns, I expect to see a surge of new traders enter the market. 
Interactive Investor, a broker out of the UK, said it saw a 119% increase in the number of accounts opened between February 18 and the end of March. 
Many of them are in for a rude awakening. 
You see, without the right training to give them an edge – they are simply gambling! 
Mastering the necessary skills to become a profitable trader is difficult—without any guidance. 
So that's why I got involved with Daily Deposits – as a way to teach others how to be disciplined and trade the financial markets like a pro!
Which is why my Trade of the Day focuses on one trade on the same symbol every day!  
Here's just a glimpse into the kind of daily returns I'm pulling down in these wild markets recently.
In March I went 20/22 on My SPY Trade of The Day
How did I do it?
Well…I put together a game plan every day before the market opens that lets me identify opportunities like this.  
This plan details everything I need to be successful, such as levels of support/resistance, entry and exit targets, which contract and strike I want to trade, etc. 
And you know what?
I'm going to explain to you how it works… 
Show you exactly how I went 20 for 22 on my one trade of the day in March.
And how you can start to develop your trading plan. 
The core of Daily Deposits is based on determining the strength of the markets using premarket momentum analysis.
Daily Deposits is broken down into 3 main parts:
US and global premarket analysis

Identification of supporting trade information

Executing the trade
These premarket indicators are then combined with other indicators that produce some of the most accurate trading signals!
Each of those three main parts is critical to the success of Daily Deposits!  They are like the legs of a triangle… by removing any one of those key pieces of information, you risk collapsing the entire system!
And it all starts with figuring out what's going on around the world in the premarket trading session.
Global Outlook
I always start by reviewing the global outlook of the markets and news that is coming out from the overnight trading sessions.
I do this to determine the trend coming into the US market open and what to expect for the day ahead.
The importance of reviewing global markets is that there is a high chance the trends that are going on around the world will bleed over into the US markets.  
The global economy will make markets influence each other and that's why I make sure to catch up on what to expect every morning.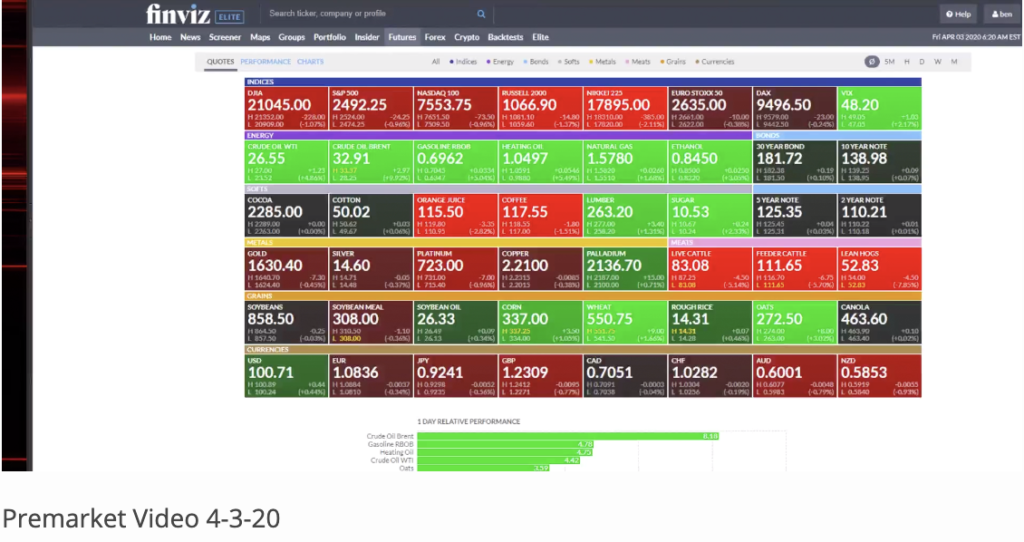 Prior to the open every day I review what to expect from the global markets.   Analyzing premarket conditions is critical as a momentum trader in order to position yourself on the right side of the trade at all times.  
But just looking at the chart above doesn't do much more than giving me an indication of what the global market has done.  
In order to know what the US markets are thinking and finding a trade, it's best to dig into the charts to find out more.  
Next…
Premarket Momentum Indicators
Now that the global markets are reviewed for the day ahead, it's time to turn to what the markets are thinking using technical analysis.
There are two sets of analysis tools that are used at Daily Deposit – the trend and price action signals.
The two premarket trend signals are:
The overall trend is positive or negative

The moving averages support the direction of the trend
The two premarket price action signals are:
Bollinger Band support and resistance levels

A "squeeze" in price action
When looking at the SPY in the premarket session, there are 4 key determining factors to picking a trend going into the day.  Let's take a look at them on a chart of the SPY.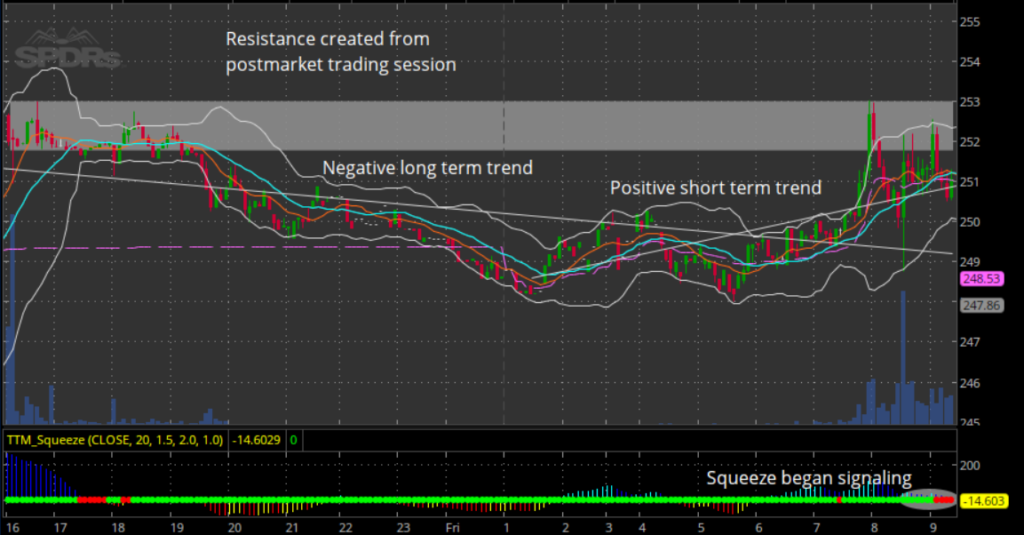 Source: Thinkorswim
As you can see by combining trend and price action signals, you can quickly put together a viewpoint of the day to come at after the bell.
When analyzing the SPYs before the market opens, there are 3 different ways to identify the market trend…
In a strong market – it is common to see both an upward overall short and long term trend and bullish moving averages.  
In a weak market – it is common to see both a downward overall short and long term market and bearish moving averages.
And in a mixed market – it is common to see differences in short and long term trends and mixed moving averages.
Technical Analysis
Technical analysis is extremely important in finding out trading levels that are both actionable and profitable for a day trader.
And without technical analysis, you may be left behind with what the market is actually thinking in the middle of analysis 
So let's take a look at how these two components signaled a great trade Friday.
Support and Resistance Levels
One overlooked aspect of trading is locating areas of support and resistance.
The reason a trader would want to locate support and resistance levels is to identify excellent levels to place trades based on their risk levels.  
So let's take a look at how premarket resistance levels are pivotal trading levels for the day coming up.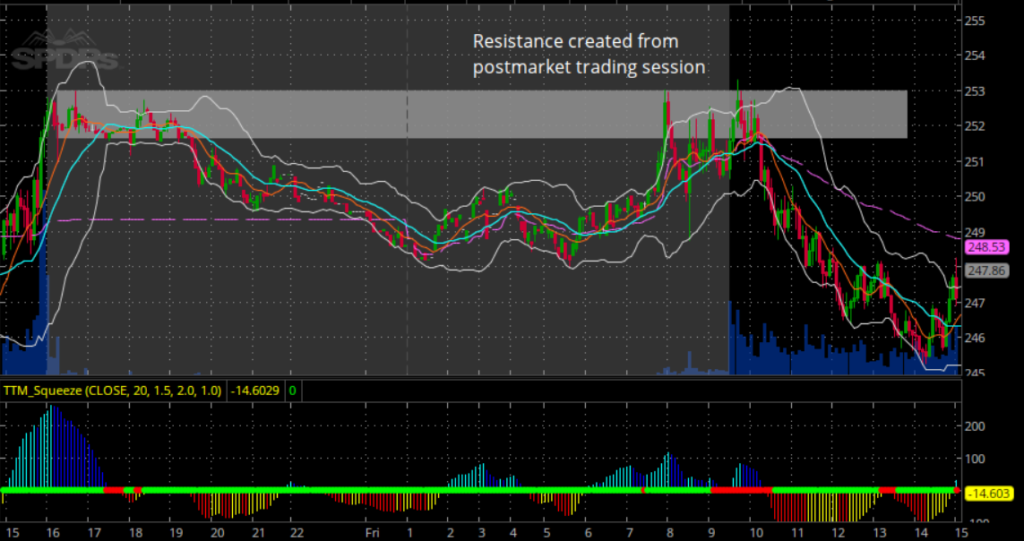 Source: Thinkorswim
Bollinger Bands
There are many additional ways a trader can identify areas of support and resistance while trading. One that I use is the Bollinger Bands.
Let's take a look at how they look at the chart and how to read them.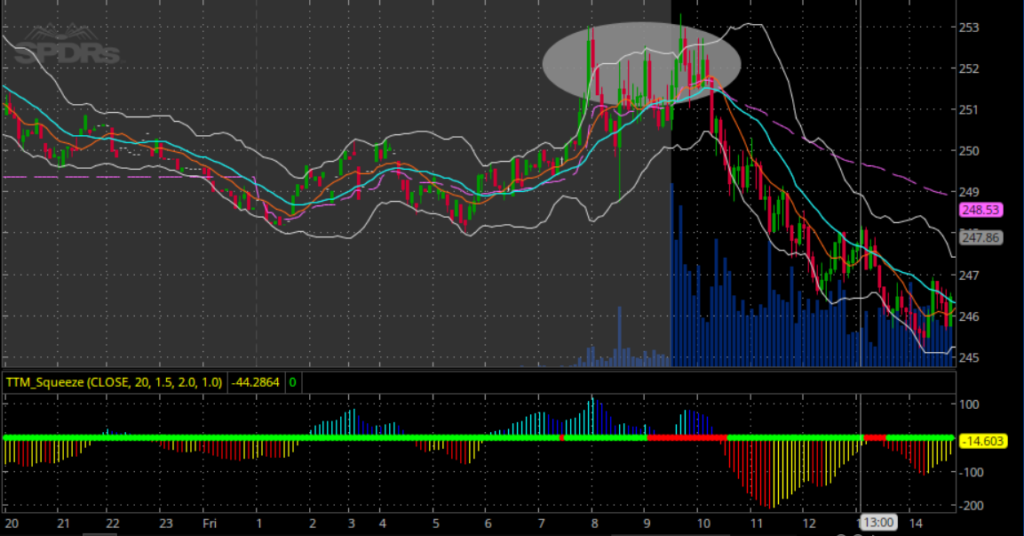 Source: Thinkorswim
As you can see in the highlighted section is the only time the SPY has closed above the Bollinger Bands.
TTM Squeeze
Another indicator that's used to identify momentum building up and then a breakout of the SPY is the TTM Squeeze.  
The TTM Squeeze was designed to identify the areas of low volatility in the markets and when they are going to "explode" for huge profits.
Here's what I mean…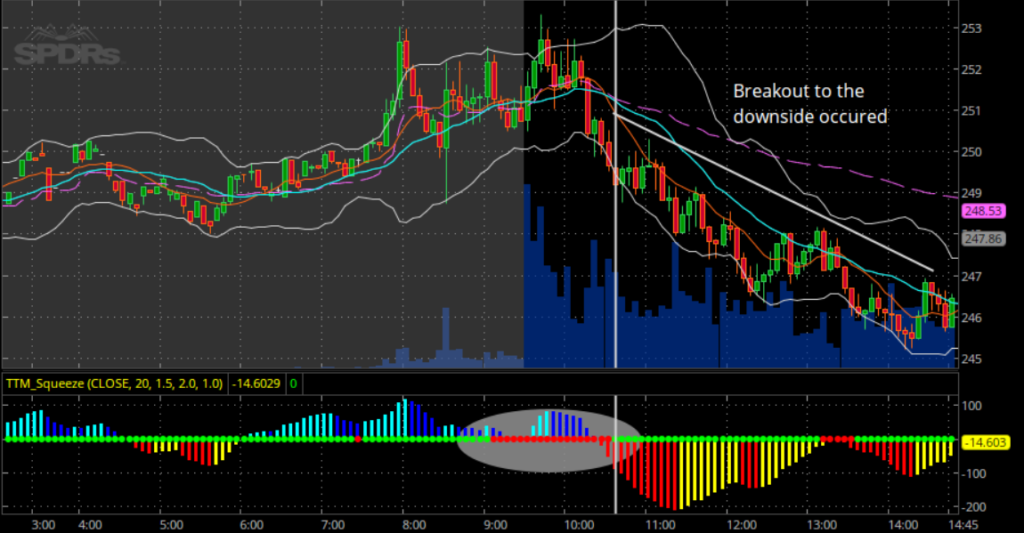 Source: Thinkorswim
So now let's see what happens when you combine trend analysis with price action signals.
Combining Indicators
As you can see, each indicator used by itself is quite strong… but when used together they are almost unstoppable.
And that's exactly what happened on the SPYs!
The two indicators:
Support and resistance levels 

Bollinger Bands
Let's take a look at the SPY charts to see how it works.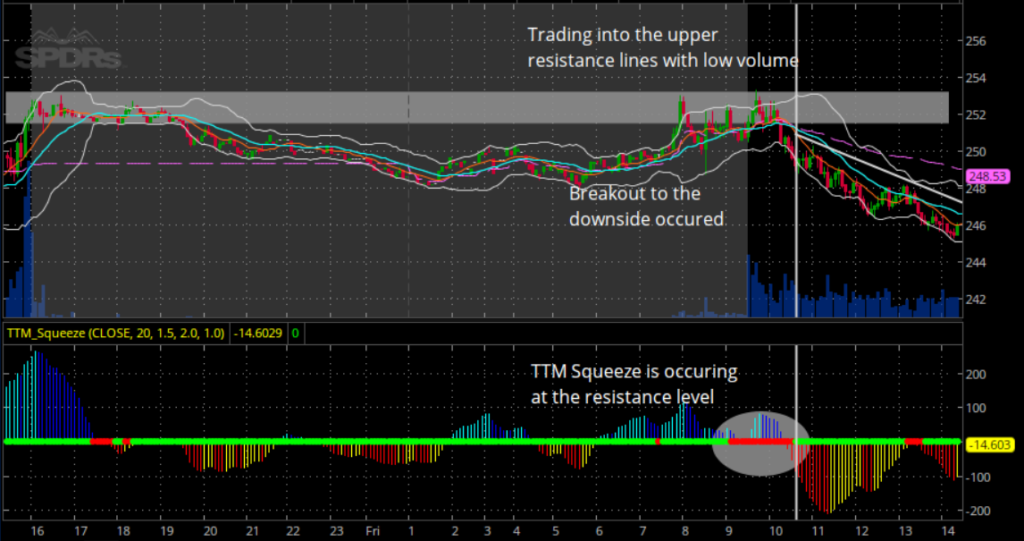 Source: Thinkorswim
Here's what I saw in the SPY's.
The SPY is trading right up into the premarket ceiling created from the overnight markets.

There is a squeeze near the open bell cursing us to remain neutral on the packages.
Trade of the Day
Once I analyze the premarket momentum I determine what direction I want to trade the markets and layout what my stops are going to be in advance.  
Here's what members of Daily Deposits had alerted in the premarket trading session.

And when you combine pre-market momentum indicators with strong technical analysis tools, you can see how the stock price reacts.
So if you were able to time the markets and enter the trades at those levels, let's take a look at the profit potential you may have had with this trading strategy.
Source: Thinkorswim
Wrapping up
Remember, a single indicator alone cannot predict the markets!
Once you combine multiple indicators and trade signals…you can generate strong trade setups.
And when it comes to the TTM Squeeze and Bollinger Bands, you can get yourself on the right side of the trade more often than not.
Here is a recap of the momentum strategy
Premarket support or resistance levels to know where to set stops and look for trades.

TTM squeeze to know when stocks are "coiled up" and ready to move when volatility picks up.

Price to be above/below Bollinger Bands that act as additional levels of support and resistance.