No one will forget yesterday's demolition of stocks, a day that saw major averages post the biggest loss since 1987s Black Monday.
This is a momentum traders paradise.
I mean – who even thought of the phrase, "Buy high, sell higher"… or in this case, "Sell low, sell lower?"  It just goes against everything I remember learning from one of my first lessons in trading that I want to "Buy low, Sell high."
At first it seemed crazy to me and I was beyond hesitant to even think about placing a high risk trade like this.  After staring at enough charts, watching live price action, it all started to make sense.  
I thought to myself –this is actually exactly how professionals make money trading these markets!
Well…that is when I decided it was time to stop being left out and began developing a proprietary momentum strategy to take advantage of fast moving markets… like these now caused by the CoronaVirus madness.
And this led me to crushing the markets.  Just take a look at my recent winner.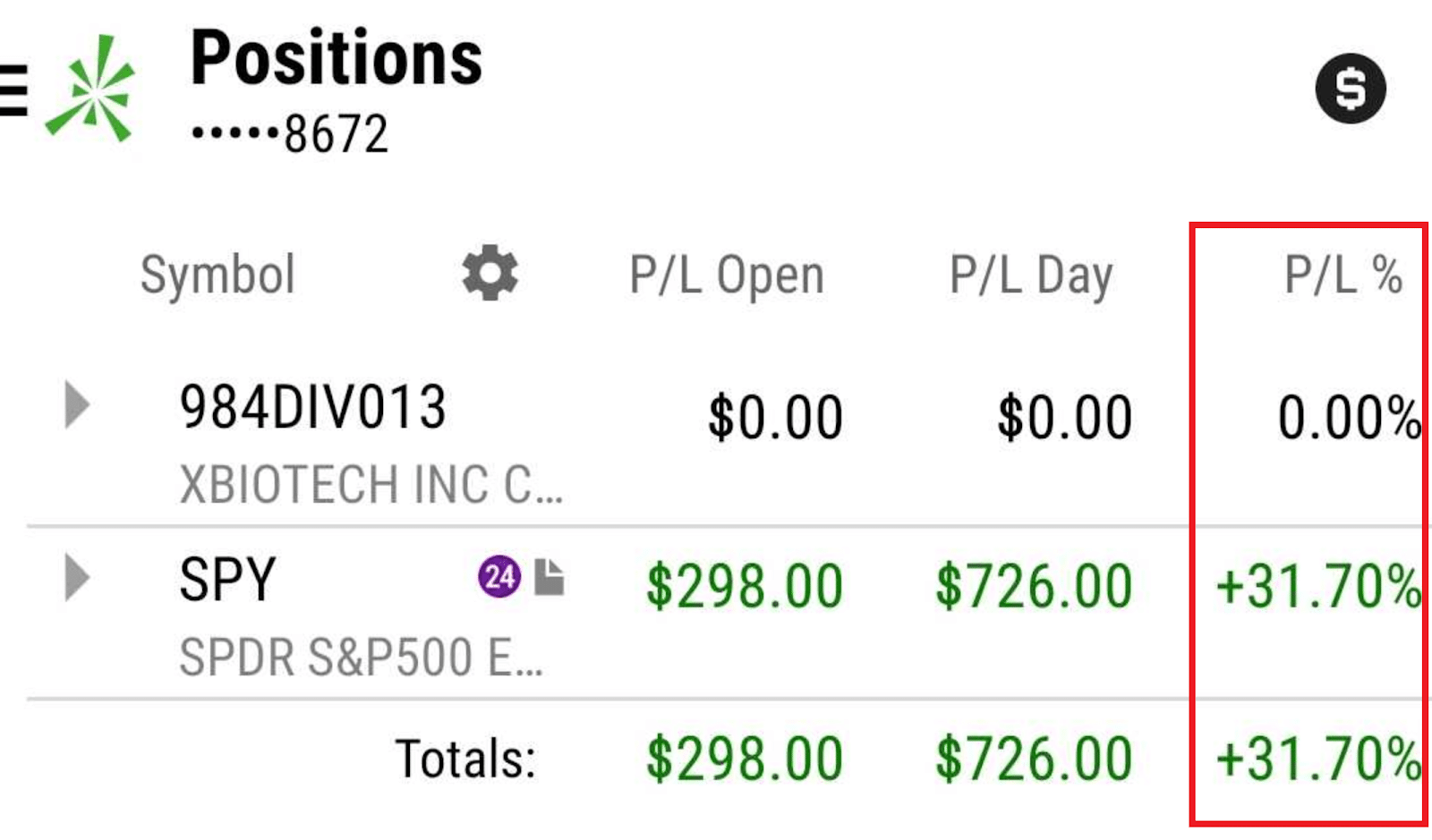 But you need to be smart about how you are trading and not blindly take the first thing that pops up on your screen.
Were you someone who bought the market news yesterday after hearing that the Feds injected $1.5trn into the economy?  
That trade was not a great idea, and the move was quickly reversed pushing us lower like nothing ever happened.
Well you're in luck.  I am going to share with you my 3 ways to trade smart (and stay safe) in a market selloff like we are in now.
Since the RagingBull Trader's Summit in Orlando, traders have been reminded that the stock market can go down a lot faster than it can go up once fear sets in.
While a number of traders have been talking about looking for a pullback in equities after the historic bull run, not many people thought it would be of this magnitude.  Let alone the reason being fears surrounding a virus out of China.
Since the Summit, fears of this virus spreading has reached levels never before seen in this generation.  Oil prices are collapsing, businesses are shuttered, airlines are operating ghost flights, and now the U.S. is starting to quarantine cities by calling in the National Guard.
So even though other viruses that impacted the markets may have shook us anywhere between 5% to 15%, the CoronaVirus has now pushed us down approximately 30% from recent highs not more than 1 month ago.
If your answer to this is to "wait-and-see", you are missing out on some of the best trading opportunities we have seen in a long time (and history might tell us this would be a mistake too, psst… 2009.)
Here are my top 3 ways to trade smart during high volatility markets we are in now.  
Create a Strategy
Is having a trading strategy important?
Yes!
I know this may seem trivial… but it is surprisingly one of the biggest questions I get from new traders learning about the markets.
It is essential to make sure you have a well-defined trading strategy before placing any trades in the financial markets!  If you don't, it is better to just go to a casino and gamble.
Whatever your objective is for a trading strategy you are trying to come up with, it's important to always have a trading strategy that is clearly outlined prior to placing any trades.  
Traders typically follow common indicators such as moving averages, RSI, Bollinger Bands and constantly look for patterns and changes in the markets that they can use to take advantage of.  
Let's take a look at 4 of the key components of my trading strategy at Daily Deposit
Understanding your trading goals – Every day there is an opportunity to make money in the markets.  It is important to identify in advance which direction the markets are going to move that day.  This is always done by analyzing the pre-market trading session and applying my set of

 

proprietary momentum indicators 

to the charts.

Identify the markets and trading time frames – In order to be repetitive and successful at trading the markets, you need to pick a timeframe that works best.  In Daily Deposits, I look at the

 

5 min, 10 min and 15 min charts

on the overnight e-mini futures and premarket trading session on the SPY.  This gives me the best view into what I think the markets will do after the open.

Identify your risk – 

This is unique to every trader – I do not believe any two people will have similar risk tolerances to taking losses.  A rule of thumb is that you only want to fund your trading account with funds you are willing to lose and be comfortable with. This way you do not get caught up with emotional trading and wrapped up in bad trades that turn into long-term investments.


Find your exit and target values –

  Every day when I send trade alerts out I make sure to include 4 pieces of information.  1) The entry price, 2) the exit price, 3) the stops 4) the contract data.  This way Daily Deposit 

members can make sure to understand the trade levels I am focused on and apply them towards their own accounts.  
Cash is a position
One of the biggest advantages that a trader can have over a large fund is the ability to be in a cash position.  Since many funds have mandates to be allocating capital, they must deploy most of their spare cash into the markets and are essentially 100% invested at that point.
But this is not the case for a trader.  We are able to leverage the power of cash to our advantage.
And remember that "A dollar saved is a dollar earned" can't apply more than in markets like these.  
Daily Deposits focuses around trading actively every morning, there are times where the system will struggle to generate any signals and sitting in cash is actually the best position to take.  This guarantees the lack of poor trades, an emotional attachment to the position, or even turning it into an investment if it goes against us.
Here is a calendar of my trading Month to date and as you can see there was two days I sat out of the markets.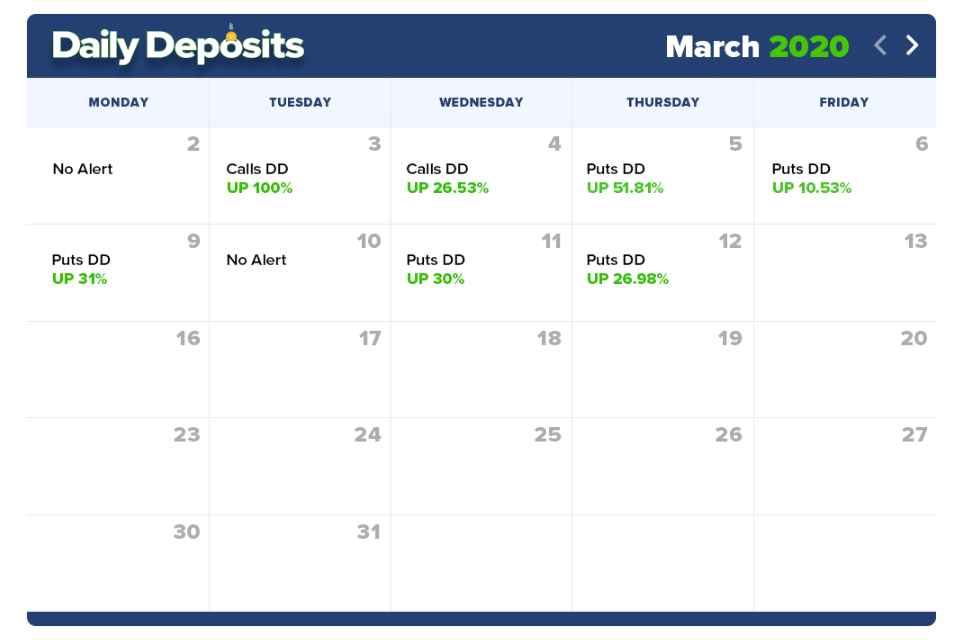 Note:  Did you know that Warren Buffett is famously known for the size of his cash position?  It's true – in fact, Warren Buffett uses cash very strategically and may go years with higher than average cash levels if investments do not align with his trading system.  
That means it's ok to be in cash when you are uncertain about what is going to happen!  There are plenty of other trading days left to make up for it!
Volatility Is Actually Good
I know it might sound crazy, but these are the markets that I live for.  This up and down creates some of the best trading opportunities anyone could ask for!
In the short term, an increase in volatility can be one of the best ways to generate income to hold you over for the rest of the year.  
Remember, successful day trading requires the ability to spot trends and patterns quickly, and act on them. Which is why at Daily Deposits I break down exactly what I see from my momentum indicators and how to set up for the trading day.
Here are 2 ways to take advantage of market volatility:
1) Clearly identify your exits
Before trading in a highly volatile market, be sure to be mentally prepared to manage the trade and the risks that are associated with it. Be comfortable trading with high volatility and understand there is a potential for higher loss of capital.
Two important considerations to remember when trading high volatility is to maintain proper position sizing and where to place your stop-loss at.  Also, during volatile markets when day-to-day price swings are greater than normal, you can place smaller trades and use a wider stop loss than you could when markets are quiet. The goal is to avoid getting stopped out due to large intraday price fluctuations while attempting to keep your overall risk exposure about the same.
For example:  
My Daily Deposit members received Support and Resistance prices that I came up with based on the pre-market SPY chart.
Key support and resistance levels to trade around:
Resistance: 278.50, 279, 280

Support: 276.81, 276.24, 275.67
By having further out support and resistance stop levels that are based on price action we are actually playing into the hands of volatility and keeping our trades safe from early exits.
2) Focus on trading in the direction of the market
One opportunity in trading volatile markets is that trending stocks may see an acceleration of their trend instead of a reversal of their trend.  
For example, this means that longs have a higher probability of continuing long and increasing trading momentum in that direction compared to reversing direction.  Therefore, a long trader has a better chance of generating profits more quickly compared to trying to go short the trend.  The same applies to short traders as well.
So what do I do?
It all starts with my set of custom indicators.
I use a blend of
Price action and volume analysis

Moving averages to give me the trend direction

Support and resistance analysis

Stock volatility screener
I first try to piece together what is happening in the markets.  And I do this by using 3 primary timeframes, the 5,10 and 15 minute charts.
Here is what I saw in the premarkets going into the trading session
Wrapping up
It's hard to comprehend what we are seeing in the market as being rational or irrational, but it's definitely more towards irrational in these last few weeks.  So…this means that as a trader your job just gets exponentially harder to do every day.  
This is where having a well-defined trading system to take advantage of momentum and volatility, a clear exit and profit strategy, and some risk management will land you in a position to make profits during this selloff.
So instead of going through trading blindly, why don't you learn from a pro and learn how to crush these markets that we are in now.  
Click here to learn how my system can work for you!