It's been a back and forth week for the market, which means that I've had to be super selective about my trades to lock in some wins. 
Those who have been firing shots in any direction and hoping to hit a target have been sorely disappointed. 
Look, I know that when traders see big moves from stocks like TSLA on Tuesday, they get a little antsy and fearful of missing out.
They carelessly jump onboard too late before doing their homework to anticipate where the action is going to be. 
But there's one thing that I've been looking for all week, which has helped me pinpoint some great entries and execute on some big wins…
Following the Order Flow
See, there's nothing that moves a stock quite like high trading volume by big institutions, like the banks and hedge funds on Wall Street— that even includes big ETFs like the SPY.  
This week, I saw some huge order flow in EV stocks like NIO, WKHS, and PLUG. I even saw it in relativley recent IPOs like PINS. 
I want to highlight some of my best trades across all my services this week to teach you how I'm getting a piece of the hottest trading action….
Last week and continuing into this week I bought call options in WKHS
The chart was forming a base around $15, and this seems to be a very strong level of support that reaches as far back as July.
And as the stock started to trade sideways and bounce on that level of support, the Volatility indicator started turning from red to yellow.  This indicates that buyers are starting to come back into this stock and it could trend upward.
Then shortly afterwards, I noticed that Dark Pool trading volume started to pick up on my scanner.  The time when the Dark Pool trading activity increased is highlighted in the blue circle.   
What this means is that buyers – and large ones at that – are coming into the stock.  It's this demand from institutional investors that give me heads up that real money is interested in this stock.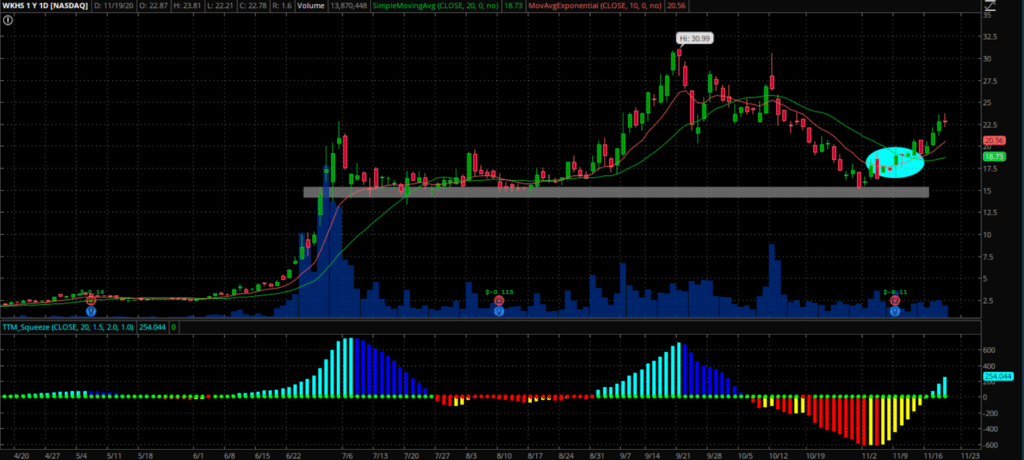 This is the trifecta pattern for a trade, and I knew I wanted into this stock to join the action.  
What I alerted the Dark Pool Profits members… 
I bought WKHS NOV 20 $20 calls at $1.15
And all of my trade signals come with an exit price that I'm going to get out in case things go south on me
If it breaks back down below $18.50, I'll likely get out.
Then after a short time, I was able to ring the register and lock in my profits on this trade
WKHS NOV 20 $20 Calls at $3.50 for a nice 200% winner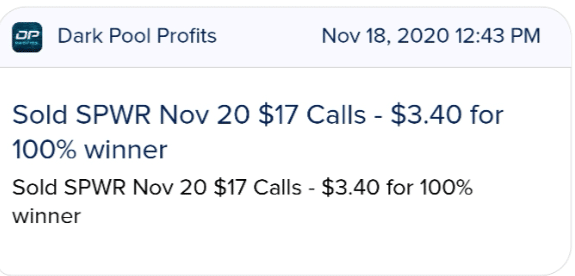 * See disclaimer below
IPO PayDay – Pinterest (PINS)
This past Tuesday, I bought PINS. 
The chart was showing good hourly momentum and I thought it could push higher into the end of the week.
More importantly, the stock was riding on some heavy trading volume. As early as last week, I had spotted things starting to heat up.  
I noticed at one point that trading volume was at 160,800 contracts. That accounted for roughly 16.1 million underlying shares and— get this— about 60% of PINS's 26.8 million share average daily trading volume over the past month. 
I noticed especially high trading volume around the $60 strike call option expiring on December 18 with as many as 42,433 contracts (4.2 million underlying shares) trading there. 
After monitoring PINS last week, I went ahead and jumped in on Tuesday. I bought a little further out with the PINS NOV 20 $62 Calls at $2.50.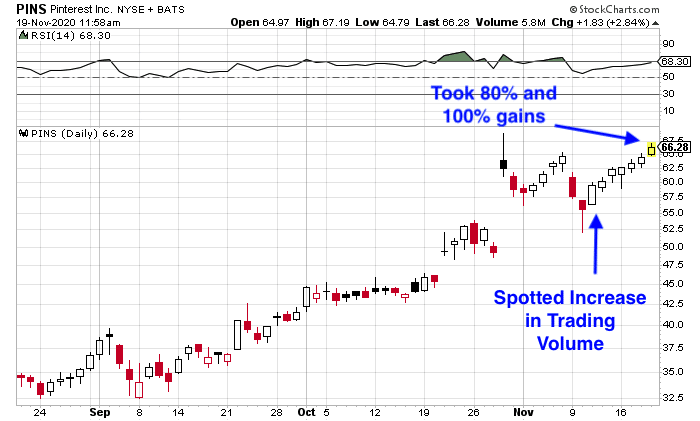 The trade played out nicely and I closed out more than half of my position yesterday for nice gains…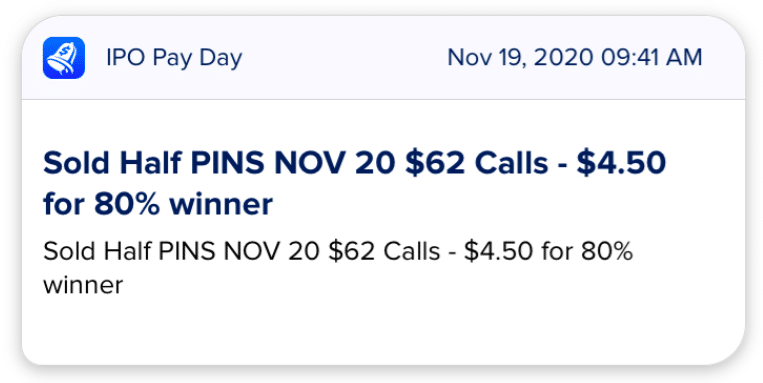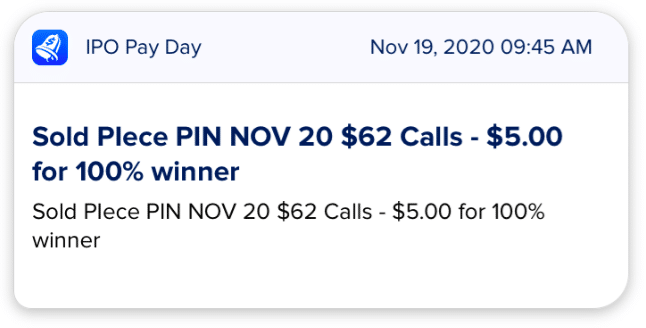 * See disclaimer below
Daily Deposits – SPY
Every good trader needs a diversified income stream… and since I've got two momentum trading strategies that are stock specific, I knew I needed something that was more holistic to the markets.
And that's why I created Daily Deposits – to be my workhorse (pun definitely intended) on a day to day basis.
This strategy targets short term momentum in the SPY's, that is caused by overnight trading and the global markets.
And this month is on pace to be another record-setting month for me.
Just check out my recent trade performance, month to date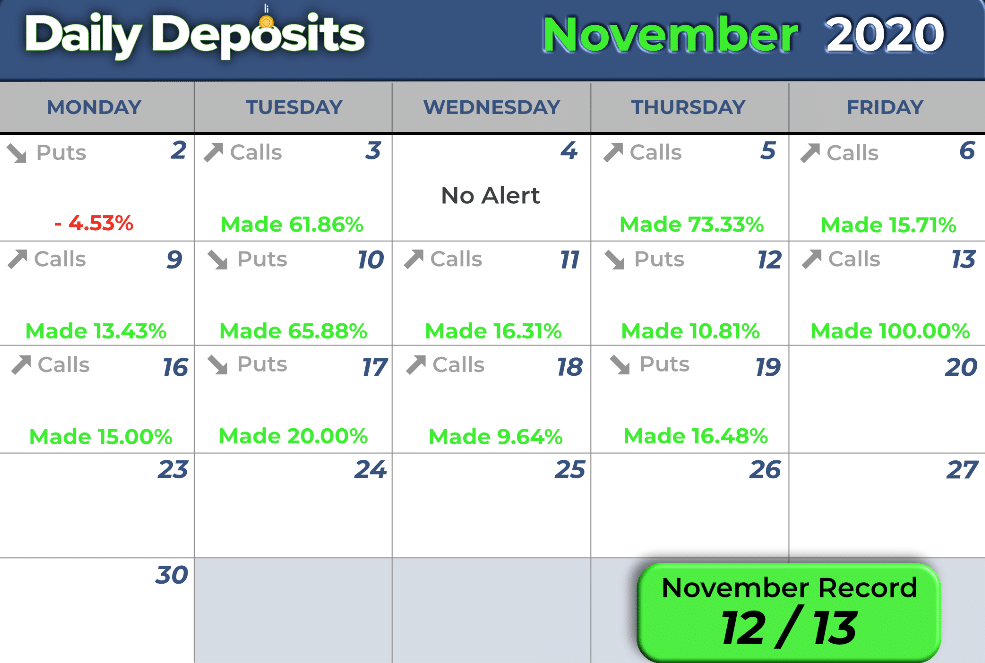 This puts me at over a 90% win rate since August 1, winning 61 out of 65 of my trades.
Now I don't always need to be perfect… it's all about doing the best you can to approximate what the markets are thinking. 
Here is what I saw on the SPY's for yesterday's trade.
I started off with the Conviction Index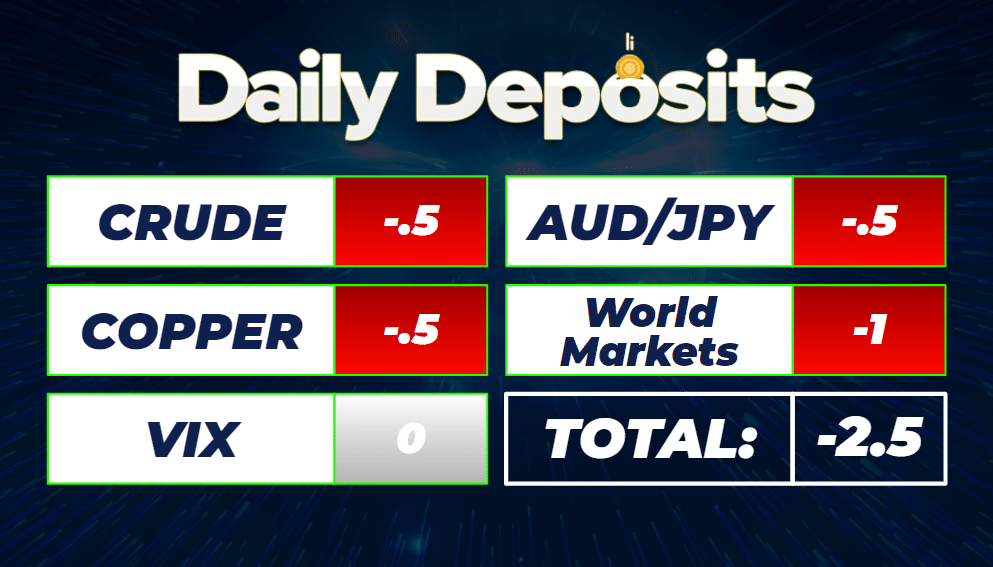 Then I combine this information with what I see in the pre market charts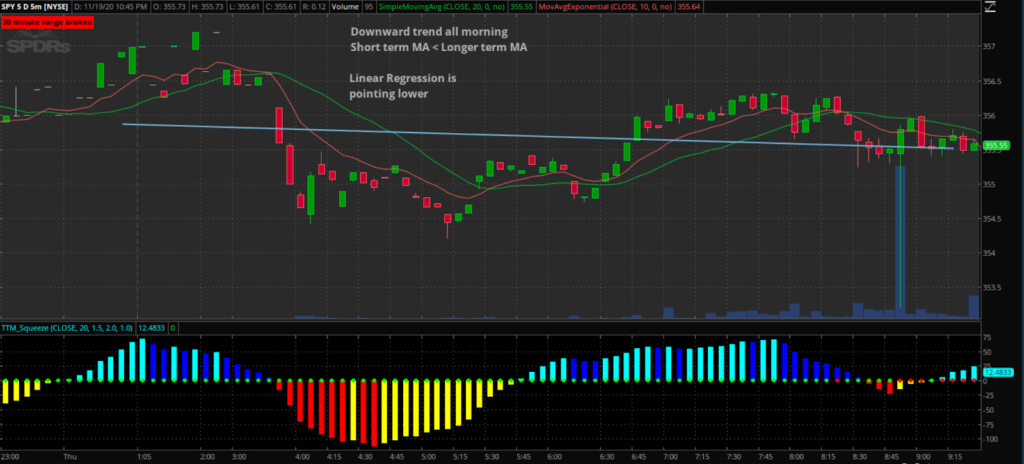 And that set me up for a trade that is planning to short the markets
Here was my breakdown:
I want to see the Nasdaq (/NQ)  show weakness. (a bearish signal)

I'll also look for the TICKS to stay low or start moving lower as a confirmation. (a bearish signal)  

I'll possibly also look for the vix to continue moving higher (a bearish signal)

I'll look for buying volume (in the VIX) to confirm my decision (a bearish signal)
And after I got my trade, I landed over a 15% ROI on the trade in a short amount of time.
Want All My Services for One Low Price?
This is your chance to get ALL of my services for as long as I publish them for 84% off an annual price.
*Results presented are not typical and may vary from person to person. Please review our full disclaimer located at ragingbull.com/disclaimer.