The first thing on every IPO traders mind this week is DoorDash and AirBnB. 
Without a doubt, a lot of traders will be piling into these stocks at their debut, hoping to make a fast buck or buy low on the "next big thing" in the market. 
But do you want to know something?
As an IPO trader with lots of experience in this market, I've developed an immunity to the fear of missing out (FOMO).
And more likely than not, I won't be trading either of these stocks on IPO day. There's always a chance I will, but it doesn't come without a large amount of risk…
Like having your order filled at an insanely high price, as trading volume spikes and the IPO gets way oversubscribed. 
See, of all the traders trying to get long on DoorDash and AirbnB this week, how many do you think actually have a plan? 
How many will just buy the stock because they think it's a good business because they stayed at an Airbnb or ordered from Doordash?
I actually like to trade IPOs differently than most because I'd rather wait for histories of price action and proof of good technicals before I strike. 
That's why 3 other recent IPOs with beautiful setups actually have more of my attention this week…
In contrast to DoorDash, Chewy (CHWY) is actually a stock I'm interested in trading.
It's a food delivery service provider, much like DoorDash, except it's your pets we're dealing with here. 
It's a stock that keeps fitting my bread-and-butter trading criteria and serving up some fresh profits, like just last week…*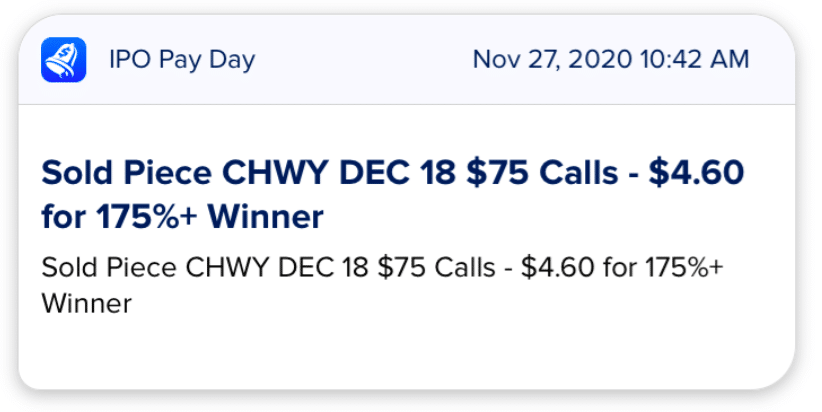 The stock has been showing up on my watchlist lately for several reasons. 
High volume:

The stock has a high trading volume of over 3M, which means that a lot of traders are watching it now. 

High short interest:

Short float is 18.22%, which means that the stock is in squeeze mode and is even more primed for a takeoff if it successfully breaks past resistance. 

Positive momentum:

As of the end of last week, the stock closed with two green candles and is currently encroaching all-time highs. If it breaks past the $75 mark, then that's a bullish sign to me.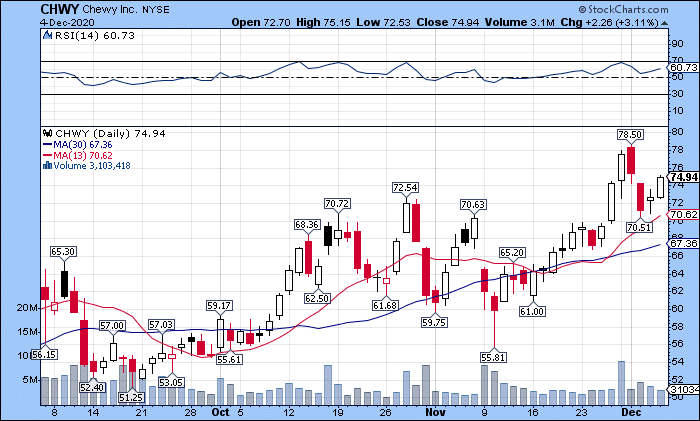 The stock also has a strong catalyst this week that we need to be aware of. 
The stock actually has earnings coming up tomorrow, Tuesday 12/8, and I think that it has the potential to beat earnings. 
The stock has seen favorable earnings estimate revisions lately, which is often precursor to smashing estimates. 
Levi Strauss & Co. (LEVI)
No doubt, the pandemic has altered the course of the brick-and-mortar retail business. 
Some of the companies are on the verge of going bankrupt, but the ones that have managed to weather the storm may actually gain a whole lot of market share.
Levi Strauss is one such company that has shown resilience and has basically recouped all its losses from nearly a year ago. 
LEVI showed up on my watchlist for many of the same reasons as CHWY…
High volume:

The stock has a volume of 1.5M

High short interest:

Short float is currently 12.36%, which means it could pop off big

Strong momentum: The stock is currently approaching all-time highs of $19.93 and closed last Friday's trading at $19.83. The stock showed upward trading action Tuesday through Friday of last week.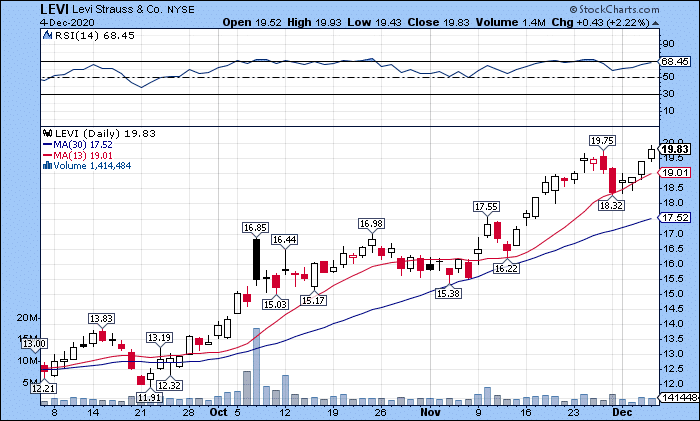 LEVI doesn't have any specific catalysts in the pipeline, though I do think it can still benefit generally from the holiday shopping season. 
It also received a couple analyst upgrades from Bank of America and Morgan Stanley. 
Tencent Music Entertainment Group (TME)
TME is an interesting stock that you haven't heard me talk a lot about. 
The company was formed in 2016 when Chinese technology conglomerate, Tencent (TCEHY), acquired China Music. 
Tencent Music held its IPO in 2018, and it's quickly become one of the hottest Chinese stocks to watch. 
With U.S.-Chinese political tensions potentially easing given a Biden presidency, I think that TME is one that should even more so remain on our radar. 
The stock has strong fundamentals, given that users paying for its services increased by 46% to 51.7M in Q3. 
But as always, I care more about the technicals, which make it poised for a potentially bullish breakout at this point…
High volume:

The stock has a volume of 5.1M

High short interest:

Short float currently sits at 13.56%. The stock is in consolidation mode after a particularly bullish couple days of trading midway through November.

Strong momentum: The stock posted positive gains last week. It's coming up on all-time highs just above $17, and if it breaks that level I'm interested.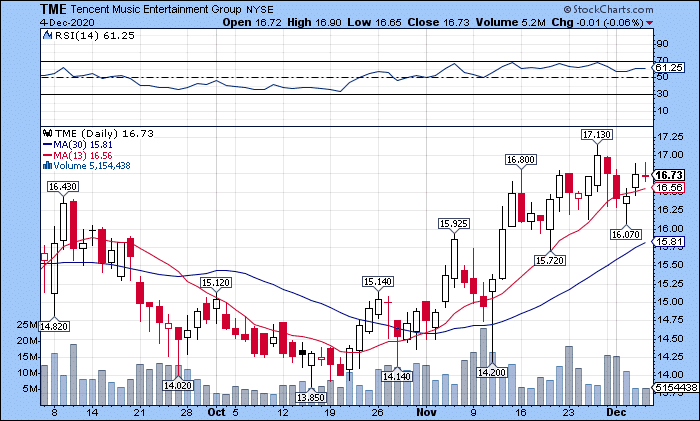 Join IPO Payday Today
Whether or not I do decide to trade CHWY, LEVI, or TME, my IPO Payday subscribers will be the first to find out. 
Regardless, I'll be posting updates on the status of the DoorDash and AirBnB IPO in the days to come, as I expect this to be an exciting week for the IPO market. 
Join my latest IPO trading workshop here to learn more about my IPO strategy.