You can easily get distracted, make poor decisions, and lose a lot of money—in a fast market like this one. 
If you've been trading without a plan, now is the time to consider developing one. 
Not, only will it get you out of trouble. But it will steer you in the right direction…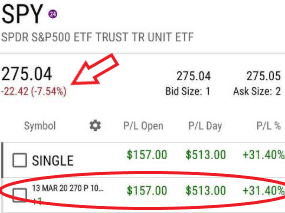 I have a five-step process with you that I'd like to share. It's helped me stay profitable almost every day this month, and I think it can do wonders for your trading too. 
Being a stock trader is a lot like being a crime scene investigator.  
One day you are chasing leads that you might have been given from one indicator, and the next day stuck studying why something happened that you were not expecting.
And one thing is for certain… no two crime scenes are ever the same!
The markets will continue to keep you on your toes and make you stay focused every day at every little detail.  
If an investigator makes a single mistake he risks putting an innocent person in jail or losing the suspect forever.  Unsolved mysteries, anyone?
If you make one slip up… you risk losing the opportunity to land a great trade and could even make a losing trade based on emotions.
Let me step you through the process I use every morning in Daily Deposits and how I look at the markets, analyze price action, and get myself ready for the trading day ahead of me.  
After two days of somewhat muted price action over the last three days, it's starting to feel like the market needs to move again.
And did it move!  
It was one of the largest single-day losses we have seen since the Great Depression!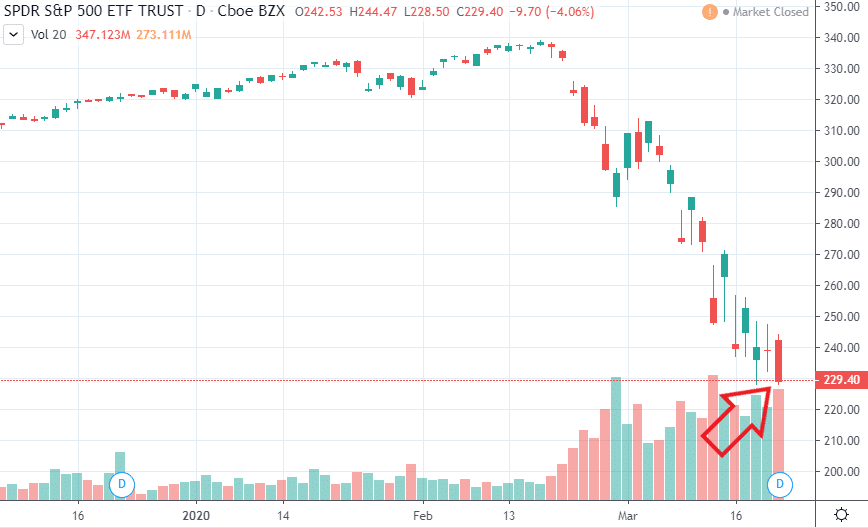 Source: www.tradingview.com
So let's take a look at exactly how I got my trades off to capture huge profits from that major sell-off in the markets.  
Premarket Analysis
The news coming out across the world about COVID-19 has been pointing towards a nasty few weeks… if not months…still ahead of us.  
It's almost too much information to process lately and it's not looking to be getting any better anytime soon.
And without a battle-tested trading strategy chances are you are trading blind and gambling!
Daily Deposits is based around a set of indicators that have been put to the test in one of the hardest to trade markets in history.  
And the momentum trading strategy that I have developed and actively trade has been crushing the markets.
The pre-market is broken into 3 key parts:
The global overnight outlook

Sectors for the US Markets

Daily chart on SPY with Technical Analysis reviews
But those are 3 of my 6 key premarket topics I review in order to get a better understanding of what's about to come.
In order to get the best understanding of what's exactly going on, I use  6 pre-market indicators to get a jump on the markets.
And I always start with a global overview and analysis of the world markets!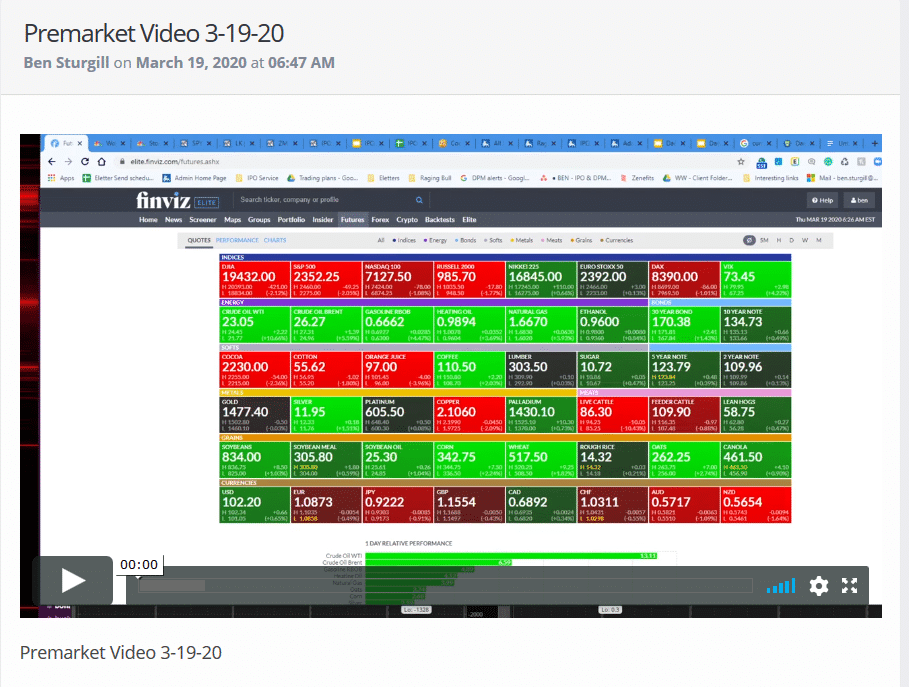 Source: www.finviz.com
Once I can figure out what the work thinks is it safe to analyze pre-market indicators for the SPY and the e-mini futures.
Next…let's take a look at how I use these indicators to break down the pre-market trading session further.
Premarket Indicators
The first step is to understand how the global markets are thinking in the overnight trading session.
Then I will lay out a game plan for how I'm going to tackle the markets when the bell rings.
Since momentum is the cornerstone of the trading strategy at Daily Deposits, I always make sure to confirm how momentum is going to impact the markets in a way that I can take advantage of.  
My analysis starts the same every day using a combination of momentum indicators.
I mix together:
Price action

Volume Analysis

Moving Averages

Support and Resistance zones

The overall volatility of the markets

The internal volatility of the markets
What's my goal when combining pre-market analysis with momentum indicators?
The idea is to piece together like a crime scene investigator what is happening in the markets and set up a trade to take advantage of the day ahead.
Here is a small sample of what Daily Deposit premium members receive every morning as I break down the markets.

From what I see, the pre-market indicators are pointing down at the moment with the low of the trading session at 335.  
Here is a breakdown of the SPY in the Friday pre-market session.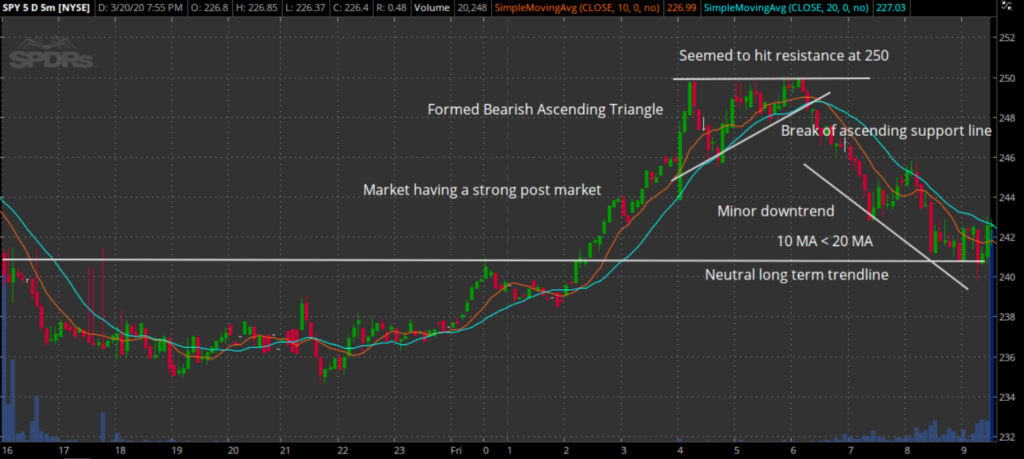 Source: Thinkorswim
Here are 7 key indicators that signaled a weaker market from premarket trading.
7 key indicators are:
Long term trend is neutral

Short term trend is in a downward trend

Market hitting resistance at 250

Bearish Ascending Triangle formed at resistance

Ascending triangle support line broke down

10 MA < 20 MA

Premarket selling volume picked up before open bell
So before I place a single trade I always make sure to turn to these indicators and look for hints about what this market is thinking.
And at this point, it's also a good place to start looking for key levels from the overnight trading sessions.  This is where I typically begin searching for hard stops, targets, and other entry or exit levels based on technical patterns that are appearing.
My Daily Deposit members received Support and Resistance prices that I came up with based on the pre-market SPY chart.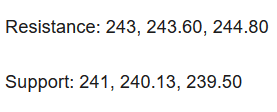 The Trade
One approach I like to take when the markets are this volatile is to target short term instead of longer-dated options
Why?
That's because I like to make sure I get enough "bang for the buck" on the risk capital I am trading with.  
Traders choose options over equities to gain access to explosive gains compared to trading stocks.  
And as an options trader, you want to make sure you select the correct option to make sure you get the explosion in the options prices from the move in the underlying stock.  
Which is why I typically choose to use weekly options instead of monthly options to give me the return I need from my trade.
Here's the trade of the day that was sent out to all members of Daily Deposits!

Here is where I would find the put contracts in the options chain.

Source: Thinkorswim
But it's never smart to react immediately to the open.  
It's very common for options to move wildly at the open and it's best to wait for things to settle down.
Once they do it's highly likely that you can get a better price of the option you want to buy.
Let's take a look at the chart of the options prices and see how this played out.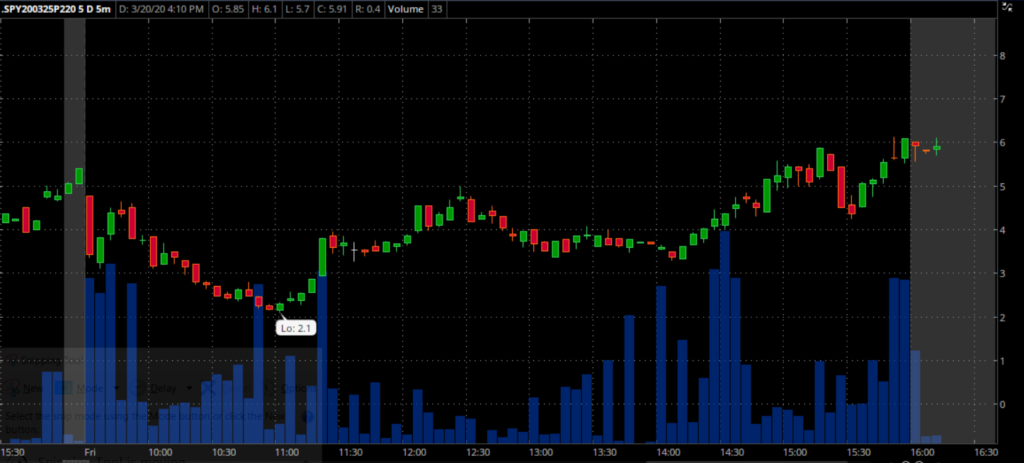 Source: Thinkorswim
And if we were able to time this trade perfectly, you could be looking at a whopping 200% gain on these options!
Wrapping up
Momentum trading strategies are really some of the most reliable trading systems that you can implement for yourself with little effort.
And still to this day it just blows my mind that this system can be consistent and reliable with timing these markets… all by only analyzing pre markets and momentum indicators!
It really does make me wonder why traders tend to overtrade or over complicate their strategies…
So if you're looking for a strategy like this for yourself…