Every once in a while, I like to make a big splash.
And no, I'm not talking about the recent week in which I traveled to the RagingBull headquarters in New Hampshire…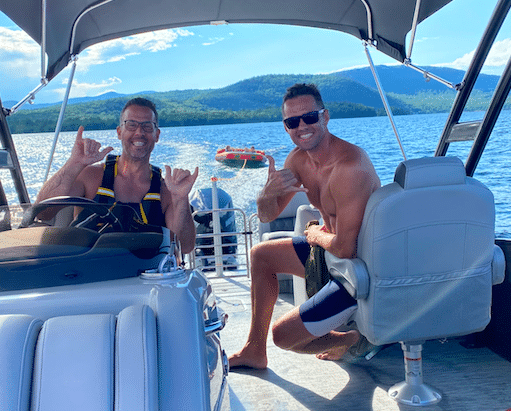 Turns out, there's something even more exciting 
than little motor boat tubing with my buddy, Jason Bond.
What I'm talking about is the "underwater" area of the market that most people don't see.
Because of "Dark Pools," Wall Street elites are able to disguise their trades from retail investors so that they can get the best prices for their often enormous transactions of 1M+ shares.
I like to take a dive into these dark pools with my scanner to see if I can find any trades I want to replicate.
After all, trades as big as the ones I often see move through these dark pools signal an unusually high conviction.
It even makes me wonder if someone knows something.
While I can never be certain if someone knew, the trade that I just replicated in MARA sure seemed like it.
It was nothing short of a cannonball.
Last week, I took 35% gains on the first half of the trade, 75% on the next quarter— and get this, a whopping 200% on the remainder!*  
I covered the first two parts of the trade in this post here, but I want to walk you through how I took profits on the remainder.
To recap, last week I spotted the following dark pool print in MARA…

After noticing that 10 million plush shares changed hands with dark pool volume up 211%, I decided to take a position.
MARA had demonstrated activity over several days on the dark pool scanner and the price had increased, indicating buying.
I alerted subscribers that my trade plan on MARA was to scale out with an initial target at $1.40 and then again at 1.88.
And that's exactly what I did… I planned my trade and traded my plan!*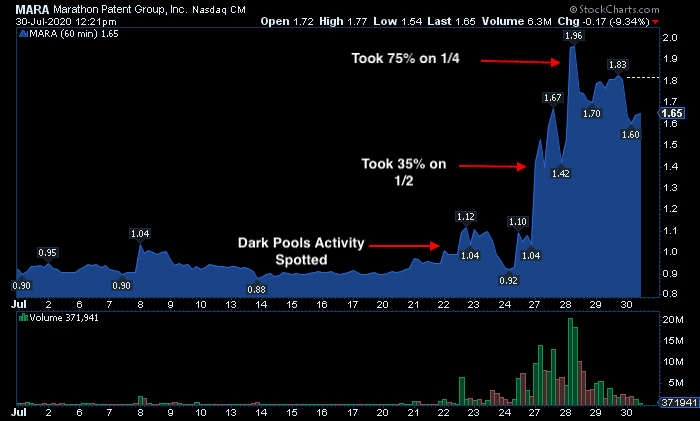 But here's where things got interesting.
Earnings was yesterday, August 3rd, and I was looking for activity into that.
A lot of people would have been happy with the initial gains, but I wanted to scale out incrementally.
It allowed me to lock in a solid and respectable win, and then use the rest of the play as "house money."
What's house money?
If you go to a casino $100 and now have $150 after a few hands, the extra $50 is house money.
If you pocket the $100 and continue to play with the $50, you can't walk away with less than what you entered with.
I like to use this strategy in trading because it allows me to protect against losses, yet still capture some explosive upside on the tail end of the trade.
It worked out perfectly in the case of MARA because it turned out there was still a ton of upside remaining.
While I didn't even capture the full extent of the remaining, I was more than a little happy with my 200% and fully cashed out the trade.*
Now, could I have held straight through from beginning to end and taken 300%+ on the entire position?
Sure, but that's not how I do things.
One of the most important lessons in trading is always remembering to pay yourself along the way.
Sign up For These Critical Dark Pools Alerts
No doubt, MARA was an exciting trade to jump onboard with.
My premium Dark Pools subscribers, many of whom just joined the service after my recent LIVE presentation, were the first to hear about my moves each step of the way.
That included my big win on the remainder…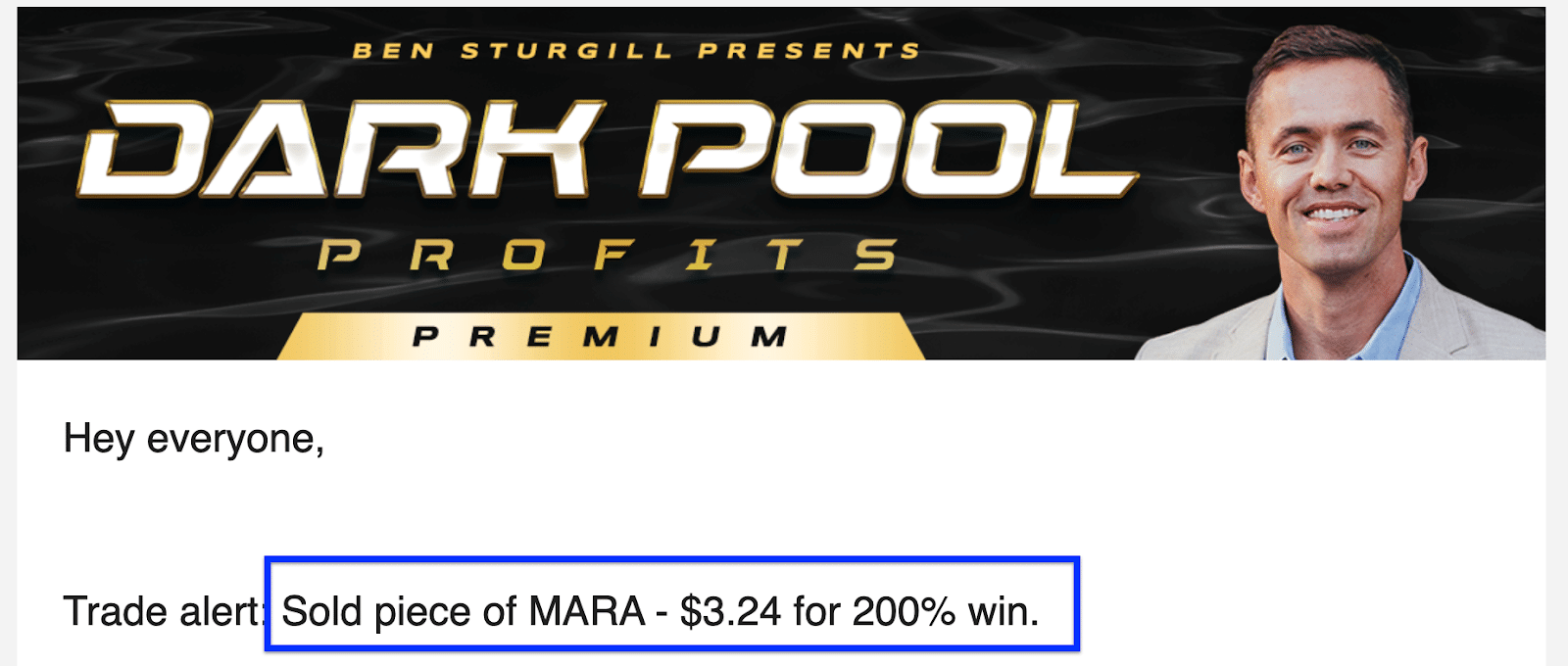 I keep my premium Dark Pools subscribers in the loop at all times on what I'm looking at in these hidden exchanges.
That includes a daily watch list where I share what names I'm looking at.  
Here are the ones I'm looking at now…

My trade in MARA even proved that this strategy works on a flexible schedule.
Traveling to the RagingBull headquarters in New Hampshire didn't stop me from taking gains on MARA, as well as a nice 90% gain on PINS, over the past week.
To learn more about how I'm scanning for Dark Pools activity, consider joining my premium service here.
* Past performance is not necessarily indicative of future trading results, and the results presented in this communication is not necessarily indicative of future results, and the results presented in this communication are not typical. Investing in securities is speculative and carries a high degree of risk; you may lose some or all of the money that is invested.